Kate Crash & The UFO Club Elicit "Anarchy On The Dancefloor" In New Video
Kate Crash leads her UFO Club into a psychedelic, grunge-rock trip on their hard-hitting 2015 EP entitled Play It Hard! They undoubtedly play by no one's rules but their own--fusing the heft of scatter-brained boredom, classic dance-club euphoria and hook-y Top 40 into a cosmic echo louder than anything you could possibly expect. Following trippy visuals for such standouts as "Wtf Am I" and the title cut, the outliers are back with an equally dizzying and offbeat music video for "Anarchy on the Dancefloor," a raucous jam about finding oneself in the noise and shattering the glass ceiling. "Yeah, I'm just a culprit with the silver mullet, defying gravity is what I need to make my heart..." Crash coos through the massive wall of electricity.
"See Kate Crash as you've never seen her before! Hat tricks! Death defying stunts! Shrinking down a few feet in height! Jumping on the bed in a psychedelic ride! Hold on tight! A cure for the end of the year 'what the fuck am I doing' fright," the band shares exclusively with Popdust about the video--premiering just in time for New Year's Eve shenanigans and resolute banger fever. In the clip, Crash is joined by her rag-tag group of oddballs, driving home the song's ever-important message of self-worth and resilience.
Last year, Popdust had the honor of speaking with Crash about developing her otherworldly and provocative image. "Well, I've kind of been like this since I was a kid. I used to go to a private school...in a boys uniform and spike my hair straight up in the second grade," she said. "It was a struggle to try to make friends being so unique or whatever. I've always been into costume and character. I would create these theatrical shows as a kid. I was always writing poetry and playing instruments and making art. I've always loved to collage and put multiple forms together."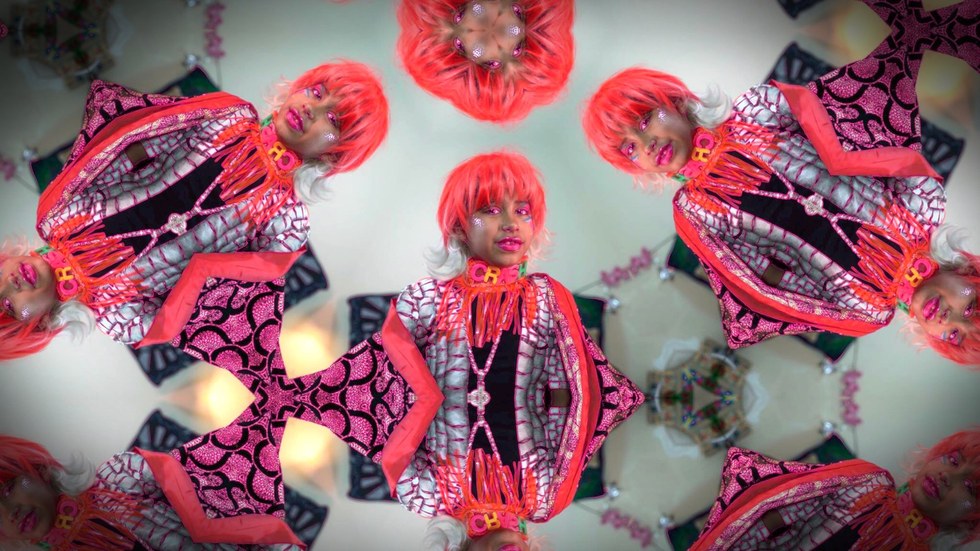 When listening back to Play It Hard!, Crash found it hard to pinpoint which one stood out the most. "I love them all for different reasons. You've got your child that might go to Harvard; then you've got your wild, fun child. Performance-wise, there's something about 'Anarchy on the Dance Floor' that makes me feel full of joy. When I'm playing the guitar and playing those chords, there's something that's so joyous and uplifting," she said.

She continued, "A track that is a little less poppy and darker is 'Dance for Me.' I really love the beats and the sense of that. 'Bored Out of My Mind' was originally called 'RoboCat Vs Alien.' That's what it is saying on the breakdown. I was in the studio and was like 'the breakdown needs a vocal! It's gotta be 'robocat vs alien.'' It had nothing to do with anything, but it made sense. The title track, too, feels very glam-rock but has this total EDM element at the end, and it goes into this insane breakdown. We always finish with that song in our live show. The dance thing is really insane. We end in a crazy barrage of guitar feedback and insanity."
Crash is expected to issue her solo full-length album in the spring. Stay tuned.
Kate Crash & the UFO Club's Play It Hard! EP is out now on iTunes.
Watch below:
---
READ MORE ABOUT MUSIC...
Brielle Von Hugel Finally Feels Comfortable In Her Own Skin
Jeffrey Miller Reflects On Heartache In "Last Christmas" Video
Tiggs Da Author Remixes "Swear Down" With Wretch 32 & Avelino