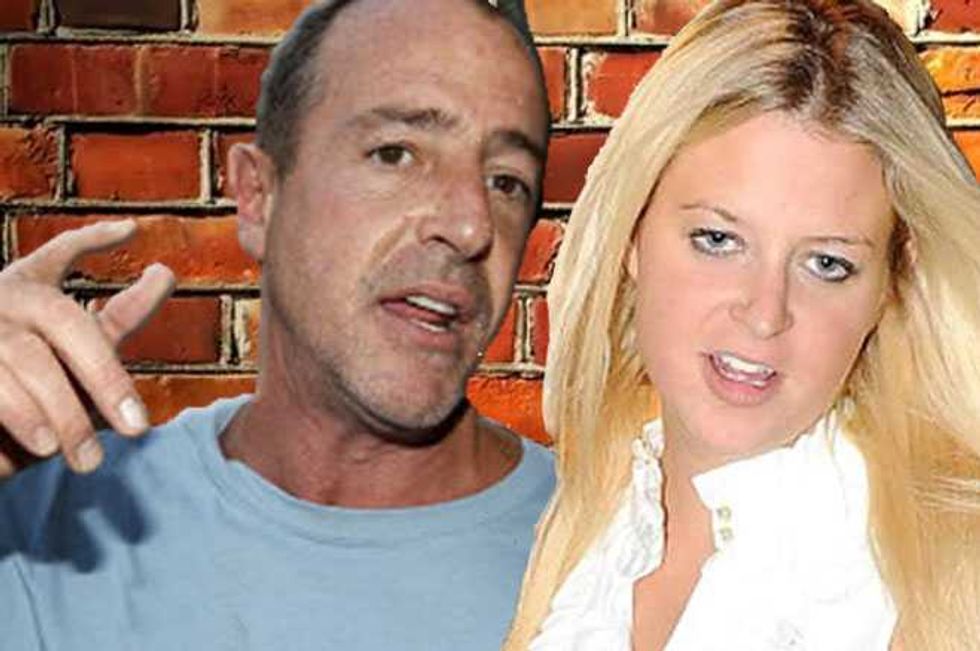 kate major and michael lohan lose custody of kids
In a move that has surprised no-one, news has emerged that Michael Lohan and his current wife Kate Major have lost custody of their small sons.
Last week the Florida Department of Children and Families swooped in to save the poor little boys, 2-year-old Landon and 10-month-old Logan, after they got a copy of a video (from who knows where) of their fucked-up parents fighting in front of them.
Presumably it was pretty crazy, as the DCF hothoofed it to Kate's apartment in Boca Raton immediately and pulled the kids out there and then.
Lorena Bobbitt Thinks Cutting Off Her Hubby's Dick Is Still Pretty Damn Funny
The boys spent the night in foster care before their grandmother, Marilyn Lohan, flew in from Long Island to be their temporary guardian.
After they'd come calmed down, Mi-Lo and K-Maj went to court to try to get their kids back, but, thank god the DCF had the sense not to fall for their bullshit and awarded custody to Mrs Lohan senior.
Kate and Michael can now only visit their kids with a DCF monitor present (we would suggest after a breathalyzer and drug screen too), plus they have to go to anger management classes.
Lindsay Lohan Rant Seems To Indicate She's Fallen Off The Wagon—Again
The 55-year-old father of seven (including of course Lindsay-she-never-stood-a-chance-Lohan), who surely must be a contender for Dad Of The Century, has been married to Kate Major for a year, and boy do they seem a good match.
Lohan told Page Six and TMZ before the hearing that his darling wife is a violent coked-up lying drunk and that he has videos proving she's an abusive bullshitter. The marriage is going well then.
Proud Papa Lohan Says Lindsay Is Back On Track, Reached Turning Point!
As Popdust previously reported, Mommie Dearest Major checked into rehab in June following her arrest for a drunken attack on her devoted husband, and she was also arrested in 2013  after he called the police following another drunken row.
Apparently, Michael is now seeking an annulment of their marriage, after Major (according the him) had an affair with another patient at her California-based rehab facility.
Can't you just hear the chant "Jerry, Jerry, Jerry" ringing in your ears?
Lindsay Lohan's Mom Dina Is Selling Her Daughter's Stuff Online!
Showing that he really has been drinking the Kool-Aid (drinking, snorting, injecting—who knows), Lohan also shared, "Dina said if anything happens she would be more than happy to take care of my kids for me."
Are you fucking kidding me??? Dina Lohan isn't capable of caring for a hibernating tortoise, let alone a child.
It remains to be seen whether Grandma Lohan is a good choice to bring up these poor bubbas (she did after all spawn Michael).
Lindsay Lohan Makes Total Ass Of Herself With 'Inspirational' Arabic Instagram Quote
What is seriously scary is that once this loathsome media whore deadbeat dad is done with Major he will no doubt find some other dumbass fame-crazy desperado willing to jump on the train wreck and give birth to a few more fucked-up children.
Can the judge order a vasectomy?
kate major and michael lohan lose custody of kids
kate major and michael lohan lose custody of kids
kate major and michael lohan lose custody of kids