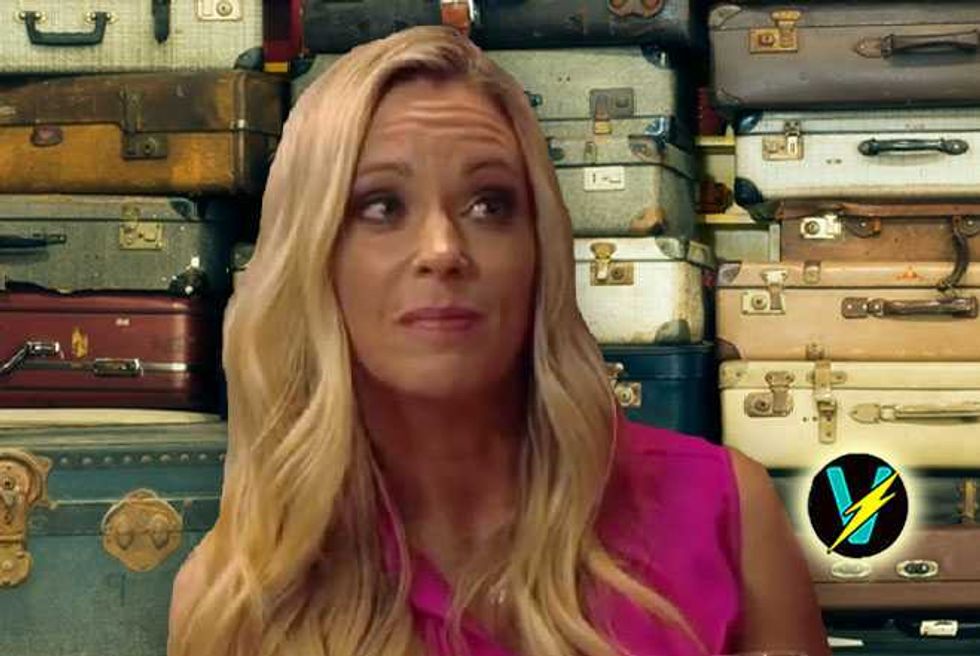 kate gosselin blind date Kate Gosselin Goes On Blind Date—Takes All Her Baggage Along With Her
In tonight's episode of Kate Plus 8, the formidable Kate Gosselin goes on a blind date, and takes all her baggage along with her.
Anyone who is aware of Gosselin, likely has a strong opinion about her—but, whether you love her or loathe her, you've got to give her props for pulling no punches, and always putting it all out there—warts and all.
Kate Gosselin's Heartbreaking Confession—Watch the Video!
As Popdust previously reported, the reality star mom has been outspoken about her disdain for now ex-husband and father of her eight kids, Jon Gosselin.
And it's little wonder Kate lacks respect for her 38-year-old ex—in their divorce filing, Jon admitted to making poor decisions leading to financial issues, he also admitted to using "poor judgment in publicly socializing with other women so soon", has flitted from job to job, working as a waiter, before deciding to pursue his dream of becoming a DJ.—and leaves the vast majority of his children's care, and financial support, solely to Kate.
Kate Gosselin's Attempt To Show How Happy Kids Are Results In Utterly Cringeworthy TV
So, it's no surprise she's carrying more than the average amount of baggage—not to mention the fact she's a single mom raising eight friggin' kids on her own.
During a TLC special last year, celebrating Gosselin turning the big 4-0, she shared how sick-to-death she is of everyone always asking her if she's dating, and claimed that the five years since her divorce had been "the happiest of [her] life" (all while looking like she is about to jump under a bus).
Jon Gosselin Seeks Custody Of Just ONE Daughter
But, it appears she's now ready once again to dip her toe in the romance pool, so when her best friend Deanna suggests setting her up on a blind date with a hunky single friend of hers, Gosselin agrees (all while looking like she is about to jump under a bus).
One thing she insists on however, is that Deanna pre-warn the guy that she has eight kids—because, and for once we totally agree with Gosselin, it's a pretty important thing to be aware of when considering a potential love interest.
Jon Gosselin Evicted For Not Paying Rent—Friends Won't Loan Him Money!
The guy in question, a dishy-looking and very sweet seeming dude named Vann, clearly isn't deterred by the news, because sure enough, there he is, in a restaurant, sitting opposite the formidable Kate Gosselin for an interview dinner.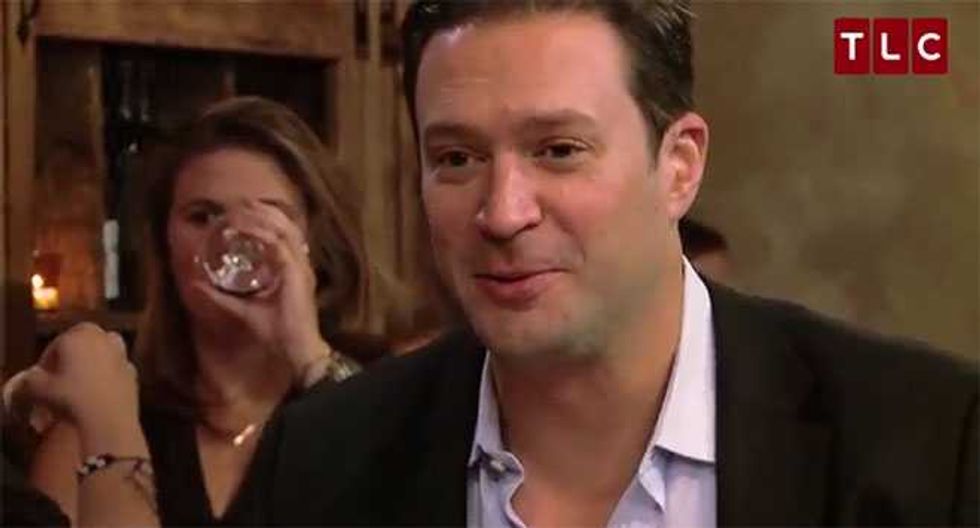 Old Vann is a braver man than most...
Dinner with Kate Gosselin looks to be every bit as fun as you imagine dinner with Kate Gosselin would be—and, that's not much fun at all.
And, in true Kate Gosselin style, she wastes no time informing the dude of her expectations when it comes to any future partners—all while managing to get in a few jabs at the expense of her ne'er-do-well ex.
Case in point:
I think my experience from what I've been through, my main message to my kids is never settle…and do be comfortable with yourself.

Enough so that you're not just marrying and being with the first person that comes along…. I think that that's a big mistake that a lot of people make.

And, you know, this time around I have to be extra choosy, not only for myself, but the bar is set very much higher because it matters… so much more even [for my family]

I do know that the person who comes along, that sticks around….if you're willing to take on someone with eight kids you have to be pretty darn tough..like, from the get go. And so I think that in itself will be, like, the ready made test.
That Kate Gosselin does love her "tests" doesn't she?!!
Bizarrely, old Vann manages to still remain undeterred, and even claims he had "fun" during the interview dinner date.
He tells the camera:
I don't think I had any clue of what to expect as someone who has actually never seen the show…I walked in blind. She's just a really engaging person, I'm having a great time, so, it's been fun.
Well, one thing's for sure—he's a braver man than most.
You can watch the new episode of Kate Plus 8 tonight at 10/9 c on TLC
For more entertainment, world, music and pop culture updates and news follow Max Page on Twitter
Ashton Kutcher and Demi Moore: Before they split in 2011 Ashton made it very clear that they had an open relationship and shared threesomes. Demi had to a) be involved and b) pick the girls. Trouble is they clearly weren't on the same page about how 'open' it actually was. He went off and did it on his own with Brittney Jones causing Demi to throw his ass outta there!
Brad Pitt and Angelina Jolie: According to Angie, just because you're open to being open doesn't mean you have to. She has gone on record as saying; "I doubt that fidelity is absolutely essential for a relationship. Neither Brad nor I have ever claimed that living together means to be chained together. We make sure that we never restrict each other." Hmmm, we think she's pretty safe in the assumption that with that many kids to look after they probably don't have too much time to act on it though!
Dolly Parton and Carl Dean: Dolly and her hubby have been married since 1966 and recently renewed their wedding vows, so clearly whatever policy they have seems to be working. They seem to exercise the 'don't rub my face in it—don't ask don't tell' rule. Dolly has said; "If we cheat we don't know it, so if we do cheat, it's very good for both us. I don't want to know it, if he's cheating on me. If I'm cheating on him, he wouldn't want to know it. And if we do, if that's what's making it work, then that's fine too."
Justin Timberlake and Jessica Biel: Apparently, before they got married and had a baby, old trouser-snake didn't want to be tied down. He told Jessica that he wasn't interested in being in a serious relationship with her and needed it to be open for it to continue. She was devastated but then came around to the idea of being demoted from girlfriend to friend with benefits. She played the long game however and managed to put a stop to it and get him to settle down.
Mo'Nique and Sidney Hicks: This is more of a one sided open relationship. He gets to have sex outside of the marriage and it's ok. She chooses not to. Hey if they're both comfortable with the arrangement then who's judging? As Mo'Nique says; "We've been best friends for over 25 years and we truly know who we are."
Megan Fox and Brian Austin Green: This is one sided too….but the other way!  Allegedly they have a deal whereby she can see other men but Brian can't date anyone else. Sounds good to us!
Pink and Carey Hart: This couple had to revise their open door policy after a change of heart ( ?) by Pink, leading to them separating for two years. They originally had a 'don't ask, don't tell' policy, but then Hart took it too far and started making public appearances with his blond bit on the side. The cute couple seem to have sorted it out now and are happily reconciled.
Tilda Swinton and John Byrne: A truly unconventional open relationship which is about love and not just being free to sleep with other people. Tilda and John have twins and are a family together, but each have other lovers outside of the marriage. Tilda with artist Sandro Kopp and John with a woman named Jeanine. Swinton says; "It may seem odd but it is certainly the best thing for the children. It's not something I try to promote as a radical lifestyle choice. But it's a situation I find very healthy.
T-Pain and Amber Najm: The rapper states that he and his wife do not have an open relationship. They just 'sleep with other girls together'. Sounds pretty open to us, but invoking the 'keep an eye on it' rule that you have to cheat at the same time for it to be ok.
Will Smith and Jada Pinkett Smith: Married for 18 years, whatever rules they have—it works for them!  Pinkett-Smith has been quite open about the open nature of their marriage, saying; "Here's the deal... you've got to trust who you're with. And at the end of the day, I'm not here to be anybody's watcher. I'm not his watcher. He's a grown man. Here's what I trust—I trust that the man that Will is, is the man of integrity. So, he's got all the freedom in the world. As long as Will can look himself in the mirror and be okay, I'm good."