Fashion
Think hipster chic with a high fashion sensibility.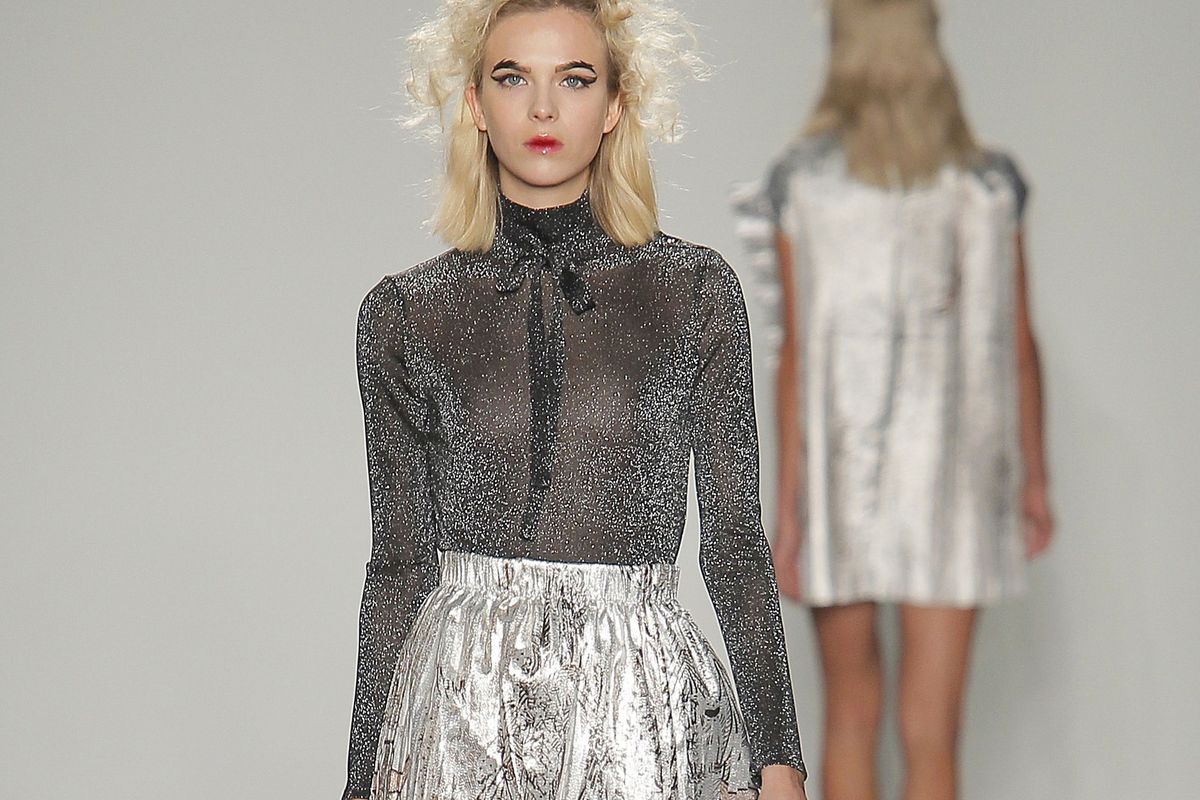 Courtesy of MAO PR
Take some staple hipster trends, varnish them with gold, finish them off with high-quality stitching and detailing, and you've got Katty Xiomara's Fall/Winter 2017 collection, which debuted February 13 at Pier 59 Studios. Familiar styles were polished made new, giving high-fashion life to looks that would otherwise be preppy, quirky fare for the Williamsburg crowd, making the presentation's high-energy indie rock soundtrack appropriate.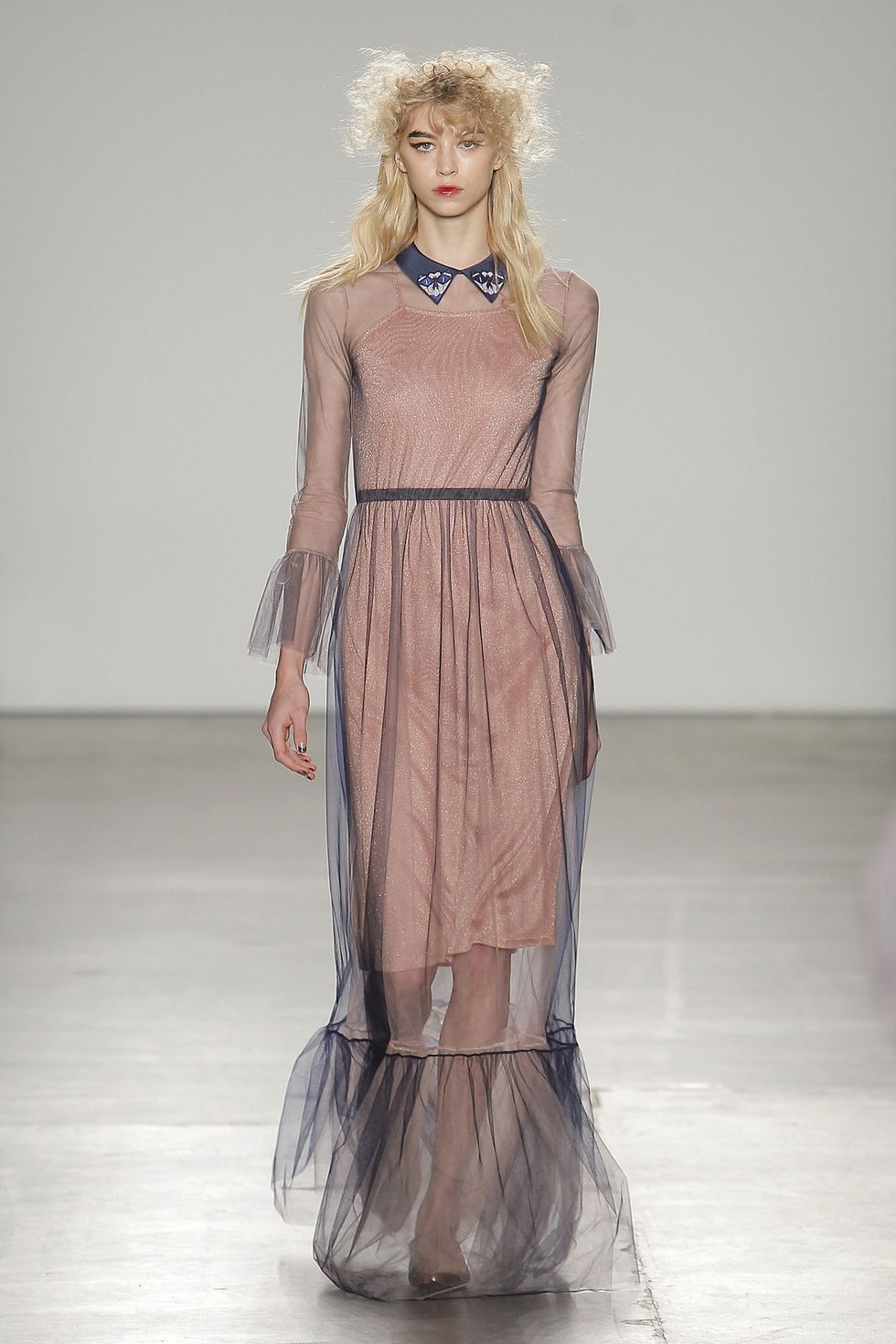 Courtesy of MAO PR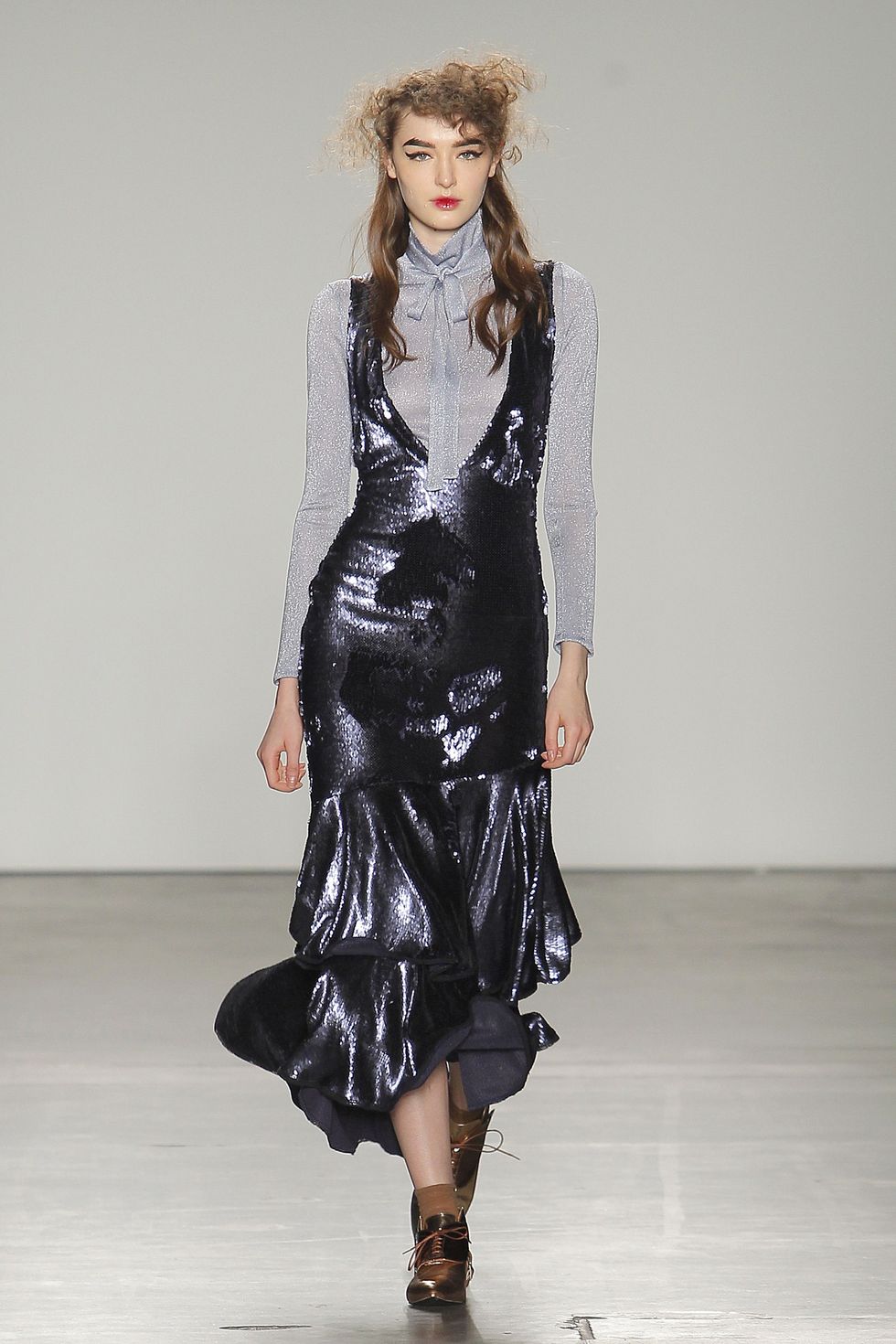 Courtesy of MAO PR
The show opened with a mid-calf length, high-necked dress in shimmering gold fabric with naturalistic-looking gold sequins, followed by a tan coat with big, fuzzy bell sleeves and collar, two very original pieces that found a place between elegant and unusual. The color palette overall was made of creams, tomato and terracotta reds, pinks, cranberry, and navy. Velvet, apparently the breakout star of the Fall/Winter 2017 season, was utilized on loose short pants and swingy dresses that balanced out the fabric's weight; one of the most memorable garments was a short, cranberry velvet shirtdress with ruffles at the chest and pale pink silk trim on the cuffs and collar. This, like most of the outfits, was styled with to-die-for pointed-toe oxfords in gold.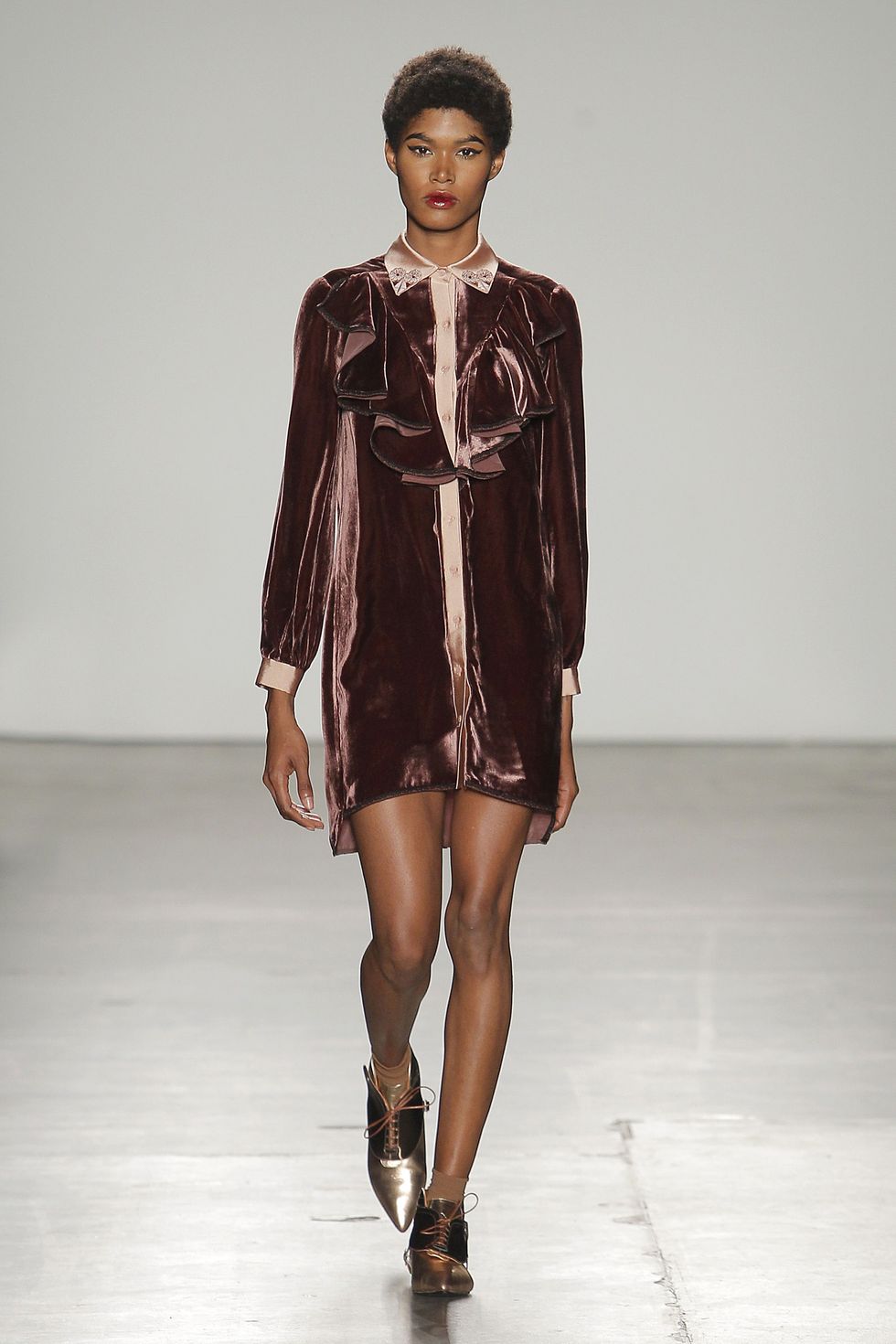 Courtesy of MAO PR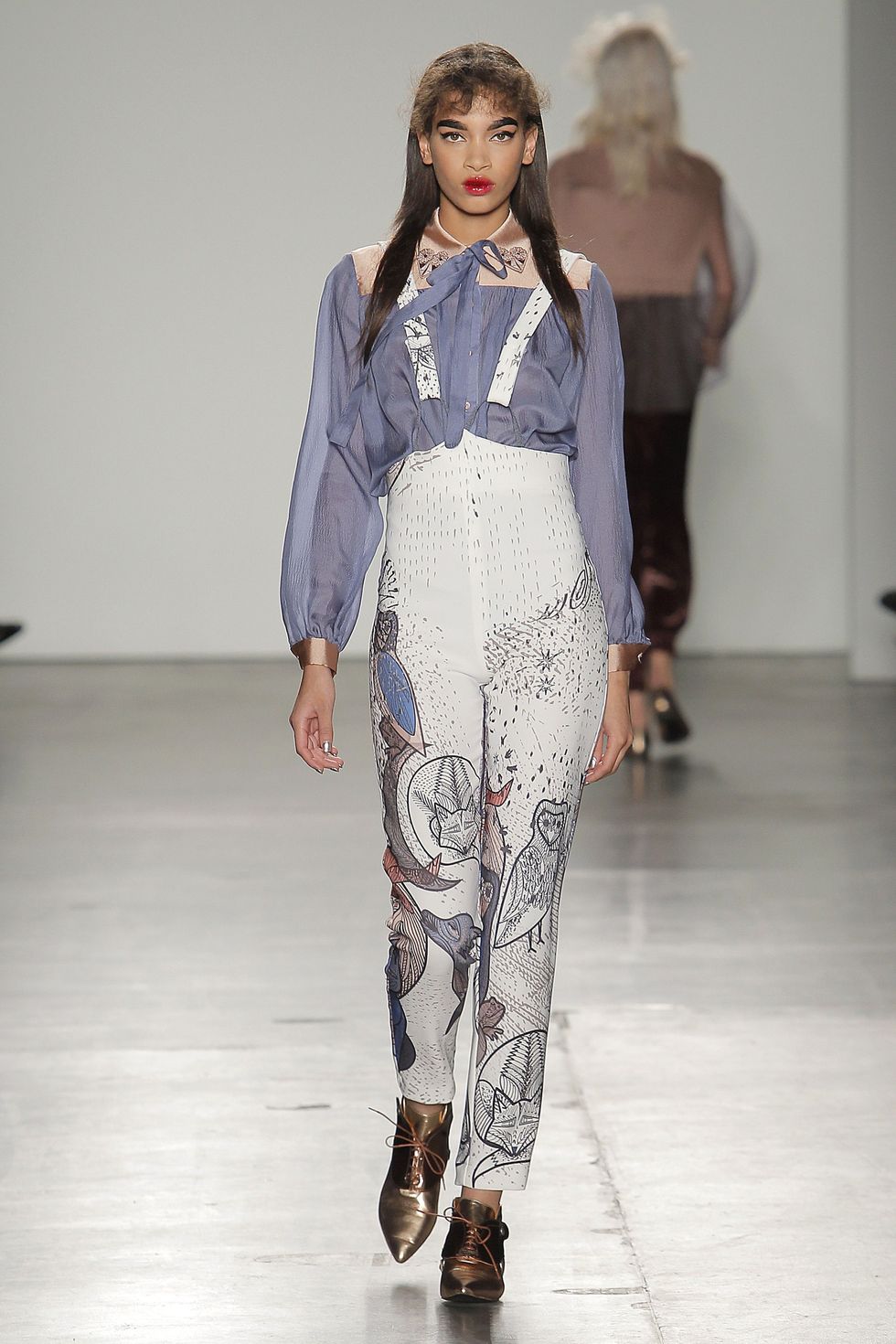 Courtesy of MAO PR
Thin, sparkly shirts in nearly-sheer fabric with small pussy bows were featured in pink, blue, and black, layered under full sequin dresses, or even under velvet spaghetti-strap dresses, which had almost a 90s feel to it. More on the preppy end were shirts and dresses with fantastic, pattern embroidered collars—including one entirely sheer dress with flared wrists and hem, layered over a fitted halter dress. Injecting a dose of playfulness were shorts and overalls (yes, high-fashion overalls without a hint of farmer or club kid in sight), covered in a whimsical owl print. The collection vaguely nodded to different semblances of throwback (the 90s layering, the 40s secretary blouses) but without replicating "vintage" looks—which is to say, it felt very forward-thinking and innovative, as exemplified by the makeup. Models wore glossy, popsicle-dyed pink lips with overdrawn, faux-unruly eyebrows. It's a little bit the strong brow of the 40s, a little bit the drawn-in brows of Instagram circa now, and a hint of something else—perhaps what's next.