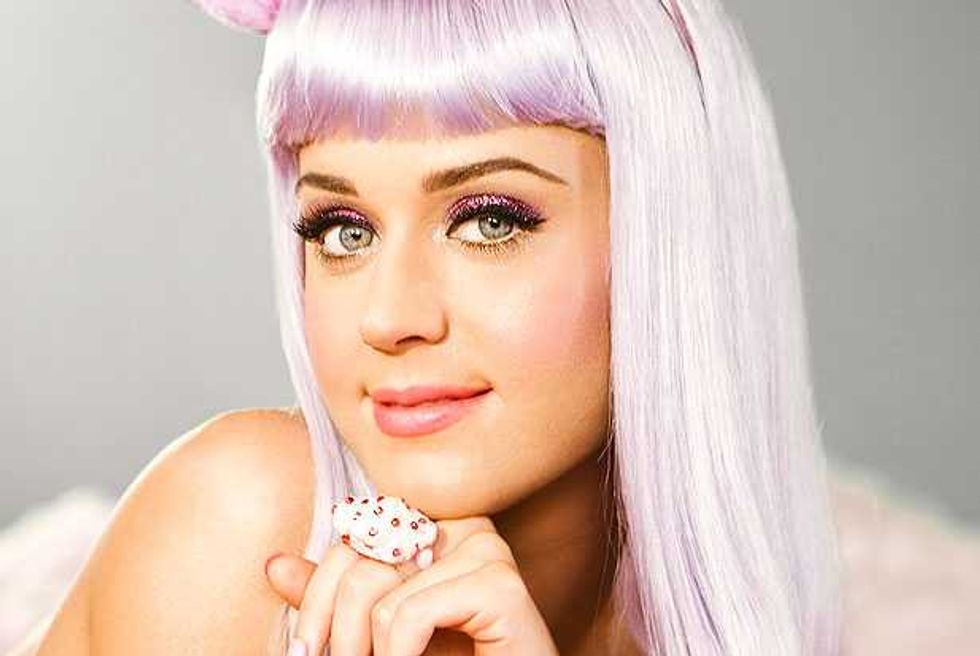 Is she really a Christian?
Apparently! She's complained on her Twitter about people taking the Lord's name in vain, which most non-Christians don't give a damn about. (See!) And in case you didn't know, her first recordings, less pumping and more bathetic than she later became, were released by a Christian label.
Is she really a lesbian?
"I Kissed a Girl" was just a song, and it wasn't as good, as funny, or as believable as Jill Sobule's. Also not as lesbian-friendly.
But she's sexually active?
Not that it's anyone's business, but sure! She's a red-blooded American youth.
Doesn't that make her a hypocrite?
Not necessarily. There are lots of different interpretations of what it means to be a faithful Christian, and steadfast-virginity-until-marriage is only one of them. Besides, she is married now, and if you're married to Russell Brand you kind of have to have some unusual kinks.
Okay, is she a good singer?
Ummm. We'll be nice and call her distinctive. She has a bunch of different registers, and some of them are pretty. She claims she doesn't use Autotune, which would show an admirable confidence in her vocal talents if you couldn't sometimes tell that she's not using Autotune.
But she's a popular singer?
You bet! She's released five mainstream singles, and every one of them has hit number one. By many standards, she's the second-most popular pop singer of her era after Lady Gaga.
Isn't she inconsistent?
You could say. "I Kissed a Girl" was dumb, "Hot N Cold" was even dumber, "California Gurls" was dumb-but-undeniable, "Teenage Dream" was dumb-but-gorgeous, and "Firework" was dumb-but-inspirational-which-makes-it-even-dumber-somehow. Okay, so she's actually kind of consistent.
What's her origin story?
She was born Katheryn Elizabeth Hudson in Santa Barbara, California in 1984, to parents who were both evangelical pastors. Her first public singing was in church, where she came to the attention of the Nashville-based Christian-music industry and released her first album, Katy Hudson, on the Christian label Red Hill in 2005. But when it did poorly, she struggled through several label changes before being signed to Capitol in 2007 and hooking up with Dr. Luke, whose big stomping sound on "I Kissed a Girl" and "Hot N Cold" helped make her a household name, and cemented her pop-star status in 2010 with "California Gurls" and "Teenage Dream." But she's also had hits with other producers, including Greg Wells ("Waking Up in Vegas"), Timbaland ("If We Ever Meet Again") and Stargate ("Firework").
Is she image-obsessed?
Name us a pop star who doesn't take at least as much care over their image as they do over their music, and you can write these bios yourself. What a lot of people appreciate about her is that her imagery nearly always tends toward absurdity.
Explain yourself.
She's probably best known for adopting iconic retro pinup costumes reminiscent of World War II cheesecake or postwar bikini modeling, but then she adds ludicrous details like purple hair, candy-cane stripes or whipped-cream jets attached to her breasts. Even the least absurd of her videos, the one for "Teenage Dream," is so over-the-top and relentless in its hazy desaturated prettiness that it stops being cute and starts being surreal.
So what are her albums like?
She has two mainstream albums, not counting the Christian one: One of the Boys (2008) and Teenage Dream (2010). One of the Boys is more anonymous and, aside from the singles, pretty rote in its bounce-bounce-sob mix of dance tracks and ballads. Teenage Dream would like to be weirder, but it too bogs down in the back half. She makes startling, attention-grabbing and dumb-but-glorious singles, but neither she nor her producers can keep it up for the space of a full-length.
Do you have any juicy gossip about her?
Honey, there's gossip about everyone in show business. Katy dated Travie McCoy for a couple of years, and as we mentioned, she's now married to comedian and actor Russell Brand (Get Him to the Greek), whose goofy-but-likeable formula she seems to be working hard to emulate. They married in India, in a traditional Hindu ceremony. (Which still doesn't necessarily make her a bad Christian.)
And future plans?
She will no doubt continue to bash all our heads in with massive summer singles, for which we will alternately thank and curse her, and all the tabloids are waiting on pins and needles for the first slight sign of motherhood.