MUSIC
The singer has a history of being kinda creepy.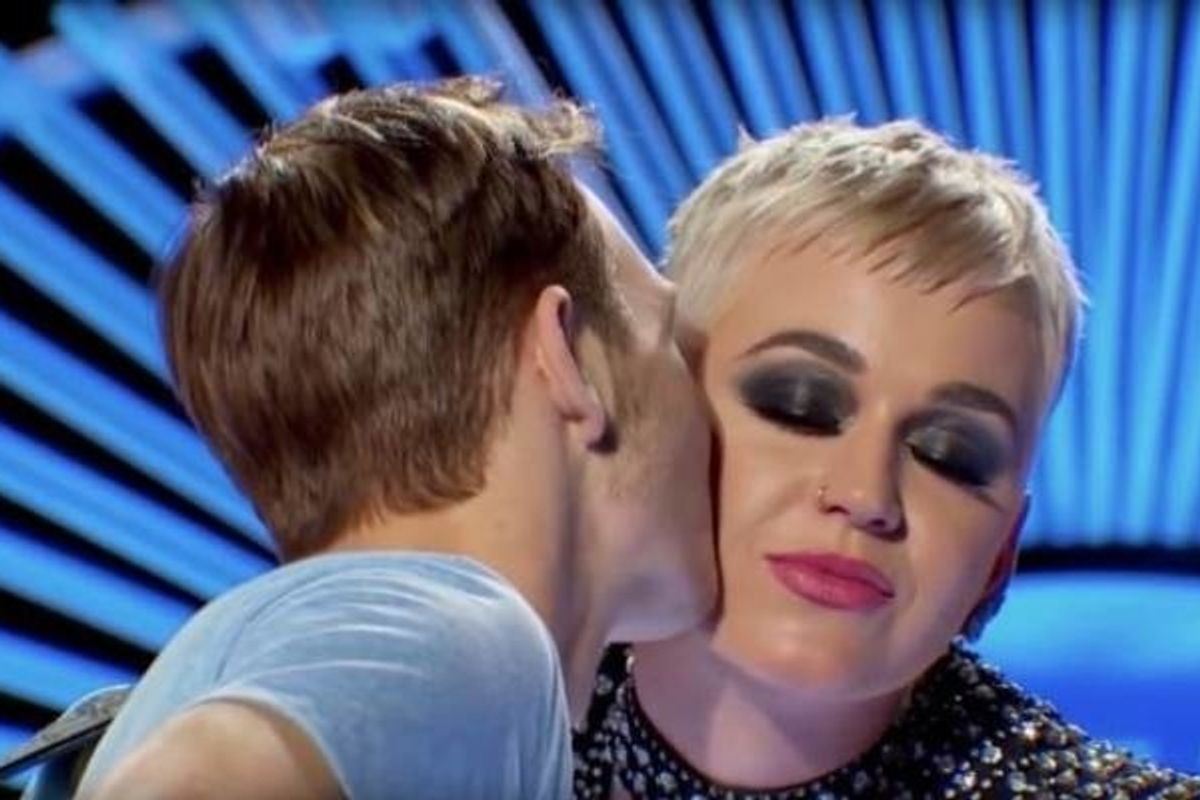 Male model Josh Kloss took to Instagram today to accuse Katy Perry of sexual misconduct.
Kloss, who co-starred alongside Perry as her love interest in the "Teenage Dream" music video, detailed the allegations in a series of long-winded Instagram posts. "This one time I brought a friend who was dying to meet her," he wrote. "As I turned to introduce my friend, she pulled my Adidas sweats and underwear out as far as she could to show a couple of her guy friends and the crowd around us, my [genitals]."
Many women flocked to Kloss's Instagram to accuse the model of clout-chasing and of disenfranchising the women of #MeToo. It's true that he uses certain phrases within his posts that seem to diminish others' experiences with sexual harassment (he referred to himself as a "prostitute" and described how the "fear" stuck with him); but even so, this wouldn't be the first time Perry has been accused of inappropriate behavior.
In a 2018 episode ofAmerican Idol, Perry kissed 19-year-old contestant Benjamin Glaze without his consent after he mentioned that he'd never been kissed before. While Glaze didn't feel sexually harassed, he later reiterated to The New York Times that "would I have done it if she said, 'Would you kiss me?' No, I would have said no...I was uncomfortable immediately." She made another contestant equally uncomfortable when she chose to address his looks after he described caring for his sick mother. "You're so hot," she said. "Only hot guys are typically named Trevor." Before he began his audition, Perry also said, "If you're not going to Hollywood, maybe you can just come hang out with me after." Perry then made headlines for flirting with another 18-year-old contestant named Johnny Brenns. "If a 32-year-old cougar would eat it up," was among her inappropriate comments. Viewers were quick to call out the double standard of Perry's behavior.
Then there was the singer's incredibly awkward guest appearance on "Spill Your Guts or Fill Your Guts" with James Corden. The premise was that Corden and Perry would ask each other questions, and if one refused to answer, they would have to nibble on a selection of gross-out food, like bird saliva or cow tongue. Corden, for some reason, immediately went for Perry's jugular, asking her to judge the sexual prowess of her ex-lovers. "Rank Diplo, John Mayer and Orlando Bloom," he said. After ranking them, she added, "If you're listening to me, gentlemen, I love you...and maybe I just haven't had enough time to have sex with you, so maybe we can make up that time."
While no one's calling Perry a sexual predator and Kloss very well could be clout-chasing, to dismiss the singer's strange and inappropriate behavior would be against the values of #MeToo. For now, the double standards of the movement exist in our periphery, but, as time goes on, the significance of abusing power will inevitably take center stage over gender. After all, both women and men can be abusers as well as victims, but that has historically shown to be a complicated conversation that we're not ready for.