"I'm sorry for anything I ever did," said Perry.
Even if you don't care, everyone and their mother knows about the infamous Taylor Swift and Katy Perry feud. Back in 2014, Swift dropped her first full-on pop record with 1989, and on it, she penned the biting takedown of Perry on "Bad Blood," which featured a remix with Kendrick Lamar and an epic, apocalypse-inspired music video containing many members of her squad. It wasn't until earlier this year, with the release of the Nicki Minaj-assisted "Swish Swish," did Perry finally fire back. But after her stint on Carpool Karaoke with James Corden a few weeks ago, she is now ready to bury the hatchet.
Over the weekend, Perry spoke with Huffington Post's Thrive Global podcast, and she didn't beat around the bush. "I'm ready to let it go. Absolutely, 100 percent. I forgive her, and I'm sorry for anything I ever did, and I hope the same from her, and I think it's actually...I think it's time," she said. "There are bigger fish to fry, and there are bigger problems in the world. I love her and I want the best for her, and I think she's a fantastic songwriter, and like, I think that if we both, her and I, can be representatives of strong women that come together despite their differences, I think the whole world is going to go, like, 'Yeah, we can do this.'"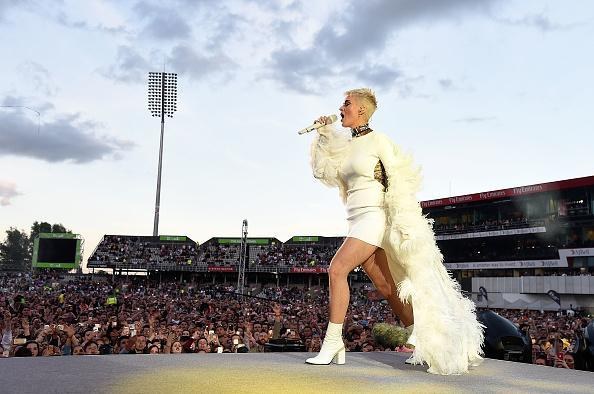 Kevin Mazuer/Getty
She added, "Maybe I don't agree with everything she does, and maybe she doesn't agree with everything I do, but like, I just--I really, truly, want to come together, and in a place of love and forgiveness, and understanding and compassion. There's a lot of other things out there in the world that people need to be focused on. God bless her on her journey. God bless her. Honestly. I want to operate in a positive, kind space. I want to be an example of kindness, compassion, love, and I forgive and forget. That wasn't easy for me."

Following Swift's release of 1989, Swift spoke with Rolling Stone about the woman in "Bad Blood." "For years, I was never sure if we were friends or not. She would come up to me at awards shows and say something and walk away, and I would think, 'Are we friends, or did she just give me the harshest insult of my life?'
But then, things seemed to spiral out of control in the following year. "She did something so horrible. I was like, 'Oh, we're just straight-up enemies.' And it wasn't even about a guy! It had to do with business. She basically tried to sabotage an entire arena tour. She tried to hire a bunch of people out from under me. And I'm surprisingly non-confrontational – you would not believe how much I hate conflict. So now I have to avoid her. It's awkward, and I don't like it."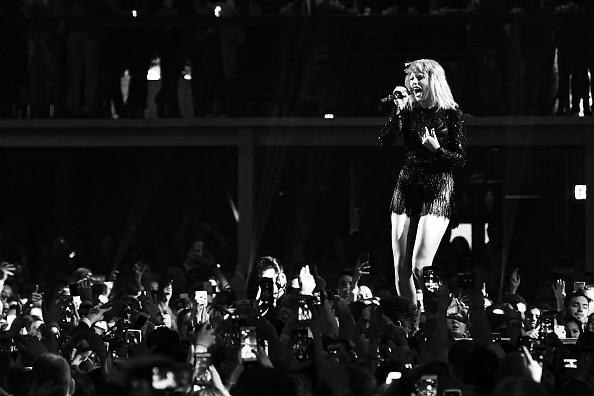 Mike Coppola/Getty
During Perry's Carpool Karaoke appearance, she said, bluntly: "She started it, and it's time for her to finish it." Perry then claimed three of her backing dancers put a 30-day contingency clause in their contracts with Swift (as part of the Red Tour), but when the dancers approached management about leaving, they were straight-up fired. "I tried to talk to her about it, and she wouldn't speak to me. I do the right thing any time it feels like a fumble," Perry continued. "[I got] a full shutdown, and then she writes a song about me ['Bad Blood']… that's how you want to deal with it? Karma."

Leading into Perry's recently-released new album Witness, Swift announced that her entire catalog would be returning to all streaming services, including Spotify, less than 24 hours before her arch rival's new release. Despite that, however, Perry is expected to take the top spot on the Billboard 200 this week. Final numbers are forthcoming.
---
READ MORE ABOUT MUSIC...
WATCH | Citizen Føur party in the desert in "Want You Back" music video
XYLØ strip back "I Still Wait for You" into stunning acoustic
Fifth Harmony hold it "Down" in new music video with Gucci Mane
---
2017 DIRECTV NOW Super Saturday Night Concert In Houston - Taylor Swift Performance
HOUSTON, TX - FEBRUARY 04: Musician Taylor Swift performs onstage during the 2017 DIRECTV NOW Super Saturday Night Concert at Club Nomadic on February 4, 2017 in Houston, Texas. (Photo by Kevin Mazur/Getty Images for DIRECTV)
One Love Manchester Benefit Concert
MANCHESTER, ENGLAND - JUNE 04: NO SALES, free for editorial use. In this handout provided by 'One Love Manchester' benefit concert Katy Perry performs on stage on June 4, 2017 in Manchester, England. Donate at www.redcross.org.uk/love (Photo by Getty Images/Dave Hogan for One Love Manchester)
2017 DIRECTV NOW Super Saturday Night Concert In Houston - Taylor Swift Performance
HOUSTON, TX - FEBRUARY 04: (EDITORS NOTE: Image has been shot in black and white. Color version not available.)Musician Taylor Swift performs onstage during the 2017 DIRECTV NOW Super Saturday Night Concert at Club Nomadic on February 4, 2017 in Houston, Texas. (Photo by MikeCoppola/Getty Images for DIRECTV)
One Love Manchester Benefit Concert
MANCHESTER, ENGLAND - JUNE 04: NO SALES, free for editorial use. In this handout provided by 'One Love Manchester' benefit concert Katy Perry performs on stage on June 4, 2017 in Manchester, England. Donate at www.redcross.org.uk/love (Photo by Getty Images/Dave Hogan for One Love Manchester)