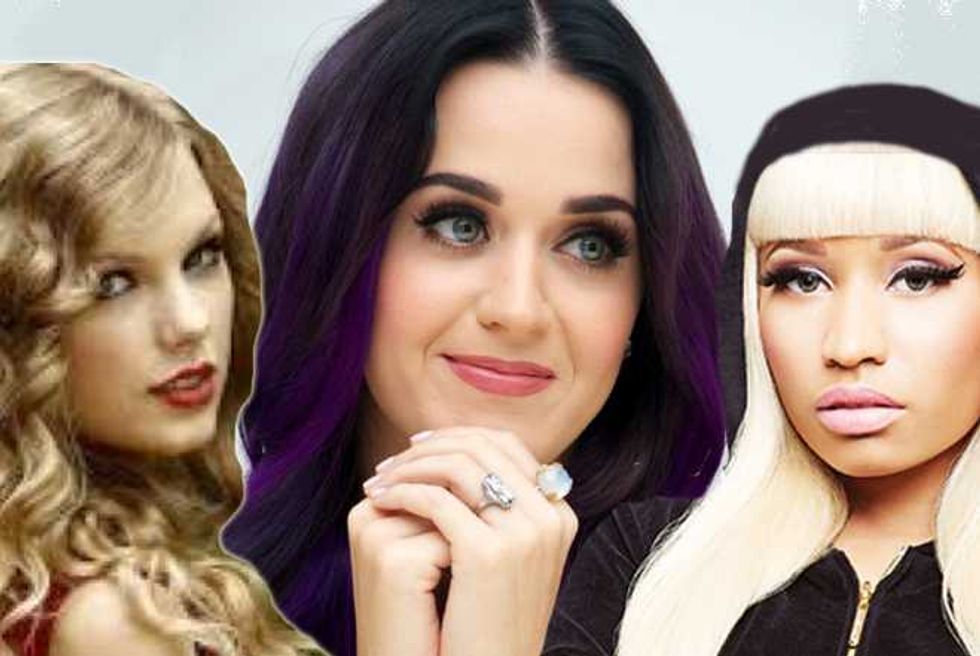 Pop princesses are breaking off into warring fragments, picking sides in the epic battle of good versus evil, otherwise known as Katy Perry versus Taylor Swift.
Who represents the light and who represents the darkness? That's for you to decide….but Nicki Minaj has opted to align with #TeamPerry.
Piers Morgan's Nicki Minaj Rant Is The Perfect Bitter Angry Little Troll Piece
As Popdust previously reported, it all kicked off on Tuesday, after Minaj called out the VMAs for racism and body image double standards after she was snubbed for a Video of the Year consideration for Anaconda.
Minaj fired off a flurry of tweets, but it was one in particular that piqued Swift's interest, "If your video celebrates women with very slim bodies, you will be nominated for vid of the year"
Taylor Swift Has Reportedly Feuded With Just About Everyone You Can Think Of
Tay Tay took the criticism personally, firing back, "I've done nothing but love & support you" before democratically framing the rebuttal as a backhanded compliment, "It's unlike you to pit women against each other."
Minaj shot straight back, "Huh? U must not be reading my tweets. Didn't say a word about u. I love u just as much. But u should speak on this. @taylorswift13"
Nicki Minaj Is Driving The Daily Mail Bonkers
Meanwhile, Katie couldn't help but notice the irony of the accusation—given that Swift's catchy pop ditty Bad Blood, is all about what a D-Bag Perry is.

Nicki jumped straight in and favorited Katy's tweet.
Meow!
Taylor, wanna phone a friend? Piers Morgan is standing by...