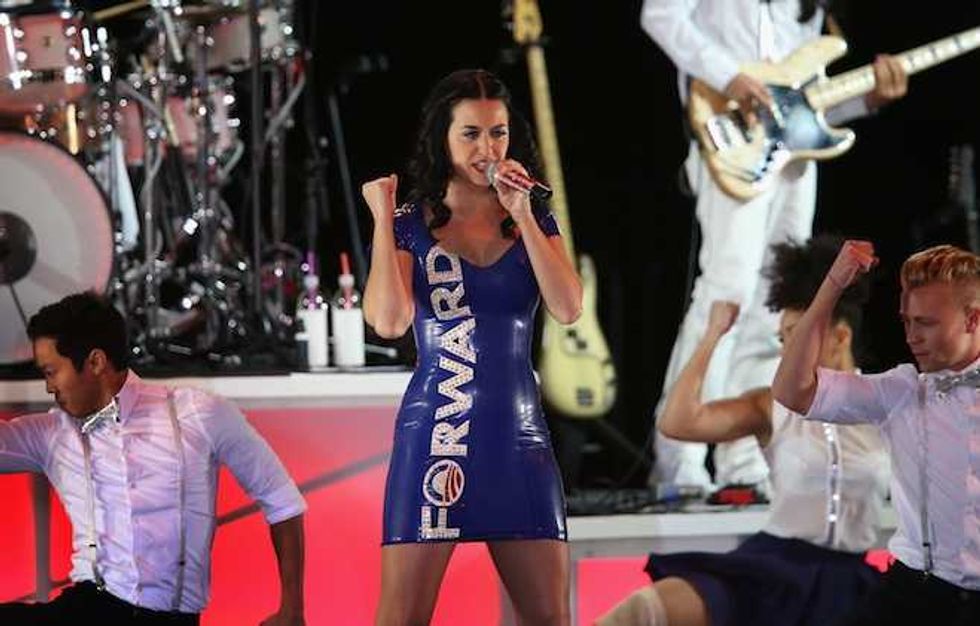 From "My New Album Drops" to "Free Wayne," the Wardrobe With A Message strategy has a long and healthy history in the pop music world. Katy Perry is the most recent proponent of saying it through personal style, confirming her political beliefs and presidential candidate of choice via skin-tight latex dresses worn in very public places. First there was the walking election ballot, likely to confuse politicos drunk on hope and change into thinking that the check marks on Katy's midsection are an excuse to get handsy (luckily at these kinds of things police are always standing by). On Saturday, the singer performed for Barry O. yet again, wearing an equally tight royal blue number emblazoned with Obama's 2012 slogan,"Forward." We take it Perry believes most of the Obama camp are visual learners.
Perry helped pack in nearly 20,000 supporters during a rally for the Obama re-election campaign in Milwaukee, Wisc. on Saturday night. It was her third gig on behalf of the POTUS, following two performances in Los Angeles earlier this month. "You got some cool outfit you're gonna wear on Tuesday?" she asked those gathered on swing state grounds. "You tweet that to me and I'm gonna retweet you, alright? Cause I got a poll outfit as well. You best believe." Hear that, KatyCats? This is your one shot to instant-Twitter fame and maybe, just maybe, a coveted blue check mark. During her brief set, Perry ran through her most inspirational staples, as well as revisited her live rendition of Obama favorite, "Let's Stay Together." "This one goes out to all the people who know that their vote can make a difference," she told the audience before "Firework," moving only slightly in what appears to be a horrifyingly tricky get-up to take on and off. Beauty is pain, Popdusters, and presidential elections can be the most beautiful messes of them all.
We never realized how much Perry's "dance" moves look like yoga poses. Watch her performance of "Firework," "Teenage Dream" and "Part of Me" below.
In addition to support from Perry in his campaign's final days, Obama will be joined by Bruce Springsteen in Madison, Wisc. on Monday and Jay-Z in Columbus, Ohio.