Frontpage Popular News
MUSIC | The Pop Queen stopped by the talkshow to discuss new music and play a game of Will You Perry Me?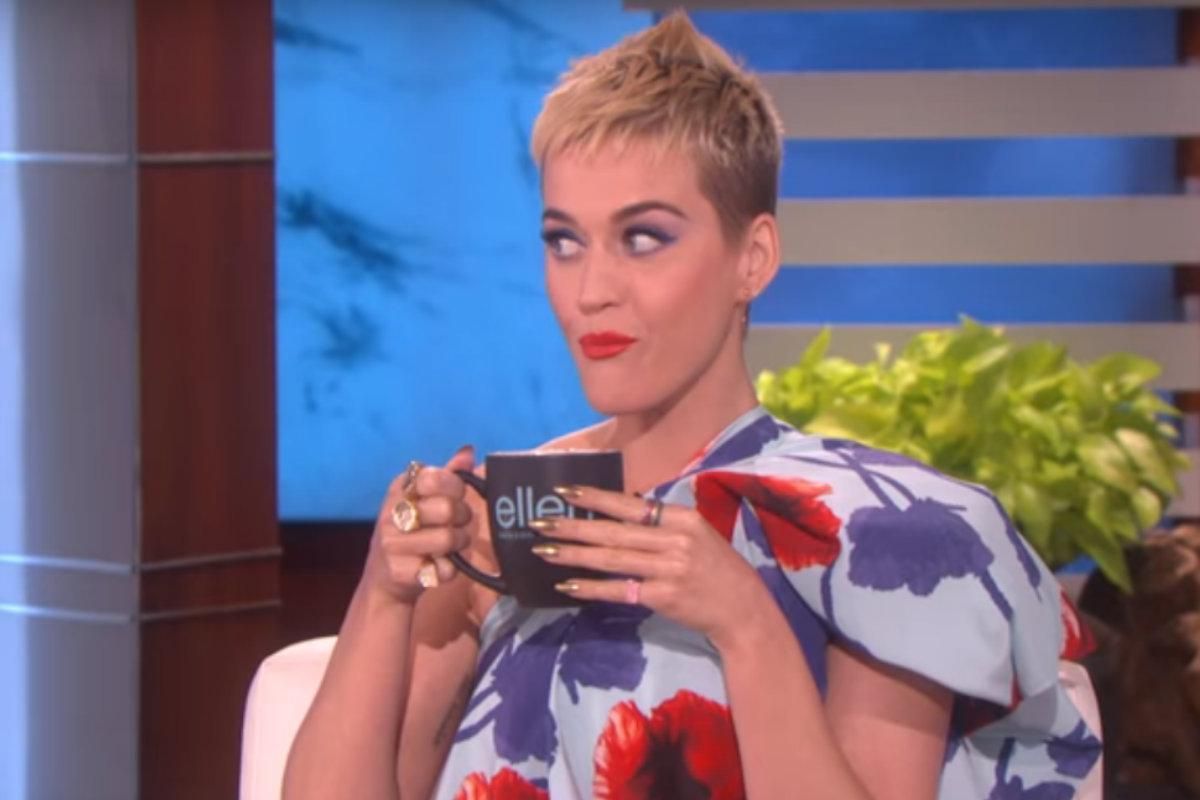 Screenshot
"I'm excited for you to see all the fingers and toes and bums," the pop singer said of her new album.
Katy Perry's fourth studio full-length is nearly upon us. Anchored by the politically-frantic, theme-park-themed "Chained to the Rhythm" and the deliciously-satisfying "Bon Appétit," the aptly-titled Witness arrives everywhere June 9. During her promo tour, she stopped by The Ellen Degeneres Show on Tuesday (May 16) to whet fans' appetites with some tasty tidbits. "I started writing a record in June of last year," she told host Ellen Degeneres. "I wrote over 40 songs. Now I have 15 beautiful songs to represent this story I want to share with the world."
Things then got a little spicy. "Right now, you're just seeing parts of the body of work," she said. "['Bon Appétit'] is the sexually-empowered and liberated part. "'Chained to the Rhythm' was the mental, political liberation. Now, embracing my 30s is so bomb dot com. I love it so much. I love being a woman...and I love a consensual interaction. There's nothing wrong with that; we're all animals!"
Which leads to the overall arc of the album. She explained, "I make these kooky videos, and I have always had a laugh along the way. Sometimes, I pose a question. But most of the time, I like to lift people's spirits."
"I'm excited for you to see all the fingers and toes and bums along the way," she continued about the "body of work" she's crafted. A press release describes Witness as an album that "reflects on the changes in her own life and in the world around her, delivering songs that both challenge and inspire."
Perry also discussed her upcoming Witness, The Tour, launching in early September. "For the first time, I am partnering up with Boys & Girls Club of America," she said. "And not only will $1 from each ticket sold in America be donated to a Boys & Girls Club, I have 100 tickets--50 for Boys & Girls Club and 50 for my fans--that they can actually earn by signing up to do a medley of different things." Those include becoming a Boys & Girls Club volunteer and other initiatives.
Perry later talked about attending the Met Gala and the need for GoGirl, which she's used "in several music videos," she said. "I always find myself in this predicament where I have this very extravagant, lavish, unrealistic, impractical costume on. That's just me, I guess."
She added, "It's nozzle you put around you [to urinate]."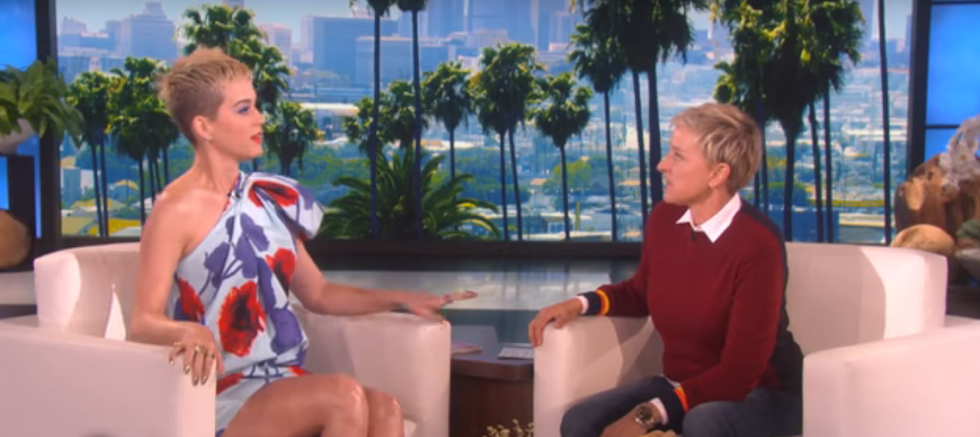 On her new pixie-like hair cut, she said, "It's a little Ellen and a little Alfalfa. I love Alfalfa. He's my hero. I did it about a month and change ago."

Of course, the singer then kinda, sorta confirmed her placement as a judge on the American Idol revival happening next year on ABC. "Judge not lest ye be judged," she quipped, as an attempt to avoid a straightforward answer. "But they didn't say anything about constructive criticism, and I'm good at that."
Watch her interview above and below.
Check out Perry's tour dates below:

9/7 - Columbus, OH @ Schottenstein Center
9/9 - Montréal, QE @ Bell Centre
9/12 - Toronto, ON @ Air Canada Centre
9/18 - Philadelphia, PA @ Wells Fargo Center
9/21 - Uncasville, CT @ Mohegan Sun Arena at Casey Plaza
9/25 - Washington, DC @ Verizon Center
9/29 - Boston, MA @ TD Garden
10/2 - New York, NY @ Madison Square Garden
10/3 - Uniondale, NY @ NYCB Live!: Home of the Nassau Veterans Memorial Coliseum
10/8 - Newark, NJ @ Prudential Center
10/11 - Brooklyn, NY @ Barclays Center
10/15 - Nashville, TN @ Bridgestone Arena
10/16 - Louisville, KY @ KFC Yum! Center
10/19 - Pittsburgh, PA @ PPG Paints Arena
10/22 - St. Louis, MO @ Scottrade Center
10/24 - Chicago, IL @ United Center
11/7 - Los Angeles, CA @ STAPLES Center
11/14 - San Jose, CA @ SAP Center at San Jose
11/24 - Salt Lake City, UT @ Vivint Smart Home Arena
11/26 - Denver, CO @ Pepsi Center
11/28 - Omaha, NE @ CenturyLink Center
11/29 - Tulsa, OK @ BOK Center
12/1 - St. Paul, MN @ Xcel Energy Center
12/2 - Des Moines, IA @ Wells Fargo Arena
12/4 - Milwaukee, WI @ BMO Harris Bradley Center
12/6 - Detroit, MI @ Little Caesars Arena
12/9 - Indianapolis, IN @ Bankers Life Fieldhouse
12/10 - Cleveland, OH @ Quicken Loans Arena
12/12 - Atlanta, GA @ Philips Arena
12/15 - Tampa, FL @ Amalie Arena
12/17 - Orlando, FL @ Amway Center
12/20 - Miami, FL @ AmericanAirlines Arena
2018 Dates
1/5 - New Orleans, LA @ Smoothie King Center
1/7 - Houston, TX @ Toyota Center
1/10 - San Antonio, TX @ AT&T Center
1/12 - Little Rock, AR @ Verizon Arena
1/14 - Dallas, TX @ American Airlines Center
1/19 - Phoenix, AZ @ Gila River Arena
1/20 - Las Vegas, NV @ T-Mobile Arena
1/31 - Sacramento, CA @ Golden1 Center
2/2 - Portland, OR @ Moda Center at Rose Quarter
2/3 - Tacoma, WA @ Tacoma Dome
2/5 - Vancouver, BC @ Pepsi Live at Rogers Arena
---
READ MORE ABOUT MUSIC...
JAY SEAN takes aim at social media addiction in "Do You Love Me" video
MILEY CYRUS' 10 best deep cuts
Premiere | SKYE STEELE shares "All That Light," talks second album
---
"Rei Kawakubo/Comme des Garcons: Art Of The In-Between" Costume Institute Gala - Outside Arrivals
NEW YORK, NY - MAY 01: Singer Katy Perry attends the 'Rei Kawakubo/Comme des Garcons: Art Of The In-Between' Costume Institute Gala at Metropolitan Museum of Art on May 1, 2017 in New York City. (Photo by Michael Stewart/WireImage)
"Rei Kawakubo/Comme des Garcons: Art Of The In-Between" Costume Institute Gala - Outside Arrivals
NEW YORK, NY - MAY 01: Zendaya attends the 'Rei Kawakubo/Comme des Garcons: Art Of The In-Between' Costume Institute Gala at Metropolitan Museum of Art on May 1, 2017 in New York City. (Photo by Michael Stewart/WireImage)
"Rei Kawakubo/Comme des Garcons: Art Of The In-Between" Costume Institute Gala - Arrivals
NEW YORK, NY - MAY 01: Solange Knowles arrives at "Rei Kawakubo/Comme des Garcons: Art Of The In-Between" Costume Institute Gala at The Metropolitan Museum on May 1, 2017 in New York City. (Photo by Sean Zanni/Patrick McMullan via Getty Images)
"Rei Kawakubo/Comme des Garcons: Art Of The In-Between" Costume Institute Gala - Arrivals
NEW YORK, NY - MAY 01: Rihanna attends "Rei Kawakubo/Comme des Garcons: Art Of The In-Between" Costume Institute Gala at Metropolitan Museum of Art on May 1, 2017 in New York City. (Photo by Karwai Tang/WireImage)
"Rei Kawakubo/Comme des Garcons: Art Of The In-Between" Costume Institute Gala - Arrivals
NEW YORK, NY - MAY 01: Zoey Deutch arrives at "Rei Kawakubo/Comme des Garcons: Art Of The In-Between" Costume Institute Gala at The Metropolitan Museum on May 1, 2017 in New York City. (Photo by Sean Zanni/Patrick McMullan via Getty Images)
"Rei Kawakubo/Comme des Garcons: Art Of The In-Between" Costume Institute Gala - Arrivals
NEW YORK, NY - MAY 01: Emma Roberts attends "Rei Kawakubo/Comme des Garcons: Art Of The In-Between" Costume Institute Gala at Metropolitan Museum of Art on May 1, 2017 in New York City. (Photo by Karwai Tang/WireImage)
"Rei Kawakubo/Comme des Garcons: Art Of The In-Between" Costume Institute Gala - Arrivals
NEW YORK, NY - MAY 01: Lupita Nyong'o arrives at "Rei Kawakubo/Comme des Garcons: Art Of The In-Between" Costume Institute Gala at The Metropolitan Museum on May 1, 2017 in New York City. (Photo by Sean Zanni/Patrick McMullan via Getty Images)
"Rei Kawakubo/Comme des Garcons: Art Of The In-Between" Costume Institute Gala - Arrivals
NEW YORK, NY - MAY 01: Mary-Kate Olsen and Ashley Olsen attend the "Rei Kawakubo/Comme des Garcons: Art Of The In-Between" Costume Institute Gala at Metropolitan Museum of Art on May 1, 2017 in New York City. (Photo by Kevin Mazur/WireImage)
"Rei Kawakubo/Comme des Garcons: Art Of The In-Between" Costume Institute Gala - Arrivals
NEW YORK, NY - MAY 01: Takeoff, Quavo and Offset of the group Migos attends "Rei Kawakubo/Commes Des Garcons: Art of the In-Between", the 2017 Costume Institute Benefit at Metropolitan Museum of Art on May 1, 2017 in New York City.ʠ (Photo by Taylor Hill/FilmMagic)
"Rei Kawakubo/Comme des Garcons: Art Of The In-Between" Costume Institute Gala - Arrivals
NEW YORK, NY - MAY 01: Sean Combs attends "Rei Kawakubo/Commes Des Garcons: Art of the In-Between", the 2017 Costume Institute Benefit at Metropolitan Museum of Art on May 1, 2017 in New York City.ʠ (Photo by Taylor Hill/FilmMagic)
"Rei Kawakubo/Comme des Garcons: Art Of The In-Between" Costume Institute Gala - Arrivals
NEW YORK, NY - MAY 01: Lily Aldridge arrives at "Rei Kawakubo/Comme des Garcons: Art Of The In-Between" Costume Institute Gala at The Metropolitan Museum on May 1, 2017 in New York City. (Photo by Sean Zanni/Patrick McMullan via Getty Images)
"Rei Kawakubo/Comme des Garcons: Art Of The In-Between" Costume Institute Gala - Arrivals
NEW YORK, NY - MAY 01: Kiko Mizuhara attends "Rei Kawakubo/Commes Des Garcons: Art of the In-Between", the 2017 Costume Institute Benefit at Metropolitan Museum of Art on May 1, 2017 in New York City.ʠ (Photo by Taylor Hill/FilmMagic)