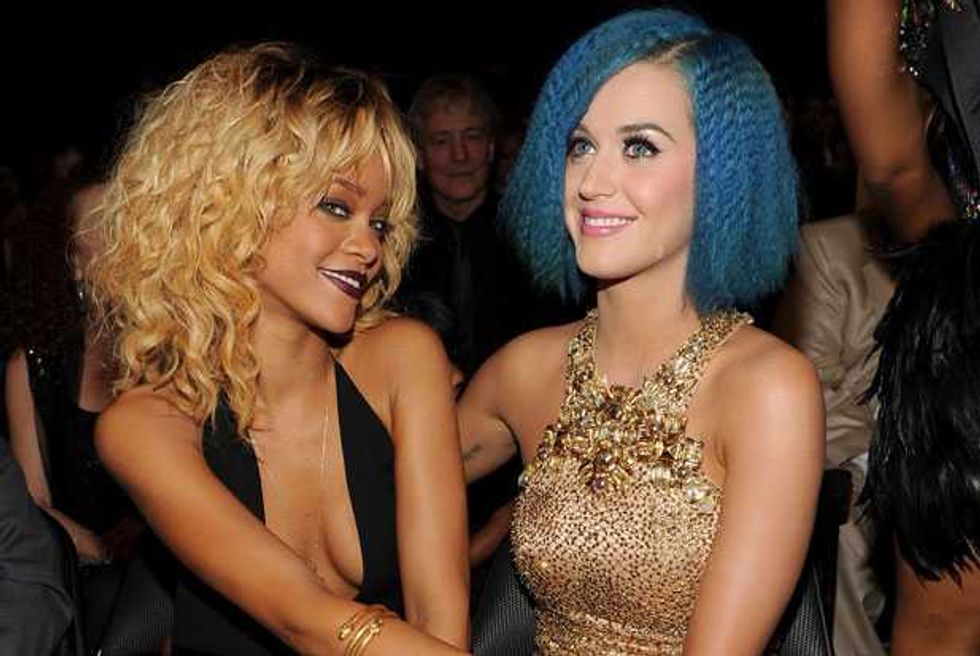 Proud BFFs Katy Perry and Rihanna, whose Mexican getaways and birthday wishes have been well documented over the years, will soon be taking their fondness for one another into the studio. "We have been working on this for years. We still are trying to make a song together, Katy Perry and I," Rihanna told Access Hollywood in regard to plans for a potential collaboration that's apparently been a long time coming. "The song will probably come out in a while," Rihanna said. "I won't say that it's happening right now, but it's going to happen." That's a lot of vague hints with little substantial confirmation, but we like to believe these two have laid down at least one rendition of a jilted woman standard during an all-night sleepover, right between pillow fighting and cardio striptease videos. Adding to our curiosity on the matter, Katy Perry spoke to the subject on BBC Radio 1 during her appearance on Monday:
We've collaborated on a lot of things, but just not songs yet. It's one of those things that's got so much build up that we have to deliver. I want it to be like that Eurythmics and Aretha Franklin song "Sisters Are Doin' It for Themselves," not "Beautiful Liar." But I definitely want to do something that is so iconic. Rihanna's kind of busy too. We're both busy but we planted the seed two years ago. How disappointed would you be if that song came out and it's no good? Sometimes you have to wait for greatness.
Well if you're promising us greatness, then by all means, take your time. Although last time we checked "Beautiful Liar" wasn't a terrible song—it cracked our Top 20 list of every Beyoncé single ever (No. 14!). We're all for the gal pals taking their friendship to the next level by teaming up in studio, but do they really have to insult Queen B? Hopefully this pull quote is merely a case of perfectionism and over-scheduling, rather than blind arrogance as a result of all those chart-toppers going to her colorful head. Besides, Katy would be dumb to throw insults Beyoncé's way. She's almost back to fighting shape.