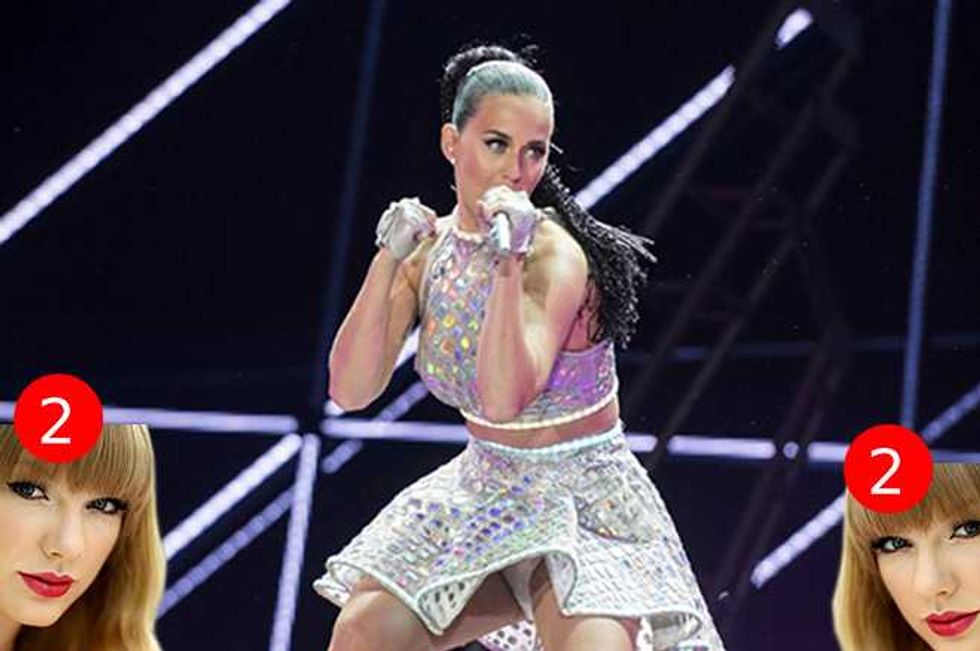 In a huge blow to Swifties everywhere, Katy Perry has been named by Forbes as the highest-paid woman in music for 2015.
Taylor Swift ranked number two, with Stevie Nicks and Christine McVie of Fleetwood Mac taking third place.
Sorry Tabloids, But Taylor Swift Won't Make $365 Million This Year!
Perry's endorsements, hit singles and world tour combined to earn her $135 this year, in contrast to Swift's$80 million.
Speaking to Forbes, Katy noted:
I am proud of my position as a boss, as a person that runs my own company. I'm an entrepreneur… I don't want to shy away from it. I actually want to kind of grab it by its balls.
Perry grabbed a ton of balls this year. She grossed more than $2 million per city over the course of 126 shows, Forbes calculated, and added to her total through deals with Coty, Claire's and Covergirl.
 Egotistical Narcissist Russell Brand Hates Egotistical Narcissists Like Katy Perry
When Perry tours, she sells an average of $20 per head per night in merchandise sales, according to her managers, about four times the industry's average. In the words of Chuck Leavell, keyboardist for the Rolling Stones:
She has a talent for reaching a very wide audience, and her themes resonate across cultures, race and gender. She is a true global artist.
In analyzing Perry's phenomenal success in an industry that has been struggling with declining album sales for the last fifteen years, Forbes notes:
Instead of grumping about Spotify like many of her fellow artists, she's simply adapted to the times.
Ooh, Swifties, pretend you didn't read that. Or breath deeply and count to ten. Katy is practical and relaxed about her career, less bothered about copyrighting and suing fans who sell fan merch on Etsy. Instead, Katy looks at the big picture of being a musical force in the twenty-first century.
Music has changed.

The record is that launching pad for all kinds of other creative branches.
Katy Perry Calls Taylor Swift A Hypocrite For Nicki Minaj Attack
And Katy is no fool at exploring those branches. Since appearing at the Super Bowl, she's been receiving about two to three big-ticket business opportunities a week, from endorsements to joint ventures to movie roles. While she turns down the vast majority of them, she will agree when the offer appeals.
She will receive a seven-figure advance for a new mobile app, and she is the face of Moschino's new fashion line.
To say that Katy Perry feels secure about her present and her future is an understatement. Perry explains to Forbes:
I don't feel like my career is a ticking time bomb. I

don't feel like I'll always have to be feeding the meter of show business. I got my spot, yo.
Word, Katy. And congratulations!
katy perry named music's highest paid woman 2015

katy perry named music's highest paid woman 2015