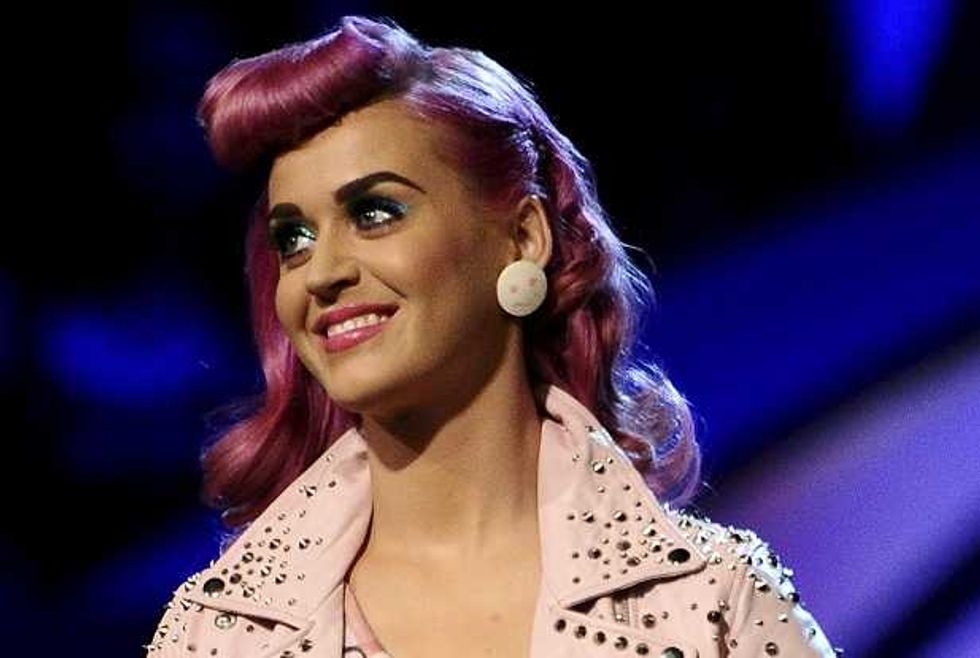 Fret not, Katy Perry and/or fans-of. Dr. Luke might be out for the immediate time being (although isn't this basically the point of Benny Blanco?), but she still has the people's stamp of approval for her career! And by "people," we mean the people who make these calls, who are probably not the people who include you, and by "career," we mean both music and gigs like voicing Smurfette and guest-starring on How I Met Your Mother. Perry got seven nominations total.
In case you've lost news track, this is the second round of People's Choice Award nominations, after the earlier longlist. The music-relevant portion of the list is below. No major surprises, except that someone still thinks "E.T." is Katy Perry's best single this year (out of a wodge, even) and that Lady Antebellum and Demi Lovato hit pretty big--they're still kind of two separate demographics, no?
FAVORITE MALE ARTIST
Blake Shelton
Bruno Mars
Eminem
Enrique Iglesias
Justin Bieber
FAVORITE FEMALE ARTIST
Adele
Beyoncé
Katy Perry
Lady Gaga
Taylor Swift
FAVORITE SONG OF THE YEAR
"The Edge Of Glory," Lady Gaga
"E.T," Katy Perry featuring Kanye West
"Moves Like Jagger," Maroon 5 featuring Christina Aguilera
"Party Rock Anthem," LMFAO featuring Lauren Bennet & GoonRock
"Rolling in the Deep," Adele
FAVORITE ALBUM OF THE YEAR
21, Adele
4, Beyoncé
Born This Way, Lady Gaga
Femme Fatale, Britney Spears
Own The Night, Lady Antebellum
FAVORITE POP ARTIST
Beyoncé
Demi Lovato
Katy Perry
Lady Gaga
Rihanna
FAVORITE HIP HOP ARTIST
B.o.B.
Eminem
Jay-Z
Nicki Minaj
Pitbull
FAVORITE R&B ARTIST
Beyoncé
Bruno Mars
Chris Brown
Ne-Yo
Rihanna
FAVORITE BAND
Coldplay
Foo Fighters
Linkin Park
Maroon 5
Red Hot Chili Peppers
FAVORITE COUNTRY ARTIST
Blake Shelton
Keith Urban
Lady Antebellum
Rascal Flatts
Taylor Swift
FAVORITE MUSIC VIDEO
"Judas," Lady Gaga
"Last Friday Night (T.G.I.F.), "Katy Perry"
"Party Rock Anthem," LMFAO featuring Goonrock & Lauren Bennett
"Rolling in the Deep," Adele
"Run The World (Girls)," Beyoncé
FAVORITE TOUR HEADLINER
Bon Jovi
Katy Perry
Taylor Swift
U2
Usher
FAVORITE TV COMPETITION SHOW
American Idol
America's Got Talent
Dancing With The Stars
So You Think You Can Dance
The Voice