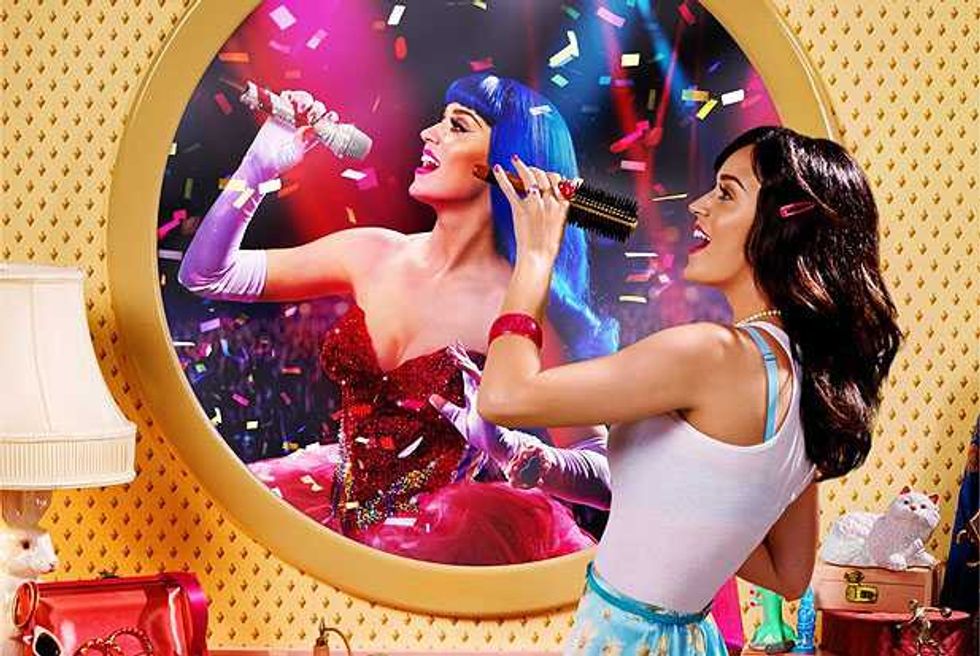 Katy Perry is coming to your local movie theater today, in the form of her 3D movie, Katy Perry: Part of Me. It's the latest in what's become a trend of concert films celebrating the achievement of in-demand chart inhabitants whose larger than life personalities warrant an audience adorned in obnoxiously superfluous plastic glasses, and inflated ticket prices promise to reveal bits and pieces of their origin stories that superfans have otherwise pieced together through individual interviews and multiple cover stories. Let's get one thing out of the way: No, the 3D doesn't do much to enhance Perry's breasts; they are and always will be large.
Over the course of 2011, Perry launched a massive worldwide tour, traveling cross the United States, Asia and South America on the back of 2010's Teenage Dream, while amassing hit after hit on the Billboard 100 and struggling to maintain a fledgling marriage to comedian Russell Brand. In addition to singing along to responsibility-free party songs and West Coast tributes that aspire to one day join a canon inhabited by 2pac and the Beach Boys, it's the behind-the-scenes aspects of the 27-year-old's life that have been most anticipated by fans, largely thanks to her own homegrown hype.
There's exactly the amount of colorful costumes, confetti cannons and furry doppelgängers, all the adult-sized fun you'd expect from someone shielded from the likes of Michael Jackson and Alice in Wonderland. In this sense, Perry is like your cool babysitter, an older sister-type who lets you eat that extra helping of ice cream, stay up watching inappropriate television and trying on her clothes, as well as the person responsible for introducing you to the likes of Whitney Houston. Over 300-plus days on the road, Perry is comfortable meeting so many of these tiny fans, who don't see her as a sex symbol or controversial performer, but as an ambassador of fun, and in many cases, the inspiration they need to keep going.
Yes, like the Glee 3D extravaganza before it, Part of Me begins and ends with testimonials about how much this "average," "weird," bottle-black California girl has helped anonymous YouTube users become more comfortable in their own skin. "Firework" comes in at the film's triumphant ending, a point where a blue-haired Perry has accepted that her marriage to Russell Brand is over, yet her life—as a "brilliant" person—is only beginning, proving to once again to be a 21st century artist audiences can relate to.
From a performance aspect, emulating Perry on stage doesn't seem that difficult. Unlike Beyoncé, her most up-tempo of tracks aren't filled with difficult choreography—she employs more of the narrative hand motions you'd see in a karaoke bar or my bedroom—and her costume changes, while numerous, aren't on the same scale as some of the elaborate configurations weighing down Lady Gaga's small frame. Her voice during live performance is at times up for debate, but the one thing that seems hard to replicate is her sense of fun. Everyone is expected to have a lot of it, every single night! There's no time for moods.
Comparing Part of Me to the concert documentaries that came before it is inevitable, particularly when Perry's executive producers are also responsible for Justin Bieber's Never Say Never. But Perry has age to her advantage, as her predecessors were (and arguably still are) attempting to establish a personality fans can connect with while attempting to cater to a largely PG audience that expects certain kinds of behavior. For all that's been written about various body parts, Perry's costumes aren't that scandalous, nor her lyrics too risque. Sure, she's had some regrettable moments and more than alludes to what can come from a night of binge drinking, yet her audience is strikingly young, and surprisingly female, seeming to all band together behind generational anthems ("Teenage Dream") and soaring words of encouragement ("Firework"). To them, there are few surprises—aside from the inclusion of M83's "Midnight City," the only non-Perry song in the score—in this 90 minute sugar rush, merely reinforcement that Perry truly is one of them, a normal girl who made it, and as her manager Bradford Cobb said, in the biggest use of hyperbole in the entire film, now "speaks for her generation."
For those who were unaware that the young woman you may have seen dancing in a skin-tight American flag used to go by Hudson or happens to be from a mysterious place called the Golden State, here are the most important takeaways from the film:
SHE TREATS HER CREW LIKE HER FAMILY 
And her family like her crew. Sister Angela works on tour with Perry managing the meet and greets and accompanying her sister on off-day trips to theme parks. She puts her fear of heights and her own humility on the line for her starlet sister, agreeing to appear as Perry's "Last Friday Night (T.G.I.F.)" alter ego Kathy Beth Terry when the song hit No. 1 during the show in Raleigh, NC, in celebration of Perry becoming the first woman to record five No. 1 singles from the same album. (Hey, MJ!)
HER PARENTS HAVEN'T DISOWNED HER
While Pentecostal preachers Keith and Mary Hudson kept their three children shielded from demonic outside influences and basic pop culture, allowing their daughter to move off to sinful Los Angeles at 18 was OK. Or if it wasn't, they're own disapproval was left on the cutting room floor. Both of Katy's parents appear in interviews and home video throughout the film, each looking the part of a rock star in their own right—mom is a bit Jane Fonda, while dad is a mix of Charles Nelson Reilly and the old guy from the Six Flags commercials. Perry explains that audiences love "a good girl gone bad" story, but if "I Kissed a Girl" and a marriage to a former heroin addict didn't make enough of a case for them to disown her, it doesn't seem like releasing a 3D film over the Fourth of July holiday will do the trick, either.
GRANDMA PUTS HER IN HER PLACE
For all the praise coming from fans and hired help, Perry's one dose of honesty reality on the candy-colored tour bus comes at the hand of her hilariously opinionated grandmother. Living off the strip in Las Vegas, Grandma watched over the Hudson children while their parents were off on religious trips, and insists that Katy has always had a knack for showing off, her live show being the latest example of her "acting silly, as usual." Everyone needs that person to put them in their place—also, imagine if "Waking Up in Vegas" was written about a post-holiday family dinner. Food comas have known to be just as disorienting as too much vodka.
ALANIS MORISSETTE HELPED HER SEE THE LIGHT
Like many other young women coming of age in the mid to late '90s, Katy first connection to mainstream (or non-Christian) music came fromAlanis Morissette. Perry cites "You Oughta Know" as being the song that made her ask for a guitar for her 13th birthday, and likely what led future labels Island Def Jam and Columbia to try and knead her into a Avril Lavigne-Ashlee Simpson hybrid. Perry's early struggles jumping from labels under the tutelage of Glen Ballard comes with a humorous story from former Columbia publicist Angelica Cob-Baehler, who believed in Perry so much that she couldn't stand to work for a company that was willing to push her to the side. We wonder if she's experienced any repercussions since admitting to stealing company files?
HOLLYWOOD ROMANCES DON'T ALWAYS WORK 
While Perry is seen as the one making sacrifices (she jokes about "saving her marriage" through scheduling visits to see Russell every 18 days, much to the dismay of her crew) she fails to pinpoint (or reveal) a distinct cause for the demise of her marriage. In between cute texts about planning for a future it appears that those closest to her are just as much in the dark, looking confused and paralyzed when she's sobbing in her makeup chair, moments before the tour's biggest show in Sao Paolo, Brazil. Full disclosure: we may have shed a tear—just a single one, Beyoncé-style. It's more than easy to accuse a seemingly poignant scene as being exactly such solely because of the cameras, but that doesn't mean it affected us any less. Those looking for entirely stripped down portrayal of one of the world's largest stars should just give up now; it's as useless as finding a boyfriend in high school or meaning in a Pauly Shore movie. Today's overly monitored celebrity images will never allow such a thing. Plus, the acoustic version of "The One That Got Away" really sticks with you.
But for those who want to relive some of the most successful pop songs from the last 18 months, and see the ways in which music's biggest personality worked hard to achieve her success (without the help of YouTube!), get your money out.