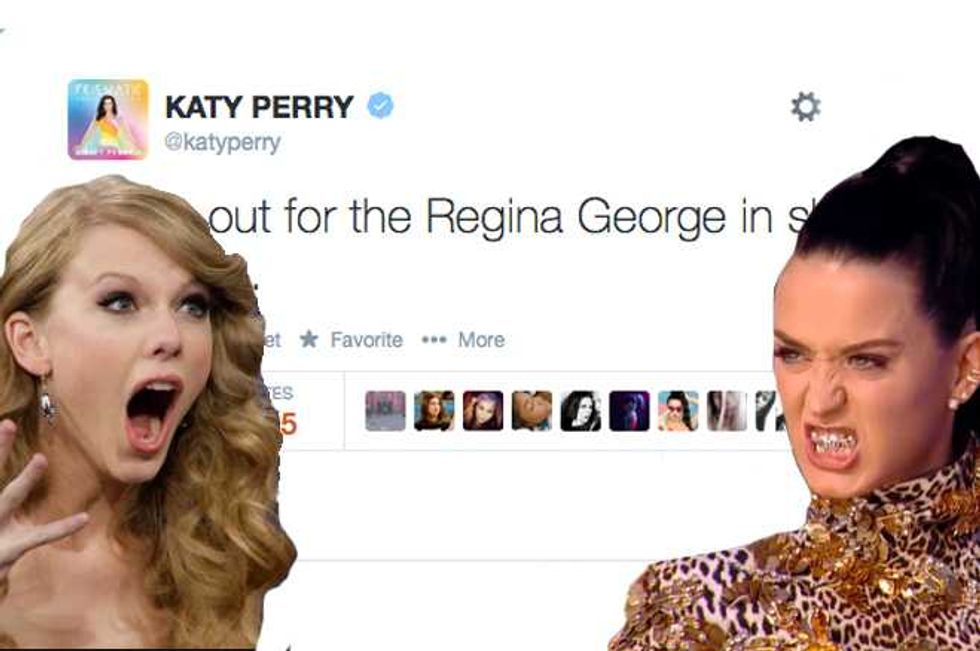 Things are reaching a fevered pitch in the land of pop superstars, and Katy Perry isn't having any of it. Following a tell-all interview with Rolling Stone, Taylor Swift revealed quite frankly that her new song Bad Blood (off her forthcoming 1989) is about a female singer who "did something so horrible" to her. So, naturally, she wrote a song about her. All signs seem to point to Perry, who allegedly snatched up a handful of dancers from Swift's Red Tour last year for her own Prismatic World tour, as the subject of lyrical revenge.
Well, Perry has fanned those flames.
Watch out for the Regina George in sheep's clothing...

— KATY PERRY (@katyperry) September 9, 2014
While it is certainly unclear if Swift was the target of her tweet, it does seem to be a rather tongue-in-cheek way of addressing the issue.
In the way of music news (which is truly why we are all here), Perry recently shared her vibrantly delicious poolside "This Is How We Do" music video, the latest entry in her Prism saga. This hip-hop-tinged track follows such successful releases as "Roar," "Unconditionally," "Dark Horse" and "Birthday," all Top 40 radio hits.
Wanna see how a music video so fabulous-o as #THISISHOWWEDO is made?! Let's just say, it takes a village: http://t.co/chzKYVJ2ur

— KATY PERRY (@katyperry) September 8, 2014
Let's be real, Perry is probably sipping on Rosé, silver lake sun, coming up all lazy, slow cooking pancakes for my boy, still up, still fresh as a daisy, playing ping pong all night long, everything's all neon and hazy.
Stay tuned for updates. Feel free to follow @Popdust and JasonTheScott on Twitter! For Katy Perry tickets visit TiqIQ.com