The MTV VMAs is a pretty meaningless awards show in the grand scheme of things, but people still seem to treat it like music's answer to the Nobel Prize. It's the kind of thing that you watch for the crazy red carpet fashion and controversial performances, but the actual awards part is pretty much just secondary to everything else that the show has to offer.
One person who seems rather invested in the VMAs is Katy Perry, who took to Twitter today to throw some light-hearted shade at MTV for snubbing her sextuple-platinum hit "Roar" from the recently-announced 2014 nominations.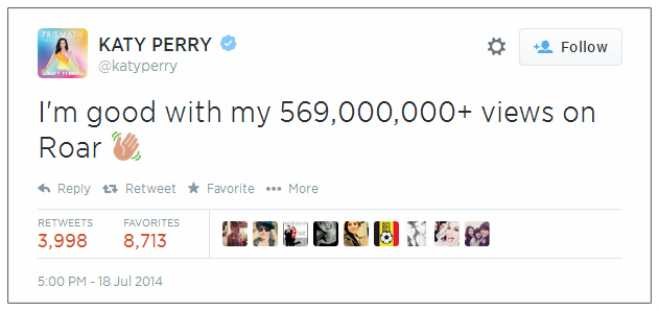 Despite "Roar" missing out, Katy wasn't totally snubbed like Lady 'Zero Nominations' Gaga was: "Dark Horse" picked up nods for Best Female Video and Best Collaboration.
Still, it was quite surprising to see her miss out on a Video of the Year nomination when Beyonce's T&A fest "Drunk In Love" somehow got one, but that's the VMAs for ya.
For the best deals on Katy Perry tickets visit TiqIQ.com