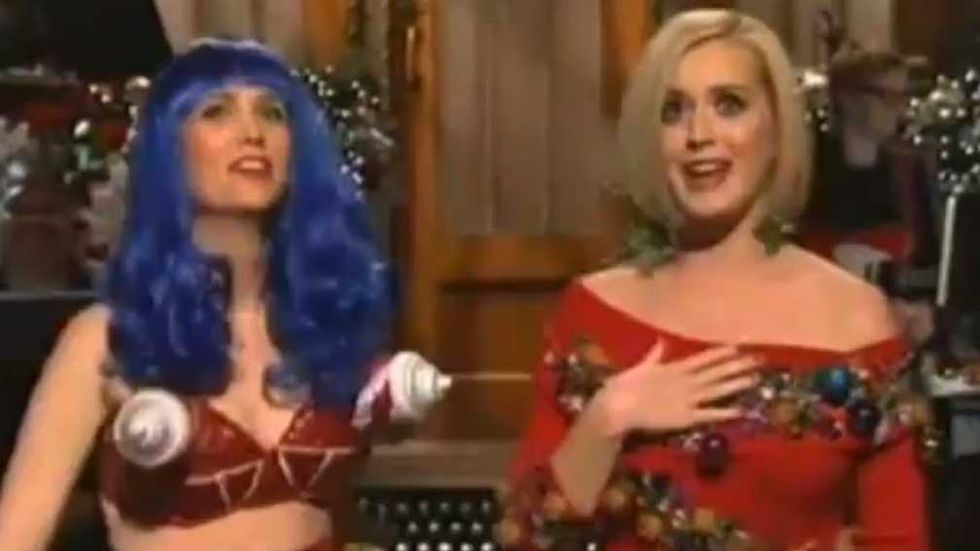 The last time Katy Perry appeared on Saturday Night Live she was mocking her recent appearance on Sesame Street, falling victim to the Lindsay Lohan-like sketch that highlighted her two biggest assets that had the children's show in a tizzy (next to songwriting). While she's recorded a historic number of hits this year, Perry's experiment with geeky alter egos was enough to land her an invite to host the show last, saving the late night community from another Judy Tenuta-like acoustic performance. In an episode that featured cameos by former cast member Darryl Hammond, Alec Baldwin, Matt Damon and Val Kilmer, and musical interludes by Robyn—not a fan of "The One That Got Away," Lorne?—Perry needed to come through with an above average effort to escape being overshadowed by the more seasoned comedic performers around her, and perhaps merit those Harvey Weinstein-Marilyn Monroe musical comments. And she did! The opening monologue consisted of a blond-bobbed Perry divulging that inspiration for her eccentric video ensembles in "California Gurls," "Last Friday Night (T.G.I.F.)" and "Firework" comes from her California roots, namely old acquaintances like Kristen Wiig, Andy Samberg and Bill Hader who all represent the worst possible versions of each song. Diabetes, dentistry and pyrotechnics are serious, people. There was even an a cappella "Teenage Dream" sequence where Perry and Wiig almost reenacted her first single. My how far we've come.
Aside from the obvious jokes her music provide, save for one meta paparazzi/tabloid segment, Perry and the writers stayed away from cheap laughs based on her cup size or latest tweet. Her impressions managed to be the most impressive—albeit not the most accurate. After portraying fellow musicians Florence Welch and Christina Aguilera, Perry took on the role of Pippa Middleton, the spotlight-stealing younger sister to newly crowned Duchess of Cambridge in a behind-the-scenes look at the Royal Family. As Kate was being chided by the surprisingly crass Queen Elizabeth (Fred Armisen) and Prince Philip (Bill Hader)—Harry isn't the black sheep of the family after all!—for failing to produce an heir, Pippa opened up her own potty mouth and served her majesty some realness right back to defend her sister. Helen Mirren you are not, Queen E. Does Pippa want a record deal? This of course gave her a chance to show off a British accent, which considering she's married to Russell Brand, could have been better (and thus killed out belief that there are nightly My Fair Lady-like dialect coaching sessions in the Perry-Brand home).
In what's become a rite of passage for hosts and certain musical guests, Perry also starred in a digital short alongside Andy Samberg. The duo played two boring, straight-laced best friends, whose ugly sweater-wearing and holiday baking gets violently interrupted by two drug addicts (played by Damon and Kilmer), which should make them think twice about talking to strangers.
Robyn, Perry's former California Dreams opening act, took the stage in colorful leggings and wedges to perform "Call Your Girlfriend" and "Dancing On My Own." We only wish she could have been included in a skit or two.