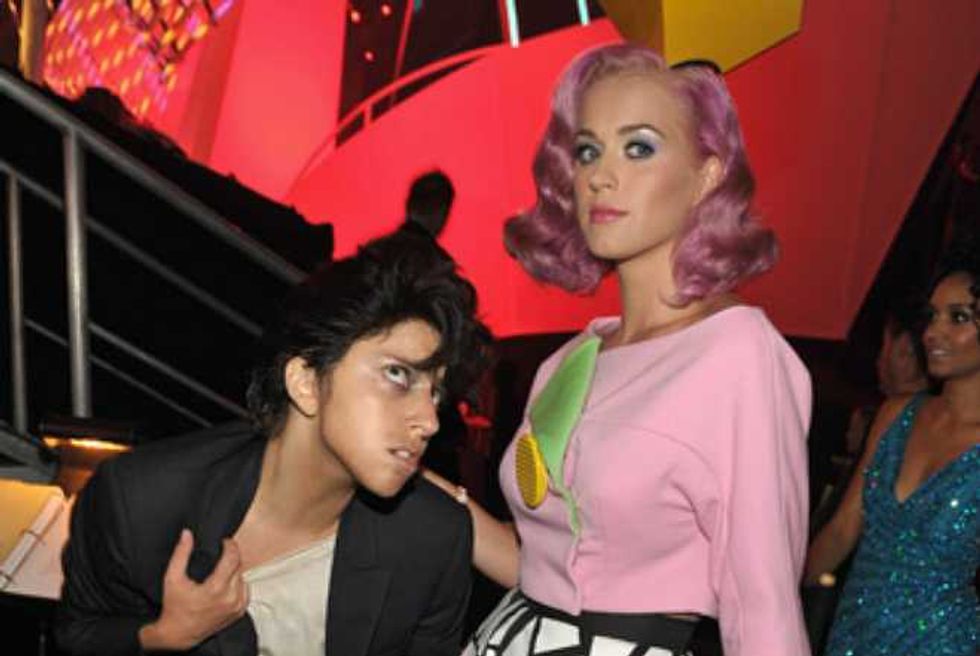 Katy Perry played coy during a recent Leno appearance when pressed to divulge details on her fourth studio album, and now we know why: She was waiting to officially spill the beans with a bang, which translates to a gigantic gold truck driven through downtown L.A. with the album title and release date plastered on the side.
Perry's new disc, titled 'Prism,' will hit stores on October 22, just three weeks before Lady Gaga's ARTPOP arrives on November 11. Stan warfare is sure to break out between the ardent followers of the pop superstars, who will no doubt be comparing radio spins, Hot 100 peaks, and first-week sales. It won't be the first time Gaga's found herself pitted against one of her contemporaries before: Back in 2011, Born This Way and Britney Spears' Femme Fatale were released within two months of each other, sparking an online rivalry between the fandoms. Gaga ended up winning that fight, but can she beat Perry, who made chart history with Teenage Dream?
Right now, the odds are pretty even between the pair. Gaga was the bigger star when they first released their last albums, but they ended up on level playing fields once their respective eras both wrapped up. Let's take a look at the facts.
Teenage Dream made headlines after falling embarrassingly short of its first-week sales predictions by several hundred thousand copies, but Perry got the last laugh when the disc eventually sold 5.5 million copies and spawned five number one singles on the Hot 100.

Born This Way sold 1.108 million copies in its first week, but was criticized when it turned out that 440,000 copies were purchased for 99 cents as part of special promotion Amazon was running. In the end, the album sold 6 million copies worldwide and spawned four top ten singles, including the title track which topped the Hot 100.

Even with the Teenage Dream re-release, The Complete Confection, Perry was unable to match Gaga's album sales. However, she easily beat Gaga on the singles front with such ferocity that she's now neck-and-neck with Rihanna for the title of the Queen of the Hot 100.

Perry recently surpassed Gaga as the most followed female on Twitter, snatching the Twit Queen crown that GaGa took from Britney back in 2010.
Place your bets, people. Who do you see coming out on top?