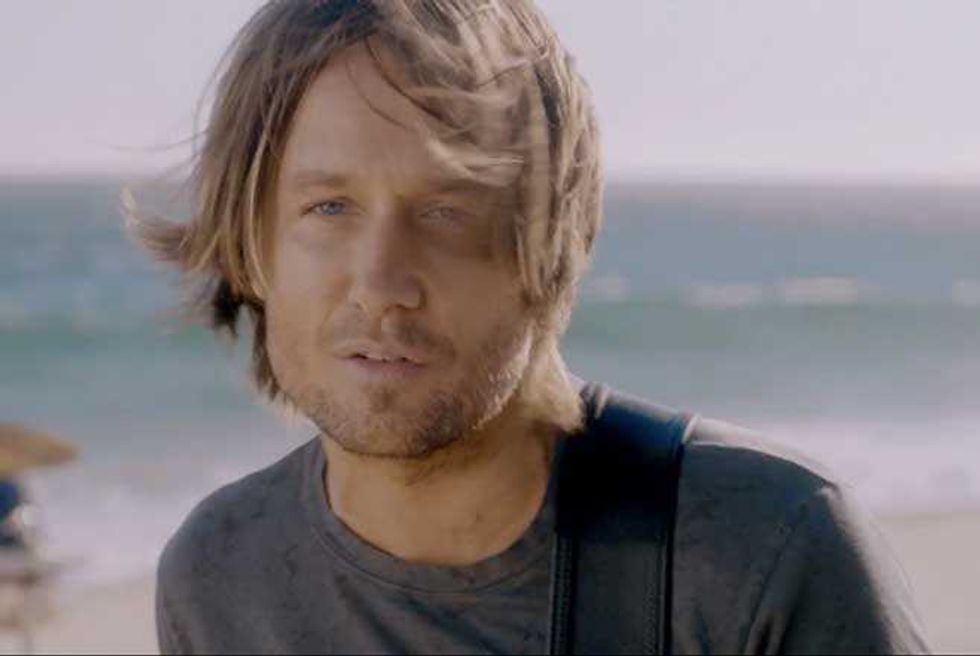 As one of this season's newest reality competition judges, Keith Urban has the pleasure of sitting next to two beautiful women, a spot Simon Cowell has become quite comfortable with over the years. While this opens his mind to new hair and makeup routines, and potentially makes wife Nicole Kidman a little jealous, Urban has already experienced the downside of being trapped between two divas whose claws are heading straight for the other's throat.
The one bright, if unintentionallly humorous, spot in Tuesday's on camera fight between Nicki Minaj and Mariah Carey during American Idol auditions in Charlotte, N.C. was Urban's silence. There's the sheepish attempt to raise his hand—a call for help?—before the country star realizes all he can do is sit and sip the complimentary soda FOX has provided him with. Drink up, Keith. We're fairly certain free refills are in your contract.
After the video made the rounds, Ryan Seacrest alluded to the horror of it all and Nicki launched a Twitter tirade that was most definitely aimed at Mimi, Urban is speaking out about his experience. "I was the UN," he told Extra on Wednesday. Urban was supported by his wife, who assured cameras that he's Switzerland in this scenario, and couldn't possibly be responsible for riling either woman up. Although wouldn't that secretly be amazing? We'll go to sleep tonight dreaming he pulled a Plastics three-way call on them before the first night of auditions.
Despite the drama, the fight is simply a reflection of the love Idol's newest team of judges has for their project. "I love it, I gotta say," he explained. "I love working with passionate people. I love artists. Everyone just sort of expressing themselves. It's a very alive and very invigorating work environment. A lot of passion." To Nigel Lythgoe and FOX, it's hopefully a ratings boost.