Arts
"Disabilities are only what you make them"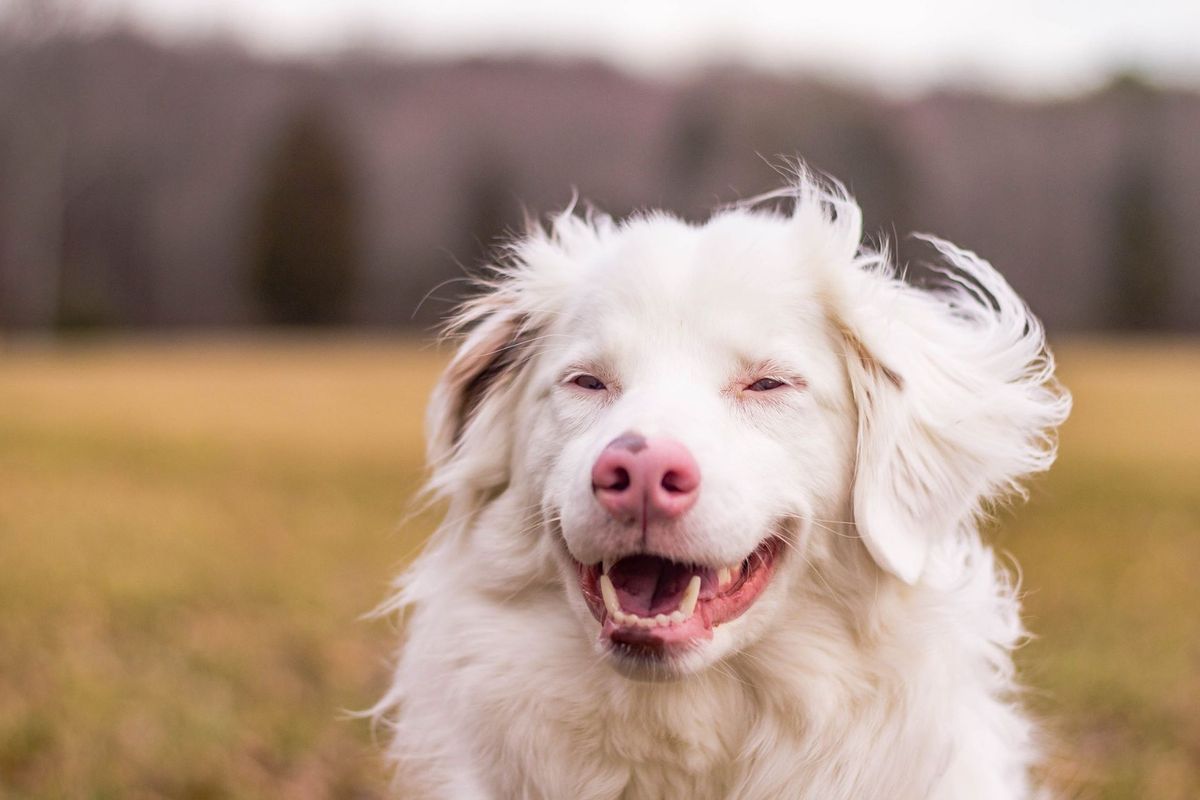 Keller is a toy-fiend. She does tricks, loves belly rubs, and is a champion sniffer. The full-grown Double Merle is as special as her mystical name implies, but she's also the most fun-loving, adorable, and "normal" dog you can imagine. Just look at her!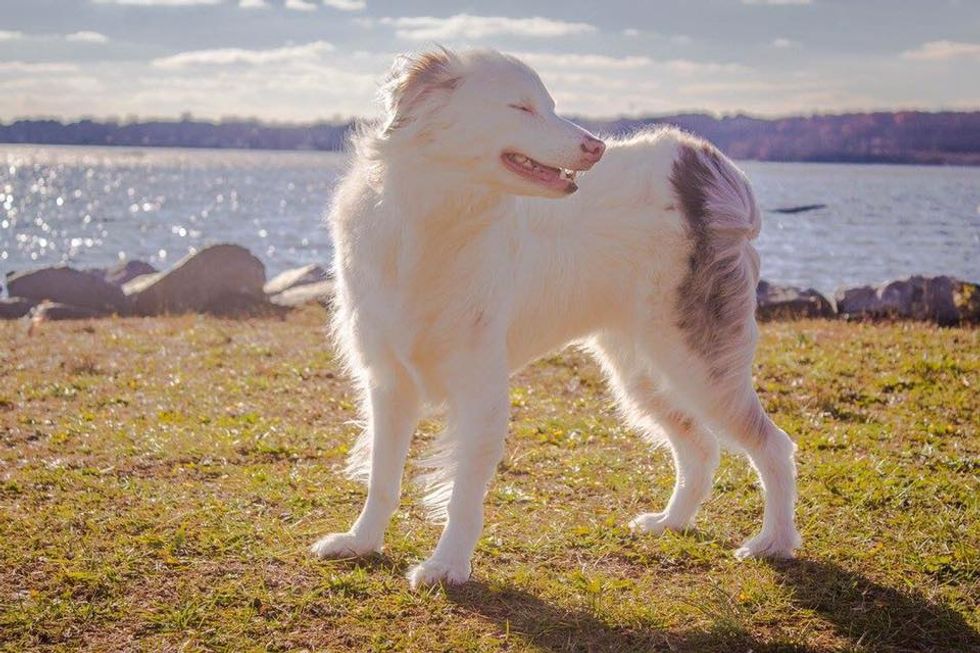 Keller on a beautiful day.Keller the Double Merle
But here's the thing: Keller is both vision-impaired and deaf.
Among her breed, Keller is not an anomaly. The offspring of two Merle dogs, Keller became a Double Merle, a product of irresponsible and uninformed breeding practices that occurs in 25% of cases. The consequence is dogs born with a susceptibility to vision and/or hearing deficiencies or complete vision and/or hearing loss.
What is a Double Merle? Here's a video that explains this completely preventable breeding practice.

The idea of owning a dog with disabilities can scare a lot of dog owners. There's the factor of the unknown, the potentially increased health risks, and the thought that maybe these dogs are lacking something that dogs without disabilities have. But none of these fears crossed Amanda Fuller's mind when she was reaching out to breeders to find a second dog to add to the family. Once she saw a photo of Keller, it was love at first sight. She knew nothing about Keller's disabilities, but just that she needed to bring her home. And the rest is history.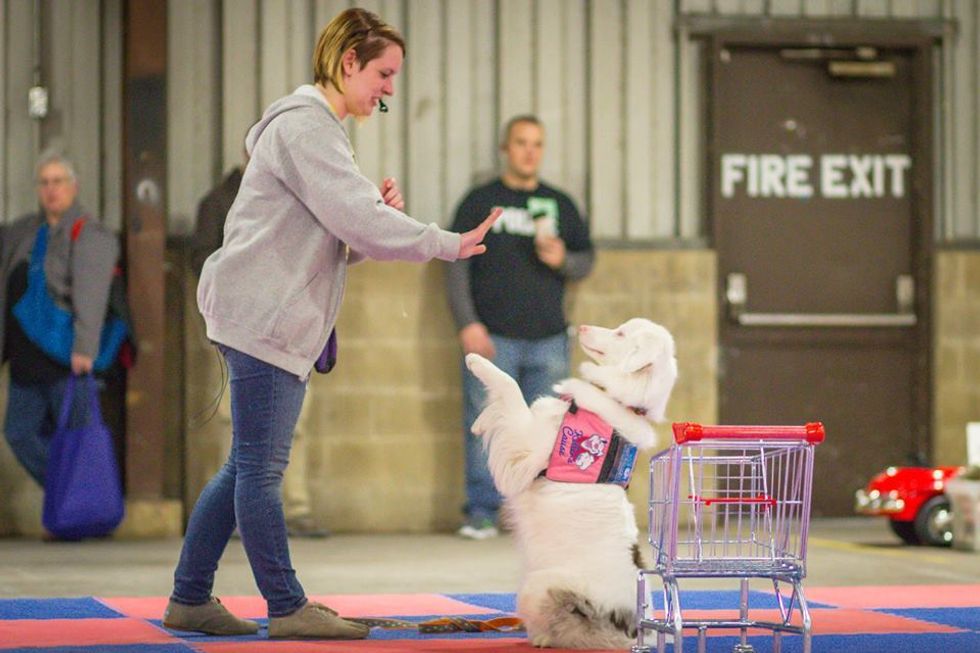 Keller doing tricks!Keller the Double Merle
Amanda was Keller's guardian angel. The puppy was only 5 weeks old when she was taken from her breeder, who was going to kill her because of her disabilities. But Amanda gave her the home, the chance, and the voice that she needed to thrive.
Amanda didn't see Keller for her disabilities, but for all the love that she could bring to her life and to others' lives. With a lot of patience (and treats), Amanda was able to train Keller using sign language. "She'll do anything for food," Amanda told me. While she can't respond to her name like dogs with full hearing can, Amanda got creative to find another method of communication with her new pet.
The takeaway that Amanda has from training Keller is that she's really no different from any other dog. She's overly friendly to new human and animal friends alike. She has a hilarious personality and is enthusiastic about learning new tricks. Amanda urges prospective and current owners of dogs with disabilities to understand that they have to treat them the same way that they would treat any other dogs. Many people think they'll spook them, but these dogs don't have to be babied; they need training and guidance just like any pet. Dogs, she told me, don't know that they have disabilities. They don't know what the words "deaf" or "blind" mean. "Disabilities," she says, "are only what you make them."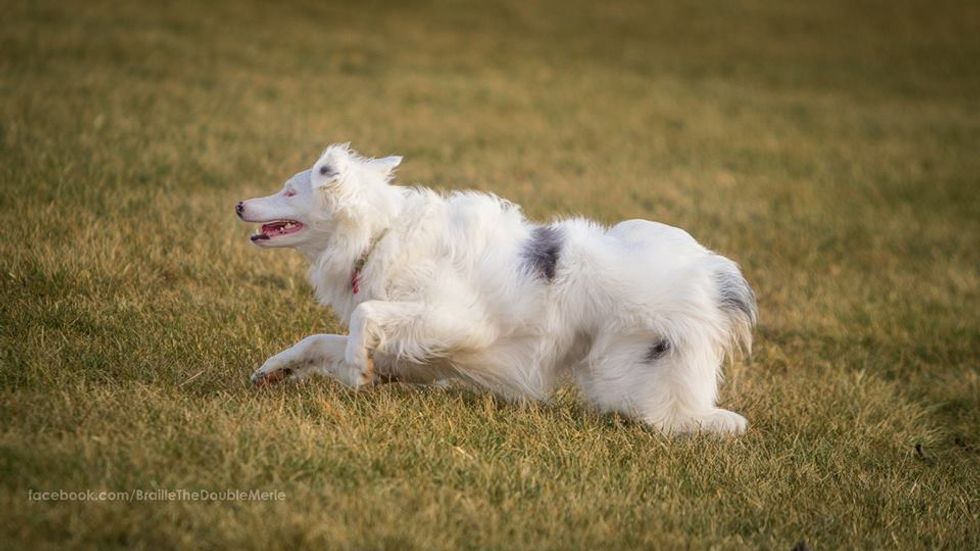 Check out Braille, Keller's canine friend.Braille the Double Merle
But the main threshold to change is in education.That's where Keller's Cause comes in. Keller's Cause is a 501c3 nonprofit that was founded in September 2015 with a mission to educate dog owners and breeders about the Double Merle and promote healthy and happy breeding and training practices. Amanda and her team raise money for rescues and to attend dog expos and events where they do touch-signal training and trick demonstrations in an effort to get the word out about Double Merles. Watch here:

Too many breeders don't know what they're doing or don't care enough to learn about dangerous practices. Dogs like Keller are often left abandoned because people don't know how to deal with their disabilities. But here's the good news: there are a bunch of wonderful rescue organizations that specialize in beautiful dogs like Keller. They include, Speak for the Unspoken, Double J Dog Ranch, Amazing Aussies, Green Dogs Unleashed, Pawsavers, and Hot Mess Pooches Rescue and Sanctuary. Help spread the word and give homes to these loving animals!
For more information about how to get involved with Keller's Cause, click here!