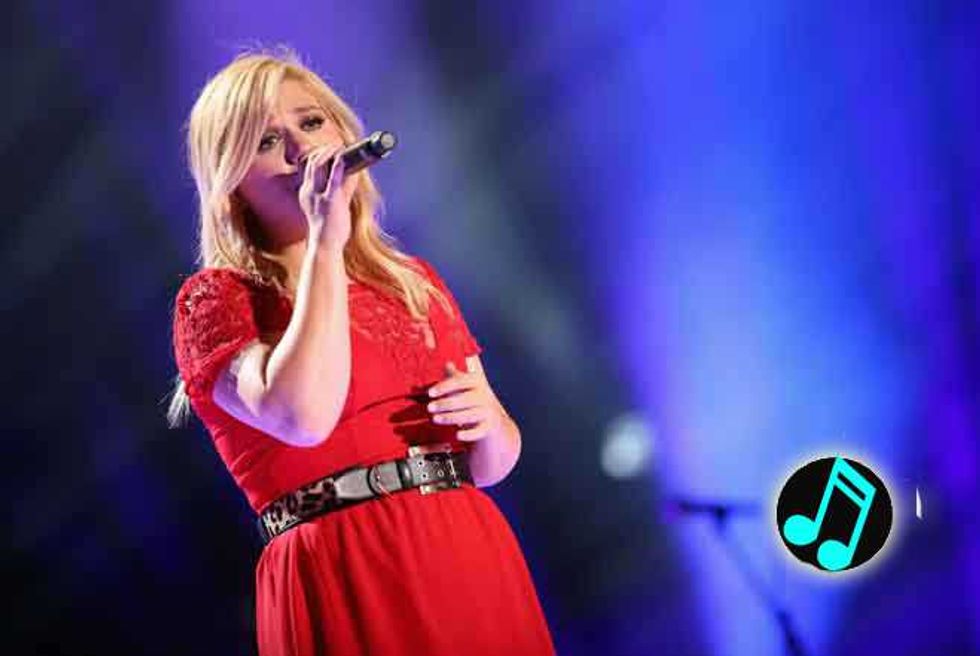 The wait for new Kelly Clarkson music is almost over. The singer took a moment to call into Sirius XM's The Highway on Fri. (Oct. 17) morning and teased her highly-anticipated upcoming single, which is a collaborative effort with a popular male singer. There is still no clear word if the singer's next album will be country or pop—she's mastered both formats, at this point. "It is so good," Clarkson teased of the yet untitled track. "I will tell you this: [it features] a male singer."
She adds, "The song is so kind of out of the box for both of us, but kind of in our veins." The singer then played coy about dropping any sort of clues, frankly with a "No," before adding, "It's an amazing singer, and everybody loves him." Does she think people will be able to guess? "I don't think so. Not really," she said.
While we've all been impatient for new Clarkson tunes, she is sure that a new single is coming out in January. You can listen to the entire interview, which includes chatter about her pregnancy and upcoming Miracle On Broadway benefit concert, below. While Clarkson's list of noted collaborators is long, it leans mostly country: Reba, Jason Aldean, Trisha Yearwood, etc.
Artists on Popdust's hopeful shortlist: Sam Smith, Ed Sheeran, Bruno Mars, Miguel, Justin Timberlake.
Clarkson's first-annual Miracle on Broadway takes place Dec. 20 at Nashville's Bridgestone Arena and boasts quite the star-studded lineup:  Reba McEntire, Trisha Yearwood, Garth Brooks, Ronnie Dunn, Kacey Musgraves, Paramore's Hayley Williams, Charles Esten and Meghan Trainor. "Well, you make me sound a lot cooler," she joked to host Storme Warren. "I had this idea, randomly, and I thought, 'man, maybe other people want to do it.' I got so excited, and I emailed all these artists. I was like 'this is going to be so awesome.' Then literally, within a second of sending the emails to everyone, I looked at Brandon and I was like, 'oh my god, what if no one says yes?' That would be so embarrassing."
But, of course, all those artists started saying yes. "Kix Brooks and Martina [McBride] just signed on," the singer revealed. Well, that's definitely quite the roster! "I love my adopted hometown of Nashville with all of my heart and I am so honored to be able to give back to the community alongside some of my favorite artists and friends for my first annual Miracle on Broadway benefit concert!" Clarkson had previously shared of the event. "I thank all of the artists joining me, as well as the people of Nashville for making me feel so welcome over the last 7 years I have called it home!"
Event tickets go on sale Saturday (Oct. 18).
Stay tuned for updates. Feel free to follow @Popdust and JasonTheScott on Twitter!