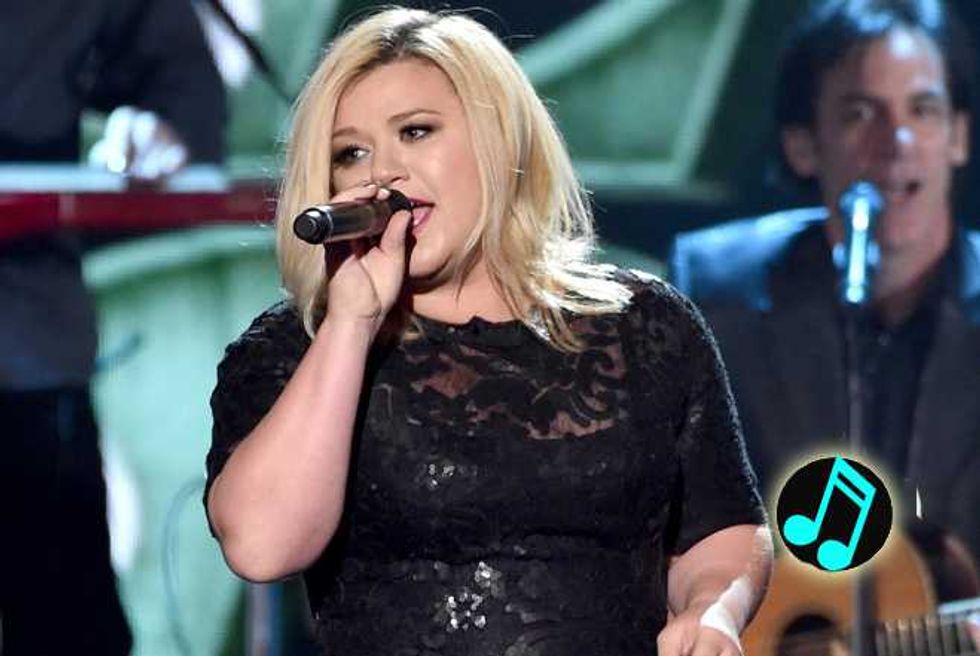 It's been over three years since Kelly Clarkson's most recent full-length LP. Last we left her, she was feeling a little bit Stronger, the title track of which became a bonafide smash in 2012. While dabbling a bit more with her country roots (with a few more collaborations and a solo non-starter as "Tie It Up") the past two years, the empowerment pop-rocker is setting the stage for her next "pure pop" single. To clear the circle of rumors surrounding her impending release (expected sometime in January), Clarkson took to Twitter to drop a few hints.
People keep asking. My next album is pop. But I am always influenced by music I love, which is pop-rock/country/r&b/dance #whoknowswhatsnext

— Kelly Clarkson (@kelly_clarkson) January 3, 2015
Oh and people also keep asking about the duet on the record. Here's a hint ....this wasn't our first time to sing together :)

— Kelly Clarkson (@kelly_clarkson) January 3, 2015
2 clues for the first single ....Proof of life & Dr. Dre #TheNextEpisode

— Kelly Clarkson (@kelly_clarkson) January 3, 2015
As for the single's title, online sleuthing (via Pulse poster lum) points to an ASCAP-registered track called "Heartbeat Song," co-written with Audra Mae (Miranda Lambert's "Little Red Wagon"), Kara Dioguardi (Clarkson's "Walk Away," P!nk's "Sober") and Jason Evigan (Nick Jonas' "Chains," Maroon 5's "It Was Always You"). While this is still speculative, the creative energy with this lineup is just begging to be heard.
"The next record is more innovative," Clarkson had previously said of the new album, which is expected to be supported with a tour this year, too. "It's really, really awesome." On the mystery man on her duet: "It is so good," she had teased in October. "I will tell you this: [it features] a male singer. The song is so kind of out of the box for both of us, but kind of in our veins. [He's] an amazing singer, and everybody loves him." Clarkson has notably performed with Adam Levine, John Legend and Robin Thicke (during her stint as mentor on the now-defunct ABC series Duets).
[PHOTO CREDIT: Kevin Winter/Getty]
Stay tuned for updates. Feel free to follow @Popdust and JasonTheScott on Twitter!