Kelly Clarkson treats anthemic-pop with a splash of energy with her current single Heartbeat Song, the lead-in to her seventh studio album Piece by Piece. Expected to release March 3, the powerhouse has been gearing up her promotional tour, and earlier this week, she stopped by BBC Radio 1 Breakfast with Nick Grimshaw. During her lengthy 30-minute interview, Clarkson teased her follow-up single. "'Heartbeat Song' was kind of the reintroduction of the pop anthems," she said. "The next [single] is really good, and Sia wrote it. It's called 'Invincible,' and it's spectacular. She doesn't suck. I've never gotten to sing her songs before. She writes such rangy songs. We work with the same producers. So, we kind of have the same mutual friends."
Sia, who co-wrote Invincible with Jesse Shatkin, Steve Mostyn and Warren Felder, also supplies ample background vocals on the track.
She added:
"The next single was the last one recorded for this album, and they had just written it. They were like 'we think you could nail this.' And I was like, 'I think I could, too. I want it!'"
While Clarkson usually writes "a ton on the records, I didn't this time because I was miserably pregnant. It was actually quite cool because I got a lot of inspiration from all the writers that I knew or tweeted and talked to."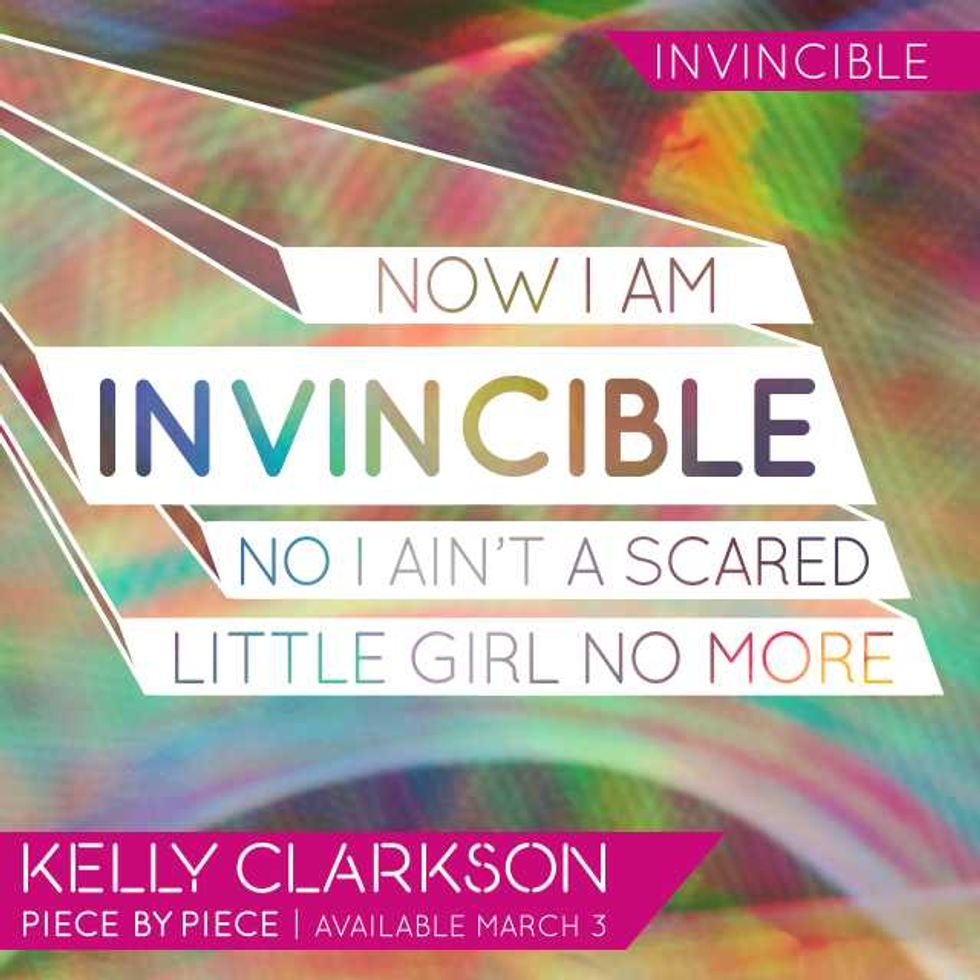 Following last week's Grammy Awards, the hot topic of pointed discussion has been Kanye West's storming of the stage during Beck's acceptance speech for Album of the Year. Usurping Beyonce (Beyonce), Pharrell Williams (GIRL) Ed Sheeran (x) and Sam Smith (In the Lonely Hour), the rocker took the stage for his Morning Phase record, the most unlikeliest of winners. This prompted the rapper to heartedly mock the singer by approaching the stage and then brushing it off. Many thought it was a joke (a nod to 2009's VMAs moment with Taylor Swift), but it was his post-show rant with E! News that sparked renewed outrage. "Beck needs to respect artistry and he should have given his award to Beyoncé and at this point, we tired of it," he had said. You can read his entire rant here, which also includes speculation of a West-Swift collaboration coming soon.
Clarkson has a few thoughts on West's latest stunt:
"I think he might be the worst at self sabotaging himself. [I thought it was a joke]; that's why I tweeted it. My assistant sent me something afterwards, 'just so you know, I don't think he was kidding.' I honestly don't have words. I just love [him] walking up on stage with Beck, who plays like 12 instruments and he's been rocking since like '94. I'm like 'you just went up on stage with someone who is one of the most talented people in the room.' That's why everyone thought it was a joke, right? I thought, 'how cool that he can take a joke.' But no, apparently not. Apparently, he did this whole interview afterwards. I think he just might like digging holes. My stylist said it best, 'he's like the sheriff of justice for Beyonce.' Jay Z's probably like, 'I got this. You don't need to keep defending her.'
Stay tuned for Kelly Clarkson updates. Be sure to follow @Popdust and @JasonTheScott on Twitter!