Kelly Osbourne tweets phone number but won't delete it...
Kelly Osbourne's tweets have got her in trouble before, but will she ever learn to keep things to herself?
Of course not!
As Popdust previously reported, Kelly's dad, Ozzy Osbourne has been having an affair with a hairdresser named Michelle Pugh.  It was said to be the last straw for Sharon Osbourne who kicked her straying husband of 33 years out of the house and been reportedly shopping around for a lawyer to file for divorce.
Apparently though, Ozzy has now returned home, ended the affair and is begging his wife for forgiveness. He is said to be doing everything he can to save his marriage. There was a very awkward appearance by the married couple together at the launch of Ozzfest and they have been pictured sharing a ride in Beverly Hills together, so they're obviously talking at least.
Clearly there's still trouble at home though, and last night Kelly Osbourne planted herself firmly in the middle of it when she tweeted Michelle Pugh's phone number together with a message stating that users should call that number if they want a blow job!
https://twitter.com/KellyOsbourne/status/734891505509400576
Talk about not maintaining a dignified silence!
Twitter users were quick to respond, calling Kelly a bully and pointing out that Michelle wasn't the only one in the relationship—that Ozzy is to blame too. Kelly fought back though, rather unwisely.
@tldoyle1271 are you in my family? NO YOU ARE NOT YOU HAVE NO IDEA WHAT SHE DID! So keep ur high-mighty opinions to yourself!

— Kelly Osbourne (@KellyOsbourne) May 24, 2016
@tldoyle1271 then why are you talking/commenting on mine? Slightly hypocritical don't ya think?

— Kelly Osbourne (@KellyOsbourne) May 24, 2016
@jodee814 my father is almost 70 ever heard of elder abuse?

— Kelly Osbourne (@KellyOsbourne) May 24, 2016
She can't be serious surely? The definition of elder abuse is;
Elder abuse

 is a term referring to any knowing, intentional, or negligent act by a caregiver or any other person that causes harm or a serious risk of harm to a vulnerable adult.
So Kelly is saying that Ozzy is a vulnerable adult and in need of protection?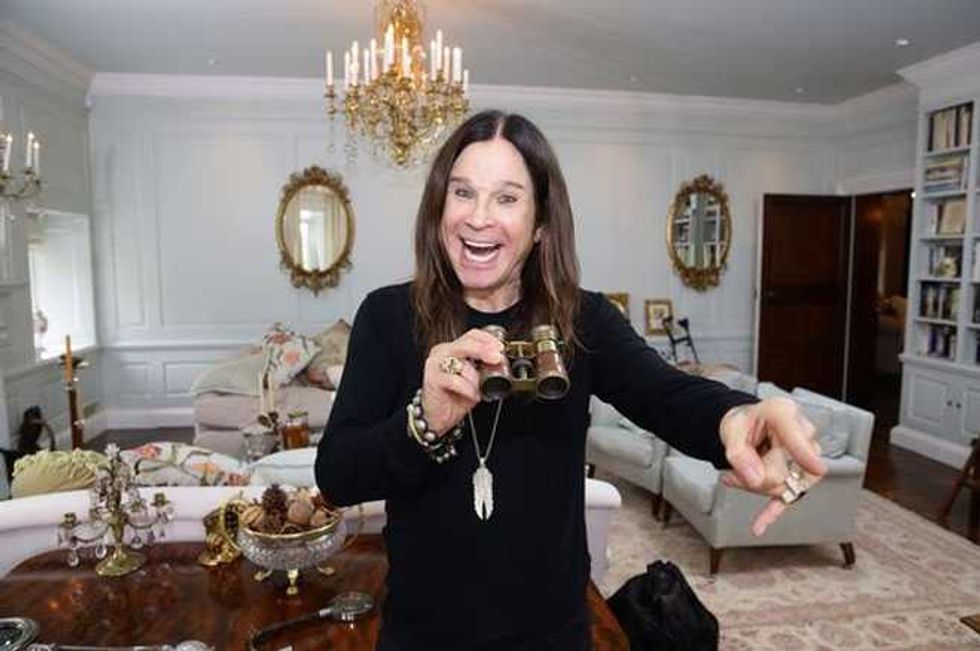 Who says Ozzy Osbourne is a vulnerable adult?
The general consensus was that Kelly should butt out and STFU.  Also some felt that young, angry Kelly needed reminding that people in glass houses....
@KellyOsbourne oh for fuck's sake, grow up! You got your widdle feewings hurt cuz daddy cheated on homewrecker mommy?

— Fizz (@LeAnnsFissure) May 24, 2016
@KellyOsbourne Wasn't your dad married to someone else when your mom started screwing him? Karma sure is a bitch isn't it? LMAO

— OneNonBlonde (@0neNonBlonde) May 24, 2016
Not very nicely put, but they kinda have a point there.
Kelly still hasn't taken down the offending tweet, although the number, unsurprisingly, is now out of service. Bearing in mind Sharon's notoriously vindictive streak it's unlikely she'll find Kelly's actions anything other than funny.
Ozzy seems to be keeping his head down at the moment and hoping to get Sharon back on side (presumably as a vulnerable adult he needs the care she provides),  Page Six report;
"His family really is very important to him and he's come to his senses.  Sharon is Ozzy's whole life; he can't manage without her."
It's not the first time Ozzy has strayed from his 63 year old wife who is his whole life.  He allegedly hooked up not only with a woman he met in AA but also a member of his tour staff. Sharon is still undecided as to whether she'll pull the trigger on the divorce, but is happy to play the long game;
"She'll wait months.  It's a huge decision with a lot of moving parts, so she's going to see how everything shakes out before deciding what she wants to do and what is best for their kids."
One thing Sharon is not, is dumb.  She'll know exactly how to spin this to her advantage, plus she's been in charge of Ozzy's career since they met, so he needs her more than she needs him. Hell, there's even speculation that the whole drama could be a PR stunt by Sharon just to drum up interest for the upcoming Black Sabbath tour!
Nothing would surprise us!
Azealia Banks This fire cracker was caught on video calling a flight attendant a 'fucking faggot' after an altercation. She doesn't see a problem, as she took to twitter after the fact with "I made my Twitter page private simply to block out all evil white gay media. I don't want them here." But it's not just gay white men that are driving her up the wall, it's just whiteness in general. Another golden tweet by her: "Why have they not invented a pill to save the planet from whiteness? There has to be someway to effect that reptilian cortex and fix it." Okay, okay, one more tweet from her, I promise. "Whiteness may be a mental illness. The general disregard for other people's struggle that white folk generally have is not of this earth."
Amanda Bynes This girl has been committed to a mental facility 2 times, thanks to her parents. She, like Britney Spears, shaved her head bald and put on messy wigs. 2013 was just not a good year for the girl. Her mental state was far gone, as she tweeted nonsense to other celebs and even accused her father of sexually abusing her as a child, which she later took back. She liked wearing colorful wigs to her court appearances, too.
Bjork I don't know what to say about this one. She completely goes crazy on a journalist that says "Welcome to Bangkok". As soon as those words are uttered by the lady, Bjork leaves his luggage alone to go ponce on the woman, pulling her hair and not letting go. You can catch that video on YouTube. It was later said by Bjorks management that this lady in particular had been following and harassing Bjork for months.
Charlie Sheen At the time, Sheen was the highest paid TV actor for his gig in Two and A Half Men, but he ruined all that by taunting his boss Chuck Lorre with his real name Heim Levine, sparking an air of anti-Semitism. It also didn't help Sheens case that he was arrested before for beating a woman and was a known party animal, even prompting a porn star to think he was on a "suicide binge" for taking cocaine every few minutes.
Jason London The Dazed and Confused actor of the 90's thinks he's above all the common folk and decides to pick a fight with a bouncer at a bar, according to the bouncer that is. Well, he ends up with a swollen face. When being taken away in the cop car, his night is not over yet, not until he shits himself, which he promptly does in the back seat. But that's still not the end of it, oh no! While on the way to the police station he decides to make small talk with the cops, saying "Guess what faggot? I fucking love this. I fucking own you guys so hard. I'm rich and I'm a motherfucking famous actor! Fucking look me up, bitch."
Alec Baldwin Not too surprising, this man has had many rants in his time. He allegedly went off on a photographer, who was black, calling him a 'coon' and 'a drug dealer'. There is also a leaked phone call he made to his daughter in which he had clearly lost all patience with her, saying "You don't have the brains of the decency as a human being – I don't give a damn that you're 12 years old, or 11 years old, or that you're a child, or that your mother is a thoughtless pain in the ass who doesn't care about what you do as far as I'm concerned…" Bad day, Alec?
Michael Cera I gotta hand it to Michael, I didn't realize he was serious when he had his meltdown on the set of Youth in Revolt, because his acting is exactly like how he normally sounds. But this was real, and Michael was pissed. Someone had apparently left notes about him saying he's not down to earth enough and that he's an asshole. He wasn't having any of that so he proceeded to shout out for a good few minutes talking about how they are all amateurs and he's sick of being treated like that. I gotta say, even when he's super pissed off, it seems pretty mild coming from Mr. Cera.
Quentin Tarantino Mr Tarantino is usually in good spirits most of the time, but he seems to have a zero tolerance policy to what he deems bullshit. There are some videos floating around out there, like the one where he slaps a cameraman while he's sipping on some coffee. When he realizes they might be paparazzi, he backs off saying "if that was off, I'd be whoopin' your ass up and down this street." He also got into a bit of an awkward situation when he wasn't liking the questions posed to him by Channel 4 News' Krishnan Guru-Murthy, saying "I refuse your question. I'm not your slave and you're not my master. You can't make me dance to your tune. I'm not a monkey."
Robert Downey Jr. The Robert Downey Jr. of today is a lot different to the one of past. Very much an outcast in Hollywood for his crazy antic of booze, drugs and trips in and out of jail, he was seen as wasted talent. In one of his court appearances, Downey Jr. was noted as saying 'Taking drugs to me is like having a shotgun in my mouth with the finger on the trigger, and I like the taste of the gun metal.'
Britney Spears Let's ignore that she had a Las Vegas wedding that lasted all but 55 hours, and then marrying her back-up dancer Kevin Federline. Britney went a bit mental in 2006 when she divorced from Federline and decided to shave her head clean bald...
Christian Bale If you haven't heard this guy's meltdown on set, I urge you to check it out, it's intense. Associate producer Bruce is walking around on set behind the camera as Bale is trying to act, and poor Bale is getting distracted. He ends up exploding on the guy with "kick your fucking ass. I want you off the fucking set you prick!" to which the guy says he's sorry, but that angers Bale more with "No don't just be sorry – THINK for one fucking second that the FUCK are YOU DOING?!" I won't spoil the rest because it's gold. Go have listen.
Mel Gibson Poor Mel Gibson. He just gets caught out at the wrong times. He gets a DUI, and proceeds to refer to a female officer at the scene as 'sugar tits'. He then picks on the Jews by saying "Fucking Jews… The Jews are responsible for all the wars in the world". But it's not just the Jews he has a problem with, as discovered in a leaked phone call to his ex-girlfriend Oksana Grigorieva when he said "You look like a fucking pig in heat, and if you get raped by a pack of niggers, it will be your fault."
Michael Richards Don't talk during Micheal Richards set at the Laugh Factory, or he will explode into a racist tirade like he did in 2006. Kramer from Seinfeld said this to a black member of the audience: "Throw his ass out, he's a nigger. He's a nigger! He's a nigger!" Classy.
Tyra Banks Tyra got upset on an episode of America's Next Top Model with the contestant Tiffany, because she thought it was all a joke to her. Tiffany at this point had been eliminated along with another girl, who was crying, but not Tiffany, which is what set Tyra off. When Tiff tries to explain her actions of not crying like the other girls, Tyra lets loose. "Be quiet, what is wrong with you. STOP IT!". "I was rooting for you, we were ALL rooting for you – HOW DARE YOU!" Some might say Tyra's reaction was a little overboard.

 Kelly Osbourn tweets phone number of Ozzy's alleged mistress