Kendall Jenner Acne
She's one of the most recognizable beauties in fashion, she dominated all of the hottest runways during New York fashion week, and is currently the face of Estee Lauder, following in the footsteps of legendary stunners like Paulina Porizkova, Elizabeth Hurley, and Stephanie Seymour.
But Kendall Jenner, who turns 20 on November 3, wasn't always picture perfect.
Kendall Jenner Wants To Plump Her Pout, Outdo Big Lipped Little Sis Kylie!
"I had such bad acne when I was younger; I remember it SO well!" Jenner revealed in a post on her subscription-based website.  "I started having skin issues around the 8th or 9th grade." She candidly revealed that her acne problem was more than just skin deep. "Where it really impacted me was how self-conscious I became about it. It completely ruined my self-esteem."
Shots of an adolescent Jenner reveal a few spots, but, in her mind, they rendered her unfit for public display.  "I wouldn't even look at people when I talked to them," Jenner wrote. "I felt like such an outcast; when I spoke, it was with my hand covering my face."
PumpingUpTheKardashians Plastic Surgery Time Lapse Videos Are Awesome
Jenner now attributes her flawless complexion to her "incredible dermatologist", and the advice from her sisters not to touch her face with dirty hands and never pick. She also revealed that support from her family helped her through the trying time. "I'm working towards not caring and I'm in so much of a better place about it all now that I'm older," Jenner explained. "Even after things started to clear up, it took a solid amount of time to be okay with my skin and gain back my confidence." Even "one zit" will throw her off her game. However, she now reminds herself, "I realized that it's a part of life for some people and it doesn't define who you are." She's been acne-free for about three years now!
Kris Jenner Wanted Khloe Kardashian To Have Plastic Surgery When She Was Just Nine!!!
Dermatologist Annie Chiu told Yahoo Beauty that Kendall's sisters' advice may have been the most crucial and echoed their belief that the most important advice for every type of acne is not to pick. "I tell everyone that to avoid scarring and worsening, don't pick at any of them," Chiu says. "I understand that there is a compulsiveness, but you have to recognize that this is very tempting and instead put on a gentle topical treatment as many times a day as you want, every time you feel like picking."
Kendall Jenner Acne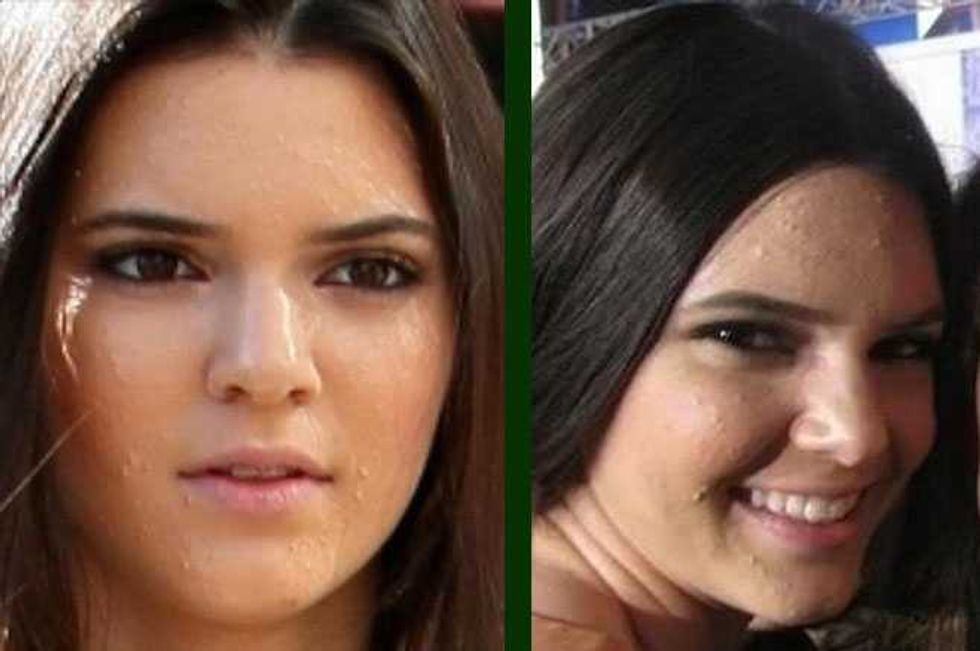 Kendall Jenner acne
 Kendall Jenner Acne