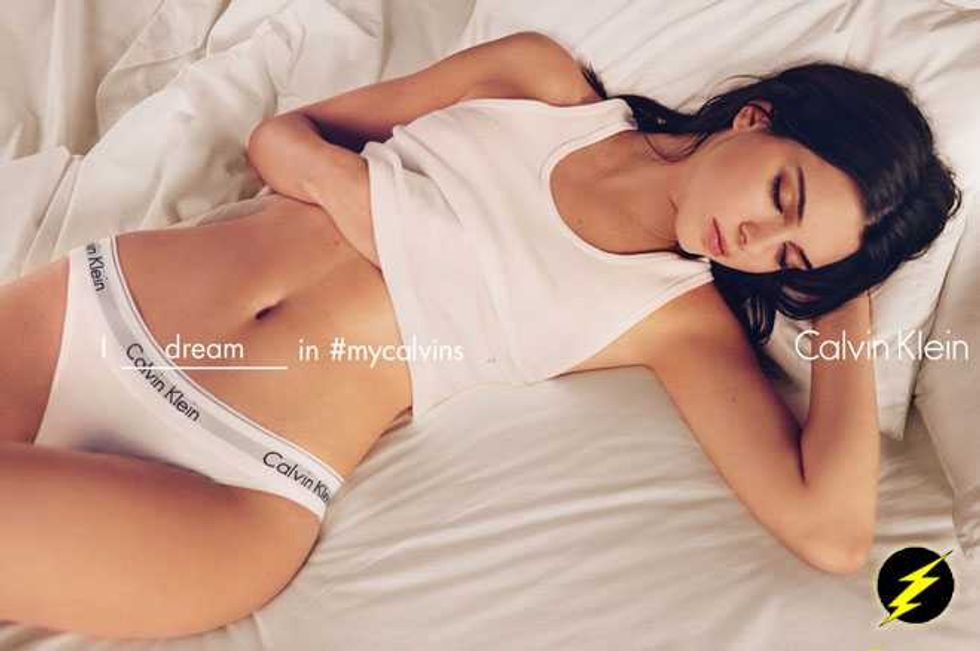 Kendall Jenner Justin Bieber Calvin Klein
The 2016 advertising campaign for Calvin Klein has just been released and it's two biggest stars, Kendall Jenner and Justin Bieber are looking HOT!
The campaign is based around the question "What do you do in your Calvins" and features 21 year old Justin and 20 year old Kendall, as well as other achingly cool celebs in various poses showing just how versatile Calvins can be.
Justin Bieber Is The New Face (And Body) Of Calvin Klein And He Looks AMAZING
The pics all have the phrase; " I ______________ in #myccalvins" and Bieber is barechested, displaying his his tattooed torso and showcasing both his muscles and platinum hair.  The photos are all incredibly sexy and Kendall looks dreamy in every way as she gracefully reclines on a bed in her undies, with her hand seductively inside her vest.
Confirmed—Kendall Jenner Is the New Face Of Calvin Klein!
FKA Twigs, Kendrick Lamar and Fetty Wrap are amongst other models featured in the campaign, which was shot by photographer and filmmaker Tyrone Lebon.
Check out the gallery below to see what the celebs do in their Calvins!
Kendall Jenner Justin Bieber Calvin Klein
Kendall Jenner Justin Bieber Calvin Klein