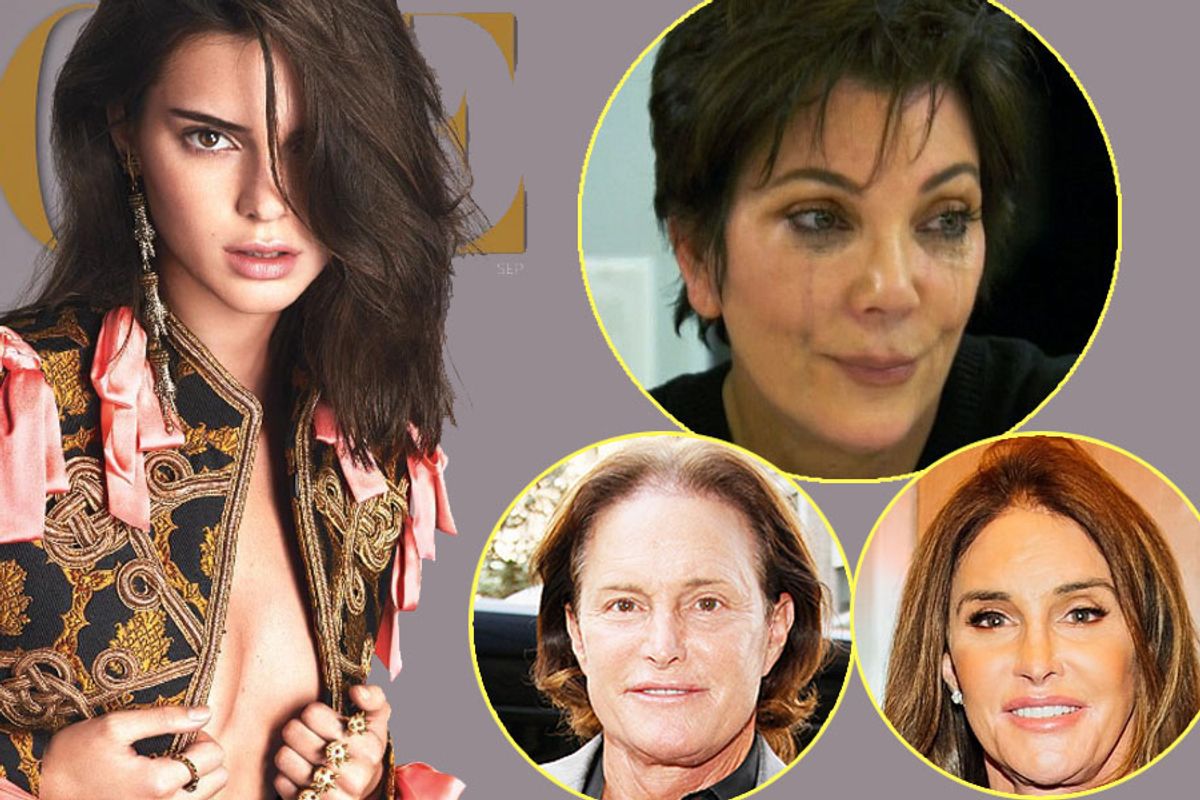 Kendall Jenner calls out her mother as a liar...
Kendall Jenner has been wisely distancing herself from her famous family for some time.
She has carved out a career for herself as a successful model; from catwalks to ad campaigns to magazine covers, she is a model in demand. She's tried to keep the professional side of her life away from her hideously narcissistic siblings and also her mother who, as we all know, will exploit every ounce of her children's life for fame and fortune.
Kendall's latest triumph is to land Vogue's prestigious September issue cover. It's the highpoint of her career so far and is a long held goal for the 20 year old.
Now Anna Wintour is not going to put a Kardashian (however beautiful) on her cover without a pay off, and the interview accompanying the stunning photo spread is Kendall singing for her supper.

---
READ MORE...
Kardashian Sisters Sued For Fraud Over Make Up Line
Kris Jenner Changing Her Name To Kardashian Is NOT The Same As Bruce To Caitlyn
How Real Are The Kardashians? Kourtney Plastic Surgery Exegesis
---
Of all the usual yadda yadda yadda, the takeaway headline from the interview is that Kendall confirms what everyone else long knew but couldn't prove: That her mom, Kris Jenner, knew about her former husband (then) Bruce's gender identity issues from the start of their relationship and is therefore confirmed as being a barefaced liar.
The Jenners were married for 22 years before splitting in 2014 and Caitlyn Jenner has always maintained that Kris was aware that she had commenced hormone treatment to transition into a woman before meeting her. In fact, she only stopped the treatment because of their relationship.
Kris however, who has been proven many times to be a pathalogical liar, claims that she was "blindsided" by Bruce's transition to Caitlyn and was unaware of her husband's inner turmoil.
They had a disagreement about it on Caitlyn's show, I Am Cait. Caitlyn discussed with another trans pal on the show, Jenny Boylan how she was somewhat confused by the fact that Kris was more publicly upset by the "trans stuff" than she was when they were actually together.
When Kris joined the ladies on their road trip in New Orleans, the famous ex's clashed on the subject around the table in front of Caitlyn's squad.
Kris categorically stated that Caitlyn did NOT tell her early on in their relationship about being transgendered. She claims the ex-Olympic athlete only mentioned in passing that she thought she couldn't have any more kids because she "messed about with taking stuff in the '80s" which screwed up her sperm count. Kris reckoned this was the extent of the conversation and she just assumed that it was steroids being discussed.
Caitlyn was adamant however, that she was open with Kris about her struggles in more detail.
We are inclined to believe Caitlyn, mainly because Kris is a liar, but especially given one of Kendall's Vogue anecdotes about growing up in the Jenner household;
"My whole life we would, like, catch her, and we would be like, 'What is going on here? I think we know, but do we?' At one point Kylie and I thought he was cheating on my mom, because he had makeup and nail polish. One time we found these squishy boob things. We found wigs.

She would wake up really early just so she could dress up and move around the house and get that little kick for the morning, and then go back to being Bruce-take us to school, totally normal.

So one morning I woke up at 4 am so thirsty, came downstairs into the kitchen, and grabbed a bottle of water. And as I was coming back out, my dad was coming down the stairs in, like, a wig and makeup and shoes-the full nine. And she didn't see me. I literally froze. Please don't turn left, Because she could either turn left or turn right. Thank God she turned right and-to this day- has no idea what happened. That was the first time I had ever seen her."
Ok so Caitlyn left her women's clothing and make up around, sufficiently unhidden, that her young kids could find it, yet Kris, her wife who was sharing a bedroom with her for 22 years, apparently had "no idea" what was going on?
Kris wants us to believe that she was oblivious to the fact her husband was trans, when he was getting up early to dress up and walk around the house?
It beggars belief and we call bullshit.
It seems Kendall does too, saying to Vogue;
"My mom knew. She knew since their third date."
Kris Jenner knew her husband was conflicted, she knew he liked to dress up, she knew he had taken hormones previously. But yet she was "blindsided" by the Vanity Fair cover when Caitlyn was introduced to the world?
No, she was embarrassed.
Kris could cope with it while they were married and "Bruce's problem" could be kept behind closed doors and swept under the rug. She could continue to pimp out her family and be in control of the family image in order to build their fortune.
But the whole world knowing? Caitlyn standing loud and proud and actually having a chance of finding some inner happiness? Oh no that's different. No way could Kris deal with that, so she went down route of lie, lie, lie.
And it just keeps on coming back to bite her in the ass.