Frontpage Popular News
Is it on or off?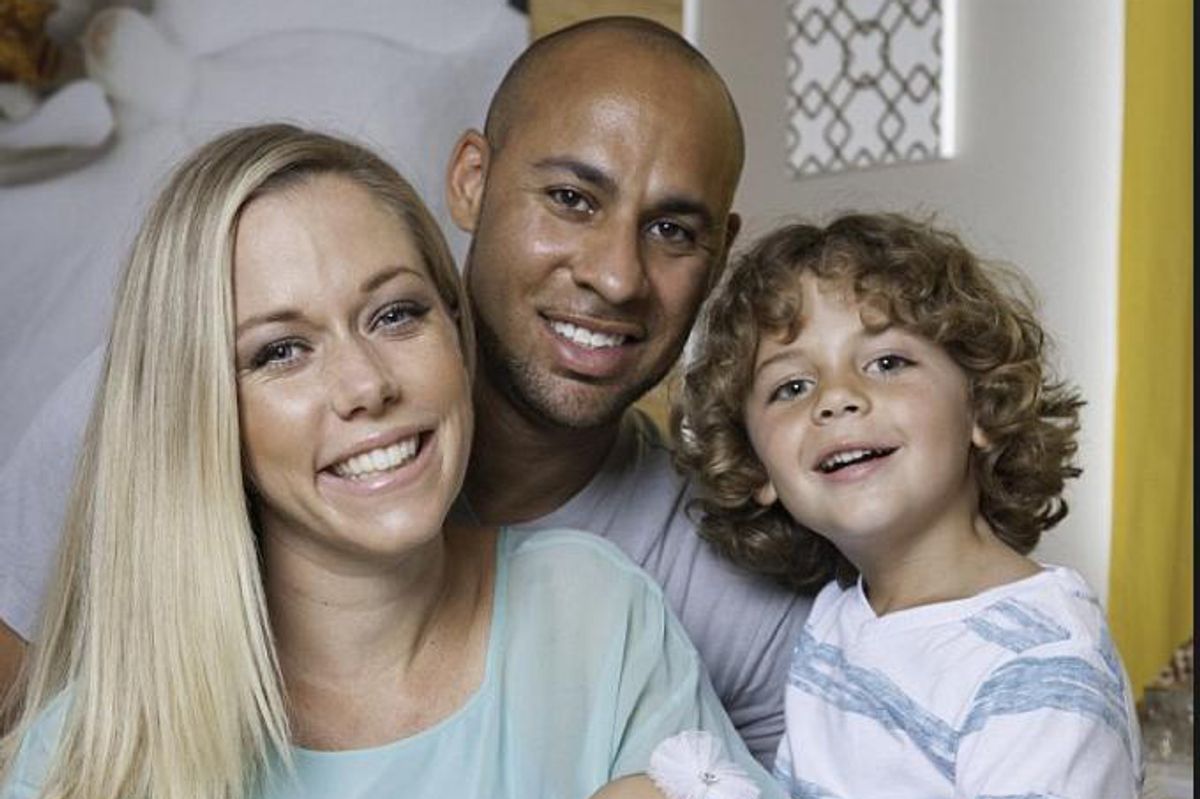 Kendra Wilkinson And Hank Baskett Marriage—5 facts about their troubled relationship
Ex-Playboy Bunny Kendra Wilkinson and her husband ex-pro football player Hank Baskett got married on June 27, 2009.
They'll be celebrating their seventh wedding anniversary on Monday, but as has been extremely well documented, their union hit the 7 Year Itch a long time ago.
1. The couple actually met at a Playboy Golf Scramble. Kendra was one of Hugh Hefner's girlfriends at the time (she alleges she didn't realize she had to sleep with him until she'd moved into the mansion), and she kept her relationship with Hank a secret from Hef until she was sure it was going somewhere.
2. There was some speculation that Hef would walk Kendra down the aisle which wouldn't have been weird at all.
In the end her brother did the honors, with the ceremony actually taking place on the front lawn of the Playboy Mansion.
Aaahhh.
3. Kendra has been back and forth on sticking with her marriage since her husband's alleged infidelity with transsexual model Ava London in 2014.
They have undergone therapy, including appearing on Marriage Boot Camp: Reality Stars.
Hank struggled to be honest with Kendra on all the details of his transgression, and Kendra has said as time and again that she doesn't know if she can get over it.
She's fought off her own cheating rumors too, but most recently she's been saying the marriage is back on track.
4. The couple's income is derived from their reality profile (which goes some way to explaining them sticking together when others would have split).
Kendra is definitely the main breadwinner in the family now. Hank's net worth is around $6.5 million but that is mainly built up from his playing days.
Kendra has fast caught up and is now worth a cool $6 million herself.
5. The couple are both supporters of the Griffin Gives Foundation, with Hank being the Honorary Chairman.
The foundation is a philanthropic, not for profit foundation dedicated to supporting the military, those affected by debilitating disease and the health and wellness of children.
Happy anniversary!
Check out other Wedding Wednesday posts here!
---
Read More:
Wedding Wednesday—5 Facts About The Jason Biggs And Jenny Mollen Marriage
---
Ashton Kutcher and Demi Moore: Before they split in 2011 Ashton made it very clear that they had an open relationship and shared threesomes. Demi had to a) be involved and b) pick the girls. Trouble is they clearly weren't on the same page about how 'open' it actually was. He went off and did it on his own with Brittney Jones causing Demi to throw his ass outta there!
Brad Pitt and Angelina Jolie: According to Angie, just because you're open to being open doesn't mean you have to. She has gone on record as saying; "I doubt that fidelity is absolutely essential for a relationship. Neither Brad nor I have ever claimed that living together means to be chained together. We make sure that we never restrict each other." Hmmm, we think she's pretty safe in the assumption that with that many kids to look after they probably don't have too much time to act on it though!
Dolly Parton and Carl Dean: Dolly and her hubby have been married since 1966 and recently renewed their wedding vows, so clearly whatever policy they have seems to be working. They seem to exercise the 'don't rub my face in it—don't ask don't tell' rule. Dolly has said; "If we cheat we don't know it, so if we do cheat, it's very good for both us. I don't want to know it, if he's cheating on me. If I'm cheating on him, he wouldn't want to know it. And if we do, if that's what's making it work, then that's fine too."
Justin Timberlake and Jessica Biel: Apparently, before they got married and had a baby, old trouser-snake didn't want to be tied down. He told Jessica that he wasn't interested in being in a serious relationship with her and needed it to be open for it to continue. She was devastated but then came around to the idea of being demoted from girlfriend to friend with benefits. She played the long game however and managed to put a stop to it and get him to settle down.
Mo'Nique and Sidney Hicks: This is more of a one sided open relationship. He gets to have sex outside of the marriage and it's ok. She chooses not to. Hey if they're both comfortable with the arrangement then who's judging? As Mo'Nique says; "We've been best friends for over 25 years and we truly know who we are."
Megan Fox and Brian Austin Green: This is one sided too….but the other way! Allegedly they have a deal whereby she can see other men but Brian can't date anyone else. Sounds good to us!
Pink and Carey Hart: This couple had to revise their open door policy after a change of heart ( ?) by Pink, leading to them separating for two years. They originally had a 'don't ask, don't tell' policy, but then Hart took it too far and started making public appearances with his blond bit on the side. The cute couple seem to have sorted it out now and are happily reconciled.
Tilda Swinton and John Byrne: A truly unconventional open relationship which is about love and not just being free to sleep with other people. Tilda and John have twins and are a family together, but each have other lovers outside of the marriage. Tilda with artist Sandro Kopp and John with a woman named Jeanine. Swinton says; "It may seem odd but it is certainly the best thing for the children. It's not something I try to promote as a radical lifestyle choice. But it's a situation I find very healthy.
T-Pain and Amber Najm: The rapper states that he and his wife do not have an open relationship. They just 'sleep with other girls together'. Sounds pretty open to us, but invoking the 'keep an eye on it' rule that you have to cheat at the same time for it to be ok.
Will Smith and Jada Pinkett Smith: Married for 18 years, whatever rules they have—it works for them! Pinkett-Smith has been quite open about the open nature of their marriage, saying; "Here's the deal... you've got to trust who you're with. And at the end of the day, I'm not here to be anybody's watcher. I'm not his watcher. He's a grown man. Here's what I trust—I trust that the man that Will is, is the man of integrity. So, he's got all the freedom in the world. As long as Will can look himself in the mirror and be okay, I'm good."