MUSIC
Big Sean isn't the only rapper in the crosshairs on Kendrick's new album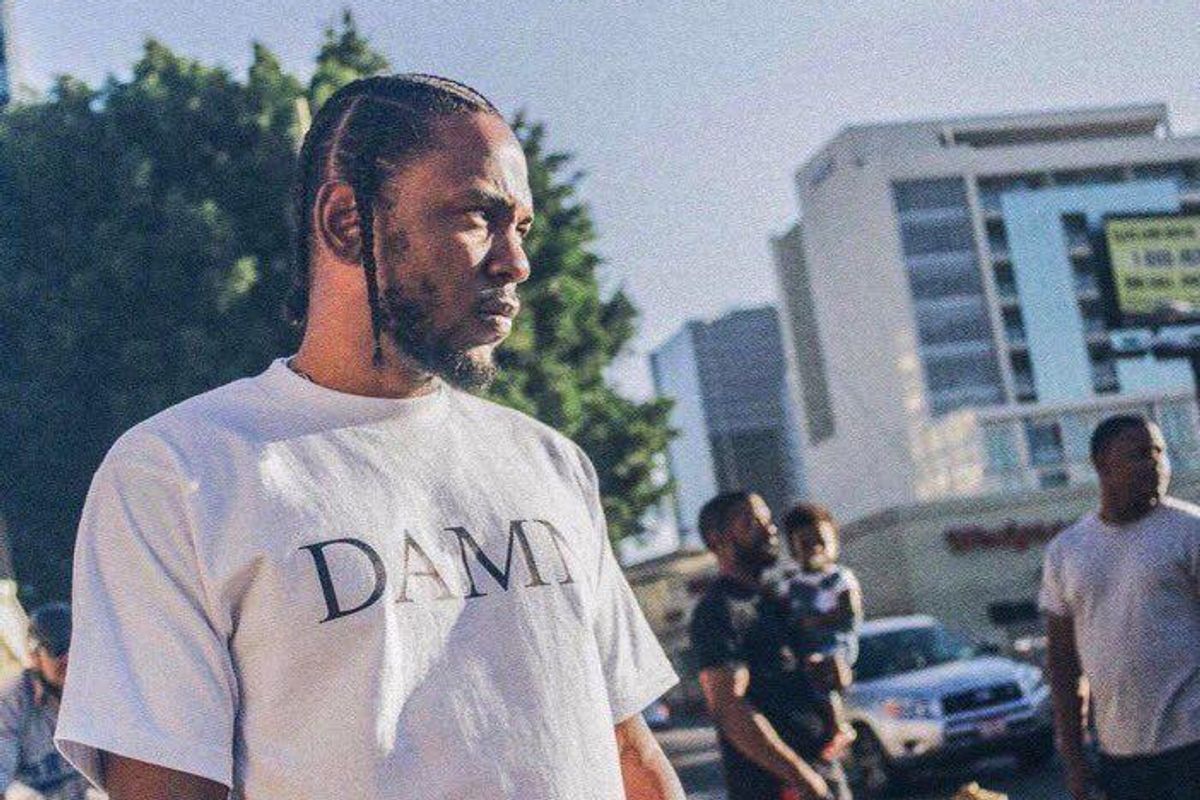 Kendrick Lamar takes shots at everybody on his newest album but not in the way he did on Big Sean's "Control." On that song, his verse was caustic, an uncensored attack on everyone he considered rivals: "Jermaine Cole, Big K.R.I.T., Wale, Pusha T, Meek Millz, A$AP Rocky, Drake, Big Sean, Jay Electron', Tyler, Mac Miller, I got love for you all but I'm tryna murder you niggas." In an interview in 2013, Drake played it off as Kendrick making a "moment to talk about," something you wouldn't remember for more than a couple weeks. He asked the interviewer, "If I asked you, for example, how does that verse start?" Silence. Applause.
Drake wasn't about to call it the verse of the century, but it hasn't gone away like he thought it would. Fans have heard pretty clear shots fired at Big Sean on DAMN, reigniting talk about their rivalry. He might be the biggest callout (though not by name) on the new album but he's not the only rapper from Kendrick's hit list that's back in the crosshairs.
Listen to "ELEMENT." It starts off mocking Sean's favorite phrase but after that, especially in the verses, Kendrick is doing that classic Drake flow—patient, singsong lyrics. "Made it look sexy"—what's that if not a dig at Drake's lucrative sex appeal? You might not think there's any blatant attack in it, but as we've seen with the Kendrick-Sean call-outs, he doesn't have to name-drop to make a move at somebody. Even the humming just before the song changes speed sounds like an impression of the singing that took over Drake's songs for awhile. "I still rap," Drake said in the same interview, "in case any of you forgot that recently." Kendrick's wondering if that's true and if it is, is it worth anything?
In "YAH.," Kendrick opens the song in the same singing voice, with lines that mimic Drake, too: "Keep the family close / Get money, f*ck b*tches." It's nothing new as a rap line and might not have meant anything significant if Drake hadn't put a song on 2016's Views that you probably remember, called "Keep the Family Close." Kendrick sings the whole song, so we can't say that the choice to do this is only shade at Drake. Instead of a full parody, the song seems more like Kendrick's attempt to say, "I can do that too, and I can do it better."
Kendrick is singing again on the hooks in "GOD." This time, he goes for the high notes that Drake likes—he does it on "Hotline Bling" and "Redemption" and most of his songs. You know Kendrick is aware of everything he's doing, so when he says "You feel some type of way," it's not hard to see the connection to another Views song, "Feel No Ways." And those "a-ha's" that are in every one of the first lines of "GOD."—don't they sound familiar, too? It's a little like Kendrick laughing at his own joke in the voice of the person who's the target.
Kendrick has a history of playing games with Drake's song titles. In the 2013 BET Cypher Kendrick references Drake's Nothing Was The Same when he says, "Nothing's been the same since they dropped 'Control' / And tucked a sensitive rapper back in his pajama clothes."
Finally there's the crowd favorite: "LOYALTY." Featuring Rihanna. One of the fastest jokes to come out of the record's release was about the recent end of Drake's relationship with Rihanna. You can make your own interpretation of the track's lyrics based on this information, but it's not that much of a stretch to find bad, post-breakup vibes in a song about loyalty.
Even before DAMN. dropped, Kendrick stoked the fire with "The Heart Part 4." Close readers couldn't decide whether Big Sean or Drake was the unnamed rival, but some saw the timing of the release as a clue:
Drake and Kendrick are entirely different rappers. One focuses on the smoothness of the flow and the sexuality of his character while the other concentrates on dense, narrative lyrics that are poetic for more reasons than rhymes. And neither can be characterized by just one thing: Drake is more than his singing and Kendrick is more than his fast lyrics. Like the best works of art, the lyrics on DAMN. are infinitely interpretable and their targets are unnamed. One thing is clear: there are a lot of targets in those fourteen songs. Can you find them all?

---
READ MORE ABOUT MUSIC:
Review: Greta Van Fleet can't escape the shadow of their influences on debut EP 'Black Smoke Rising'
Listen to Jack White's heavy riffs on scorching surprise single 'Battle Cry'
Gorillaz declare their return with new tracks from giant upcoming album
---