Miguel, Post Malone, Marian Hill and The Black Angels to perform, as well.
In the early hours of Tuesday morning (June 6), the Voodoo Festival revealed the eclectic and rather massive lineup for this year's extravaganza, set for Halloween weekend (Oct. 27-29). Headliners are Foo Fighters, Kendrick Lamar, The Killers, LCD Soundsystem and DJ Snake--with countless more acts, ranging from Miguel and Post Malone to up and coming duo Marian Hill, Vintage Trouble, Louis the Child and Bleached tapped to perform over three days. The more than 60 bands will take the stage underneath the silver, haunting moon of fall at the City Park in New Orleans: the event is also slated to include dazzling and prolific art installations, an interactive haunted house packed with plenty of ghouls and goblins and a smorgasbord of tasty local cuisine.
VIP tickets go for $400 a pop, and three-day general admission at a slender $140. Tickets go on-sale this Friday (June 9) at 10 a.m. CT. Fees not included, naturally. Platinum tickets will also be available and feature numerous exclusive entertaining packages and components.
The VIP experience (if you're into that kind of thing) includes such savory amenities as premium raised viewing of the main stage, concierge services, cash bar for daily drink specials--it's five o'clock somewhere, right?!--much-needed free massages, tarot card readings to decided your ultimate fate, cool and animalistic face painting, unlimited carnival rides and many other spooky treats. You can find additional details and info here.
Festival gates open at 12 p.m. each day, so make sure to break out the highest SPF at the cheapest price and slather that on.
Performers also include a stacked, diverse deck: Dillon Francis, Brand New, Kehlani, RL Grime, Prophets of Rage, Yellow Claw, Crystal Castles, Superduperkyle, The Afghan Whigs, Live, Andrew McMahon in the Wilderness, K. Flay, Illenium, Charles Bradley and His Extraordinaires, Nghtmre, Whitney, Anine, Gnash, G-Jones, Hayley Kiyoko, Rich Chigga, Bibi Bourelly, The Record Company, Benjamin Booker, Mija, Colony House, Chicano Batman, Strand of Oaks, Autograf, Joyryde, Flow Tribe, Boombox Cartel, Mondo Cozmo, Snbrn, Tokimonsta, Pell, Cid, Black Pistol Fire, Saint Jhn, Sam Dew, Flint Eastwood, Pham, La Femme, Ron Gallo, Durand Jones and The Indications, Mannequin P, Public Access T.V., Tim Gunter, DJ Mel, DJ Gracie, Malik Ninety Five, Alfred Banks, Carmine P. Filthy, Free Swim, Unicorn F, Otto, Herb Christopher, S.K.B. and Yrstrly, Werd2jah, and Zander.
The organizers posted the full lineup on Instagram. Take a look below: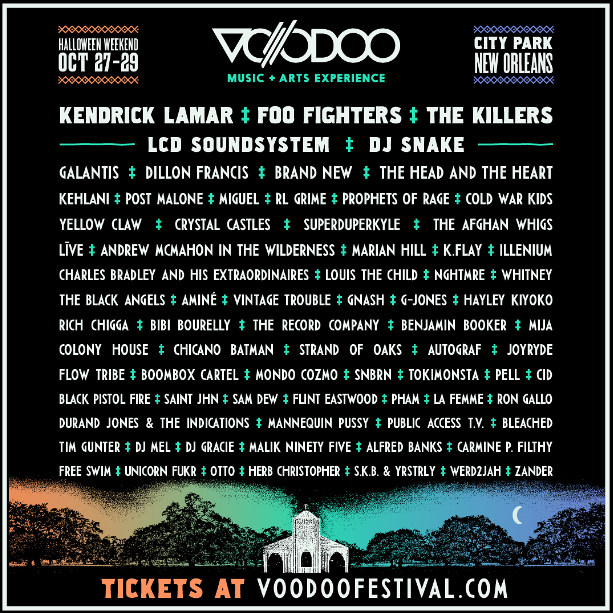 Instagram
Feast Under the Stars takes place the very first evening at around 7 p.m. The several-course meal (menu yet to be determined or announced) to be prepared by five of New Orleans' finest and most talented chefs. They are, in no specific order: Aarón Sánchez of Johnny Sánchez Restaurants, Martha Wiggins of Sylvain, John Bel of Meauxbar, Nathan Richard of Cavan, and Kyle Knall of Kentons. Wine will also be prepared and served for ample consumption--and of course, to convince you to shell out a couple hundred on only the fruitiest and most bitter bottles.
Last year's show featured such headliners as Tool, Arcade Fire and The Weeknd. Additional performers were Foals, Mutmath, Tory Lanez, G-Eazy, Pretty Reckless, Bully, Cage the Elephant, Die Antwoord, Preservation Hall Jazz Band, and more.
---
READ MORE ABOUT MUSIC...
Stream Major Lazer's surprise EP 'Know No Better,' featuring Camila Cabello and others
LISTEN | Lorde gets lost in "Perfect Places" with new song
PREMIERE | Brit Daniels haunts with her new single, "Shadows"
---
2017 Coachella Valley Music And Arts Festival - Weekend 2 - Day 3
INDIO, CA - APRIL 23: Kendrick Lamar performs on the Coachella Stage during day 3 (Weekend 2) of the Coachella Valley Music And Arts Festival on April 23, 2017 in Indio, California. (Photo by Emma McIntyre/Getty Images for Coachella)
2017 Coachella Valley Music And Arts Festival - Weekend 2 - Day 3
INDIO, CA - APRIL 23: Kendrick Lamar performs on the Coachella Stage during day 3 (Weekend 2) of the Coachella Valley Music And Arts Festival on April 23, 2017 in Indio, California. (Photo by Emma McIntyre/Getty Images for Coachella)
2017 Coachella Valley Music And Arts Festival - Weekend 2 - Day 3
INDIO, CA - APRIL 23: Kendrick Lamar performs on the Coachella Stage during day 3 (Weekend 2) of the Coachella Valley Music And Arts Festival on April 23, 2017 in Indio, California. (Photo by Emma McIntyre/Getty Images for Coachella)
2017 Coachella Valley Music And Arts Festival - Weekend 2 - Day 3
INDIO, CA - APRIL 23: Kendrick Lamar performs on the Coachella Stage during day 3 (Weekend 2) of the Coachella Valley Music And Arts Festival on April 23, 2017 in Indio, California. (Photo by Emma McIntyre/Getty Images for Coachella)
2017 Coachella Valley Music And Arts Festival - Weekend 2 - Day 3
INDIO, CA - APRIL 23: (EDITOR'S NOTE: Image was converted to black and white) Kendrick Lamar performs on the Coachella Stage during day 3 (Weekend 2) of the Coachella Valley Music And Arts Festival on April 23, 2017 in Indio, California. (Photo by Emma McIntyre/Getty Images for Coachella)