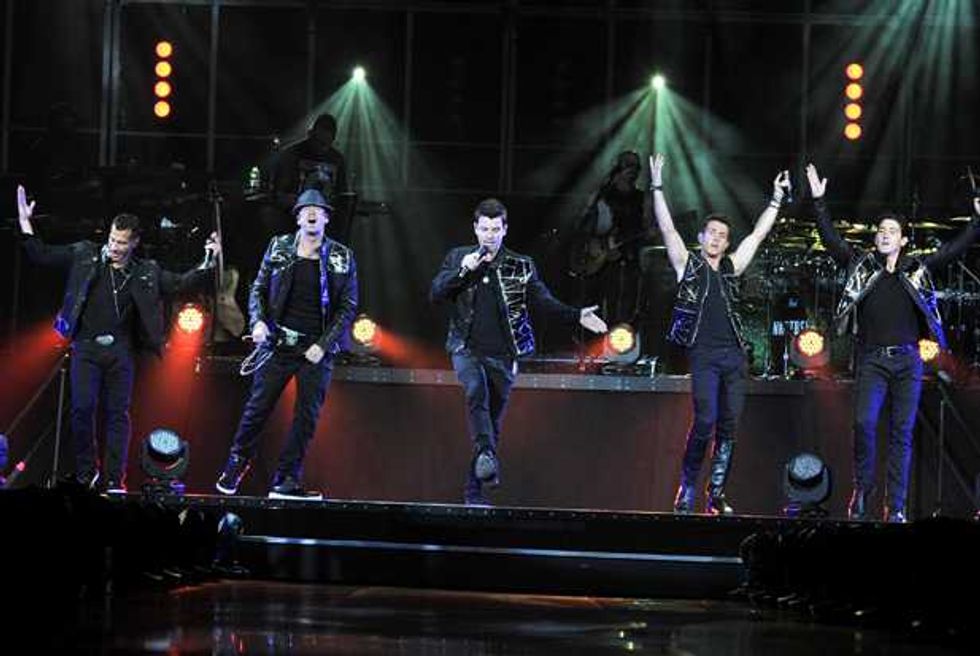 Come crawling back, eh Kev? The world-dominating force that was the Backstreet Boys had been missing 20% of his original lineup throughout its various reunion projects—most notably their teaming up with New Kids on the Block to form the superest of boy band supergroups, NKOTBSB—since 2005's Never Gone, due to the lack of cooperation from original member Kevin Richardson, who officially left the group in 2006. (He showed up for a couple stray performances here and there, though.) You might remember Kevin as the guy in the group who looked like he never really belonged there in the first place—too tall, too lanky, too thin-mustached—so the group's been able to cope OK while he's been off exploring his movie career. (He won an Independent Vision Award for his role in The Casserole Club!)
But now BSB are regrouping for a new album, and they need all five hands in the middle if they're gonna extend their period of recorded triumph into a third decade. So, Kevin Richardson has rejoined the group, and all is right with the universe. Says Richardson of the new album:
We all discussed, we want this to be a personal record...We want it to be authentic to us and who we are and where we're at in our lives. ... We want to talk about the things that are relevant in our life, and we want to be authentic and make a great record that we're proud of, and that's kind of where we're starting.
A personal, authentic Backstreet Boys record, featuring the original lineup—great news. Let's hope that means lots of songs that are literally and/or figuratively about playing songs for thirty-somethings on cruise ships. Don't rock the boat, Kev!