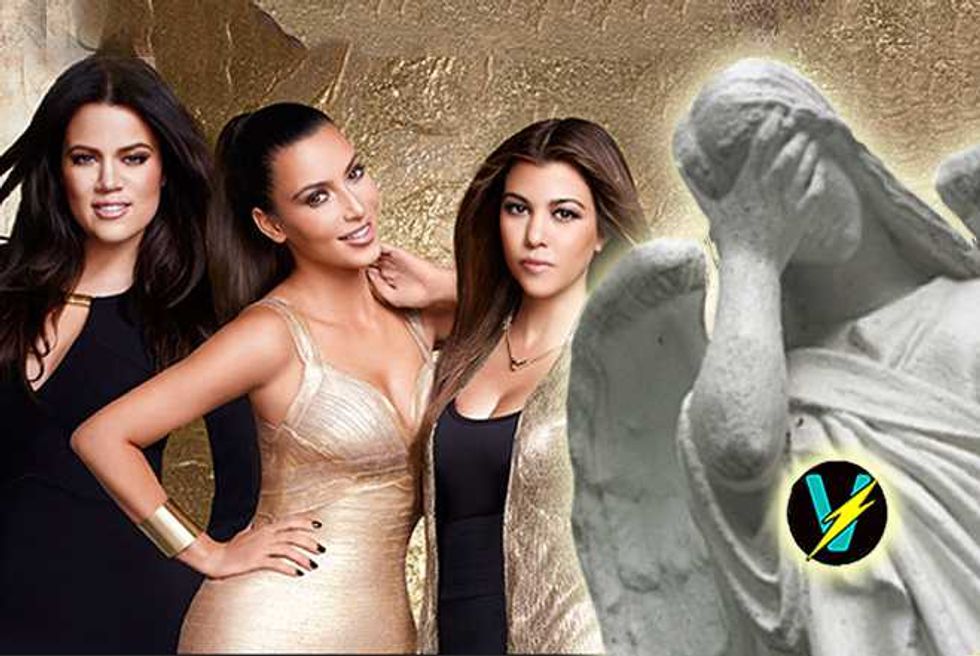 The Kardashians really are blessed—in all ways it appears.
According to both Khloe and Kim Kardashian, the Almighty Lord keeps a very close eye on the reality TV family, dispatching his divine messengers to watch over the godly sisters and keep them from harm.
As Popdust previously reported, Kim gave a shout out to Sky Daddy, via her Instagram (natch) following a car crash involving her, Khloe, Kylie Jenner and baby North West, back in February.
"Thank you God for watching over us and keeping up safe," she wrote, adding a praying hands emoji for good measure.
Khloe also believes the Big Man Upstairs is a huge Keeping Up With the Kardashians fan it seems, as she claims angels were surrounding the family that fateful day in Montana.
In a clip from this week's new episode of the E! show, we get to see the reality TV holy trifecta dealing with the aftermath of their terrifying brush with death—and it's as overly dramatic as you would expect.
"Our car's stuck in the snow ... in a ditch off the side of the road," Kim tells someone on the other end of the phone, supposedly minutes after the crash. "We skidded into the other side of the road and a car was coming toward us."
"When stuff like this happens it makes you put everything into perspective: life, family, friends, what's important to you," Khloe tells the camera. "Things could change in a blink of an eye. Our family has learned that tons of times."
"We definitely have angels surrounding us today," she concludes.
Praise the Lord for having his priorities in good order—and may God always keep you in his warm and comforting embrace, oh saintly sisters.