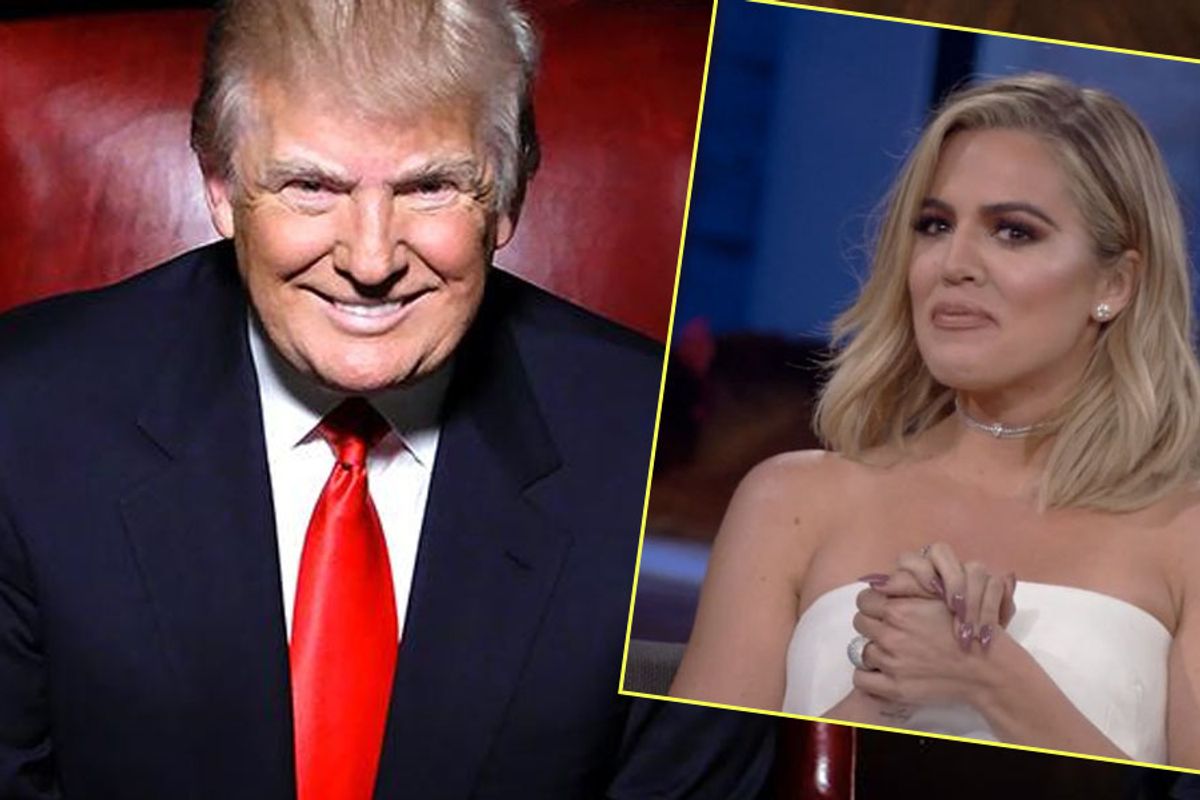 Khloe Kardashian appeared on Chelsea Handler's Netflix chat show Chelsea and revealed that not only did she hate her entire experience on Celebrity Apprentice, but that she does not think Donald Trump would make a good president.
Handler, who is an ardent Hillary Clinton supporter, gathered together a number of ex-Celebrity Apprentice contestants to find out if the Republican candidate was actually real or if his whole persona is just an act. Khloe was joined by Real Housewife favorite, Nene Leakes, singer Clay Aiken and comedian Lisa Lampanelli.
Funnily enough, none of them are going to be appearing on stage campaigning for a President Trump anytime soon.
Scroll down to watch the video...
Kardashian didn't even want to appear on the 2009 season, and she was even more pissed when she was fired for nothing to do with her work on the show, but her 2007 DUI. During the boardroom discussions, Trump learned that Khloe had not been able contribute to some of the previous week's task due to having attend a mandatory class regarding the DUI.
Trump, ever the barometer of morality, said;
"I hate people who drive under the influence. I know three families who lost children to drunk driving."
Kardashian dished to Chelsea;
"My mom wanted me to do it and I hated every minute of it. It's just something I would never do. I'm put in these situations I would never be in in real life. I went to home school, I don't know how to do a fucking PowerPoint. I don't care. What is that going to prove in my real life? I'm just stressing myself out and then dealing with him and about to be fired, I was like, 'Fuck you, I don't need this'."
When Handler then asked her if momager Kris Jenner thinks a Trump presidency would work, Khloe replied;
"I don't think so, no."
Handler confirmed she asked about what Jenner thinks because then we know what Khloe thinks (love the shade) and Khloe confirmed;
" I don't think he would make a good president."
Nene Leakes meanwhile, revealed that she had been approached by Trump's people who asked her to reach out and try to connect with black voters (as he has done with notorious Apprentice contestant Omarosa). Nene said;
"They sent me an email and asked me to speak at one of his rallies. I didn't."
Handler said; "You didn't want to represent him?"
"No." replied Leakes to huge applause.
All the guests agreed that Trump was pleasant enough on a personal level, although Lampanelli said his misogyny was obvious in the boardroom;
"Trump is effing crazy, because in that boardroom he will say some crazy stuff to the women. We all know he loves beautiful women. And at the time I wasn't the gorgeous thing I am now, as I lost 107lbs...

...The things he said in the boardroom to the women were so funny, and at the time I felt so left out because I was kind of a battleaxe, He would say to every girl in the boardroom, 'Oh Teresa (Giudice) you look so beautiful today. 'Oh Aubrey (O'Day) you look more lovely with every passing week,' except for me. And then he says to me one day: 'Lisa. Doesn't Teresa look beautiful today?'"
Aiken said that he believes Trump's campaign is about proving he can win rather than believing in policies that he wants to see through, but that he suspects the controversial candidate will probably win, which "is frightening to me."
You're not alone Clay.
On another completely shallow note—LOVING this combo!
Watch all the guests including Khloe Kardashian giving their opinion on Donald Trump as President...