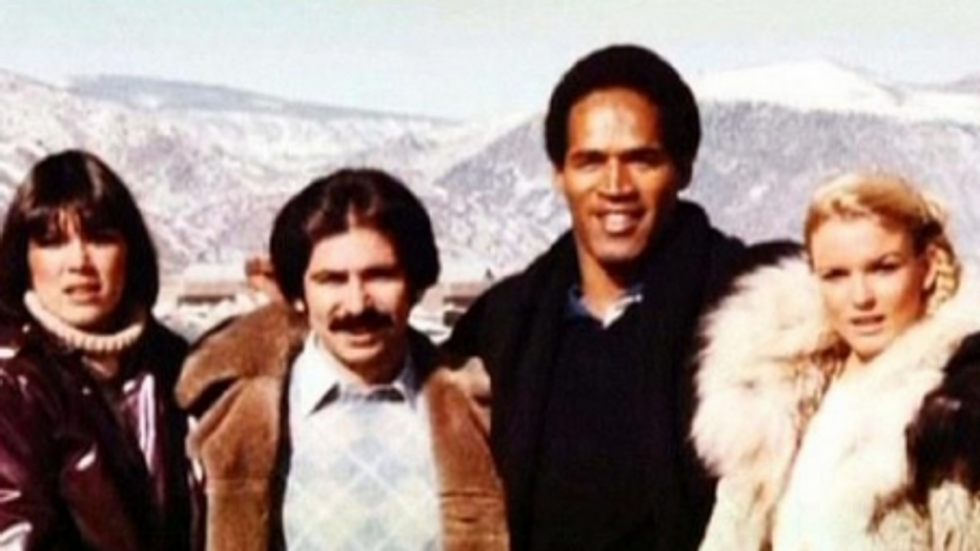 Consider for a moment Kris Jenner, former wife of fabled defense lawyer Robert Kardashian, who sired four of her reality-star children: Kourtney, Kim, Khloe, and Rob.

Kris married her first husband in 1978 and divorced him in 1991 after having at least one affair that she admits to.
The People v OJ Simpson Trailer—Gloriously Camp TV Coming Your Way Soon
Kris Jenner and Robert Kardashian in happier times
The Theory
After his divorce from Kris, Robert Kardashian married two more times, in 1998 to Jan Ashley and again in 2003 to Ellen Pierson, shortly before he died of esophageal cancer.
Conspiracy Theory Thursday— Paul McCartney Died In 1966
Both Ashley and Pierson allege that Robert Kardashian told them that Khloé, born in 1984, was not his biological daughter.
Is it possible that Robert Kardashian's most (in)famous client, former NFL superstar OJ Simpson, is Khloé Kardashian's real dad?
The "Proof"
Kim and Kourtney are both significantly shorter than Khloé and have a notably different complexion. Robert Kardashian was 5'7" while OJ Simpson is 6'1".
Khloé once asked Kris if she was adopted, during an episode of Keeping Up With The Kardashians in 2009. A maternity test was done, which proved Kris was Khloé's mother, but no DNA was compared with her other siblings to see if their paternal DNA matched.
Kris admits to at least one affair during her marriage to Robert, during her 'mid-life crisis' when she was 30. Khloé was conceived when Kris was 29—it isn't absurd to speculate that Kris had more than one affair around this time.
Kris claims to know who Khloé's father is, but hasn't told Khloé or anyone else. If Khloé was conceived during the affair Kris admits to, wouldn't she tell everyone who Khloé's father was?
Before Kris and Robert divorced, the Simpsons and the Kardashians were close friends, often going on vacation together. L-R: Kris, Robert, OJ, Nicole Simpson Brown
Simpson, currently serving a maximum 33-year jail sentence in Nevada for armed robbery, has remained uncharacteristically quiet on the matter. OJ's manager, Norman Pardo told In Touch that "Khloé could be OJ's kid." In the same interview, Pardo revealed that when he has mentioned Khloé's paternity to Simpson, OJ just "giggles."
While in a twitter feud with the Kardashian Klan, model Amber Rose insinuated that Khloé's real father was OJ.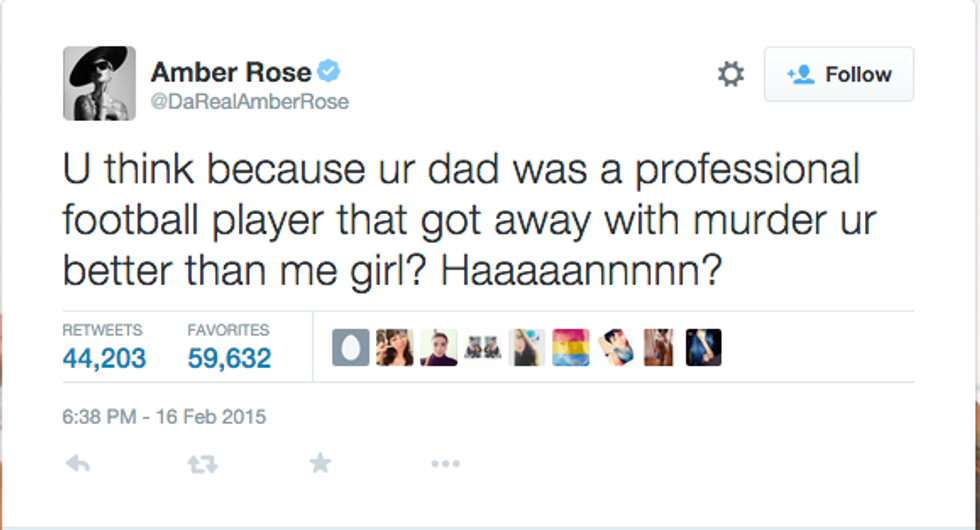 Conspiracy Theory Thursday—Tupac Shakur Faked His Death
Khloé has refused Kris' suggestions to have a paternity test.
This tweet, comparing Khloé's appearance to that of OJ's daughter, Sidney.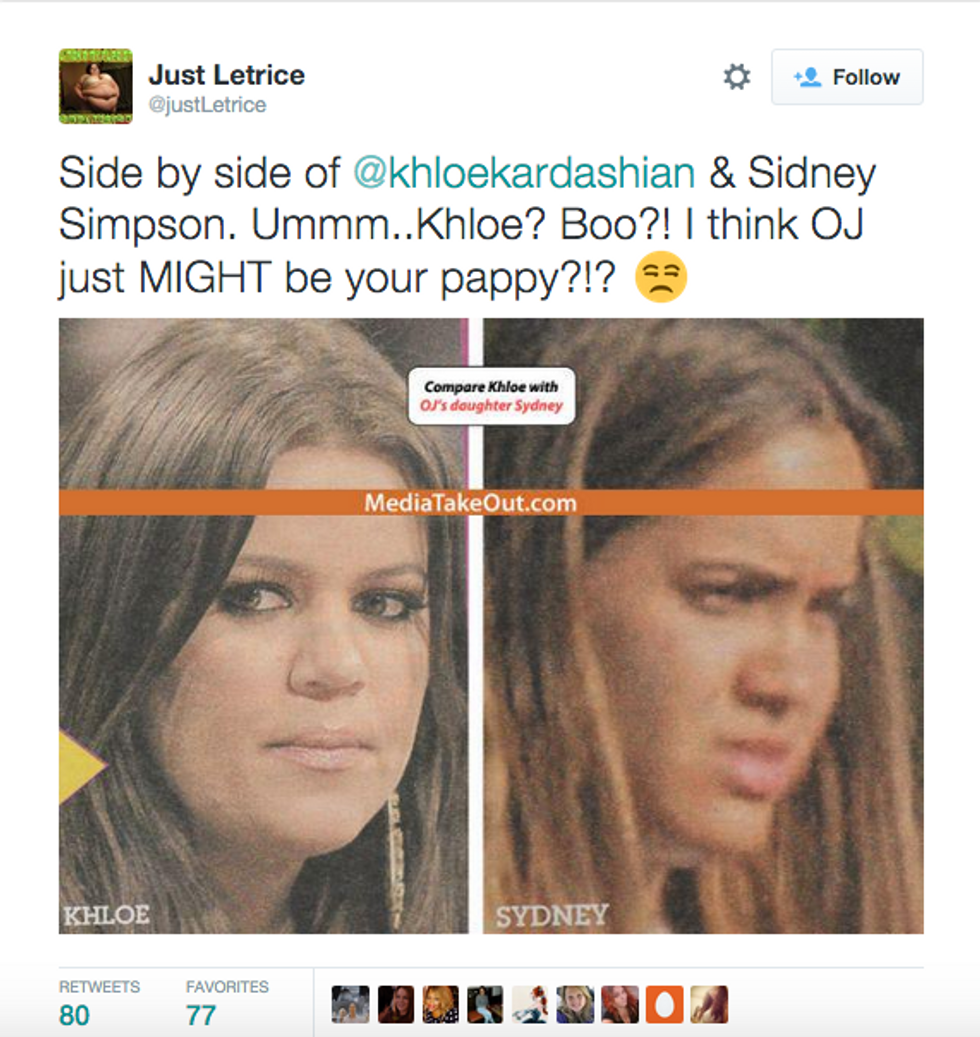 Conspiracy Theory Thursday—Joan Rivers Is Alive And Well, In FBI Witness Protection
Thomas Scotto, who testified for the defense in OJ's armed robbery trial and is a longtime friend of Simpson, has urged OJ and Khloé to submit DNA for a paternity test.
Why won't Khloé and OJ submit for paternity testing? Do they already know?
Is Khloé's real father OJ? Is this enough proof for you?
Kris Jenner Cops To Making 'Handful' Of Mistakes But Always Puts Family Before Money Apparently
Let us know what you think—vote in the poll, and sound off in the comments below!
And, check out Popdust's previous Conspiracy Theory Thursday posts here
From Your Site Articles
Related Articles Around the Web