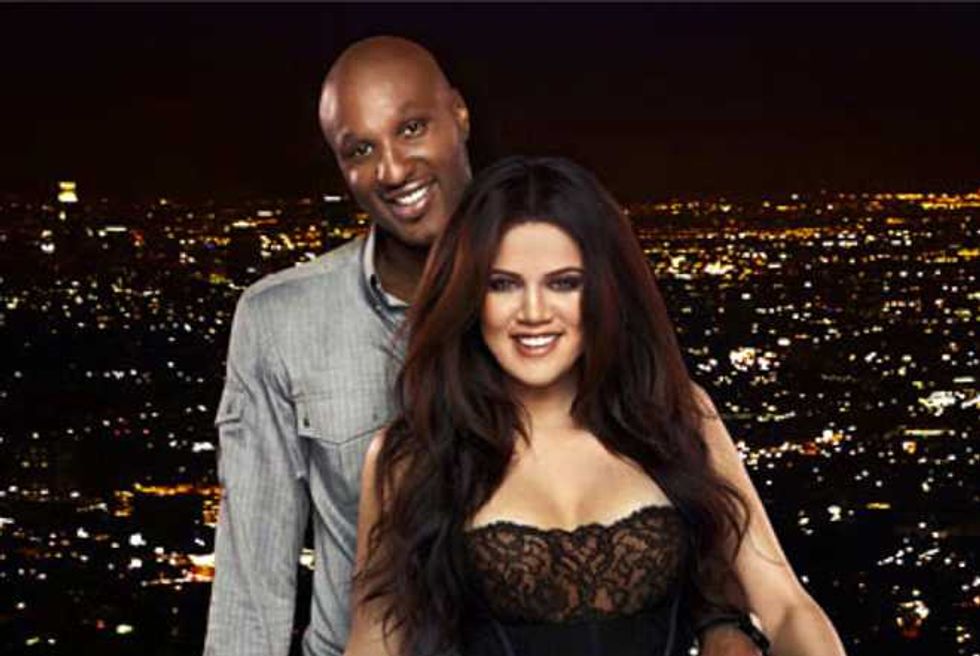 khloe kardashian exploiting lamar
The twitter-sphere was alight this morning with accusations that Khloe Kardashian is exploiting the Lamar Odom near-death medical drama.
The cashing in claims followed hot on the heels of the new People magazine hitting shelves—Khloe resplendent on the front cover, opening up about Lamar, and vowing "I'll always be there for him—like I promised!"
Conspiracy Theory Thursday—Khloé Kardashian's Real Dad Is OJ
Not surprisingly, people automatically jumped to conclusions, tying in the front cover with the usual Kardashian Kash making machine M.O. but, not so quick, Khloe is NOT cashing in, and shame on you for thinking otherwise!
The only Kardashian that seems even semi-decent, took to Twitter to shoot down the naysayers and set the record straight:
I want to make this VERY clear.... My people cover, I shot and interviewed for PRIOR to all the events that happened. It was contracted press for my book that I wrote months and months ago. Timing is what it is.

Shame on you all for thinking the worst of me. It's been a tough few weeks. I don't need your fucked up energy! Know the facts before you throw stones. I had to do a follow up 5 minute phoner after the events only because I was contracted to. I cancelled my book tour to avoid this attention.
Personally, we totally believe her—it's People magazine doing the cashing in right here, not a KK for once—although, If it were Kim, we'd never buy it.
Once You See Khloe Kardashian's Ass Twerking Video You Cant Un-See It
Inside the mag, Khloe admits that she never thought twice about rushing to be by Lamar's side after learning he had collapsed in a Nevada brothel.
"All I knew was I had to get there," she says."I had to get to him and make sure he was okay. I hate that he was in that situation. I wouldn't want anybody in that situation, especially someone I love and care about."
Khloe Kardashian Konfused About Kompton
However, Khloe says that just because she's there for him, and has called off the divorce for now, doesn't mean the marriage is back on track.
"I pulled back on the divorce because there is no rush for it," she explains. "For medical decisions and a ton of other things, it's just smarter that it's put on hold. But that does not mean I'm back with Lamar. It's not even in our brains to think about us having a relationship. Only time will tell."
Khloe Kardashian Gets Naked….Again
"I loved him always, and I will always love him," Khloe vows. "I don't believe love is fickle. I believe when you love someone, you are allowed to love from afar. You don't have to be with that person in order to love him. I love Lamar, and I'll always be there for him like I promised."
Khloe Kardashian Wants Y'All To Know She Has A Huge Ass Too!
Meanwhile, although Lamar is back from the brink, Khloe says that he's still got a very long road to recovery.
"The fact that he woke up was definitely a sigh of relief for everybody," she says. "Every hour is different. It goes up and it goes down but he's awake. He's alive and that's all I wanted, was for him to be okay."
That Mean Amy Schumer Hurt Khloe Kardashian's Feelings On SNL
"He has to walk that road by himself, and, most importantly, he has to want to walk that road," she adds. "I will be there supporting him every step of the way."
For more entertainment, world, music and pop culture updates and news, follow Max Page on Twitter
khloe kardashian exploiting lamar
khloe kardashian exploiting lamar