Kim Kardashian and Emily Ratajkowski took to Instagram today to show their tits in the name of feminism, as one does.
In protest of Instagram's sexist attitude towards women's bodies (i.e. its rules about nudity) the two social media stars boldly appeared together in a topless selfie, flipping off patriarchal norms and slut-shamers alike.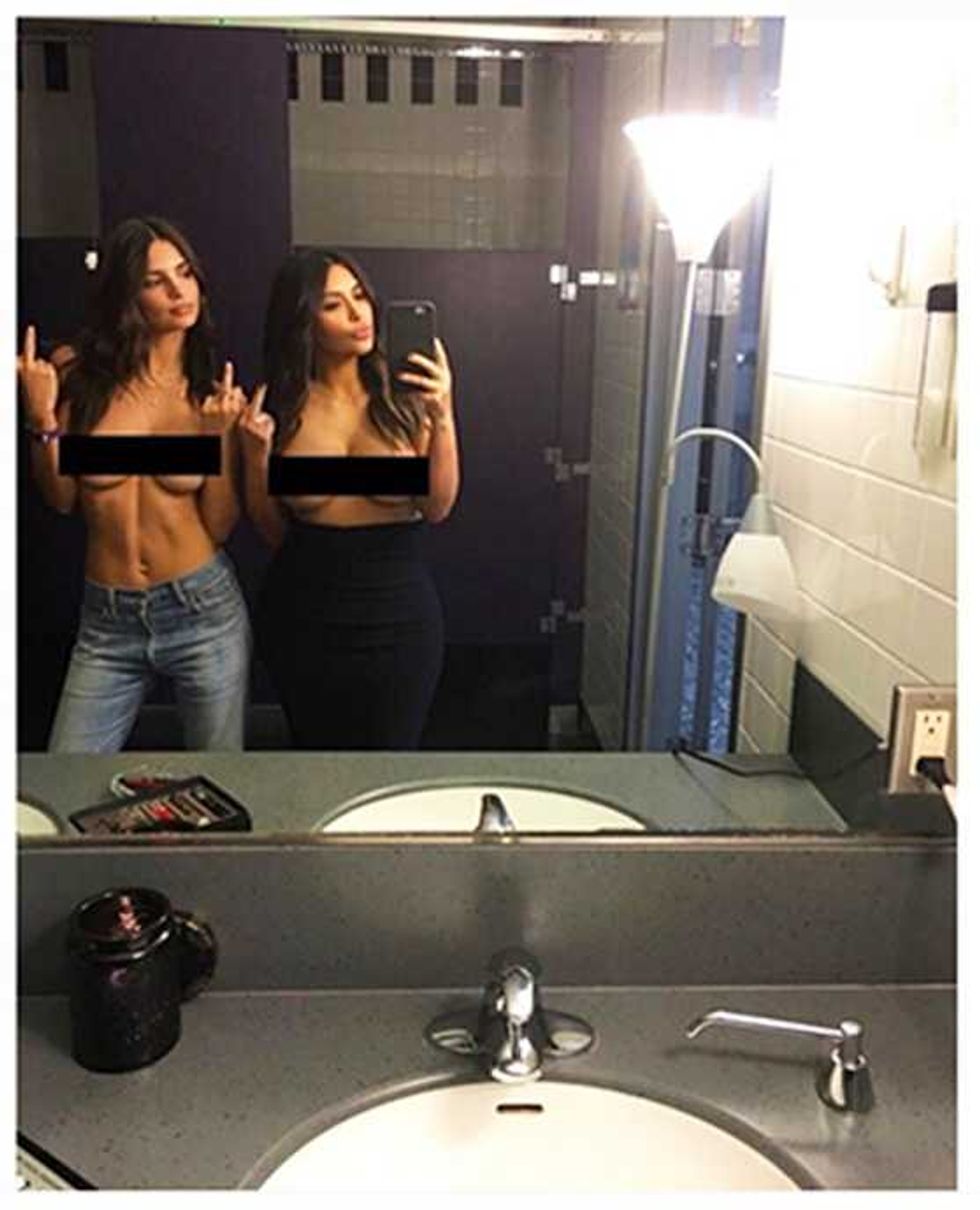 'LOOK AT OUR TITS! the selfie seemed to shout, but in fact the intended message was nothing of the sort. It was political, okay? Here's what Emily wrote:
We are more than just our bodies, but that doesn't mean we should be shamed for them or our sexuality
Whereas Kim kept it self-referential, writing:
When we're both like...we have nothing to wear LOL
Of course, Kim is reminding us of the sensation she caused with her latest nude selfie and her subsequent essay, defending her sexuality and her fight to display it without being shamed.
The essay was applauded by nearly everyone who could get in on it, including Demi Lovato, Christina Milian, Rowan Blanchard, and actors Bella Thorne and Abigail Breslin. Even her twitter nemesis Amber Rose rushed to Kim's defense, as did Sharon Osbourne.
To refresh your memory Kim's essay was a veritable call to action on behalf of all women and girls.
I am empowered by my body. I am empowered by my sexuality. I am empowered by feeling comfortable in my skin. I am empowered by showing the world my flaws and not being afraid of what anyone is going to say about me. And I hope that through this platform I have been given, I can encourage the same empowerment for girls and women all over the world.
If these rousing words don't make you want to tear off your clothes for a nude selfie, then I don't know, I guess the terrorists win.
Kim and Emily are freedom fighters!
Don't tell them to keep their tits under wrap, you fucking patriarch.
Free the nipple, and the hearts and minds will follow.