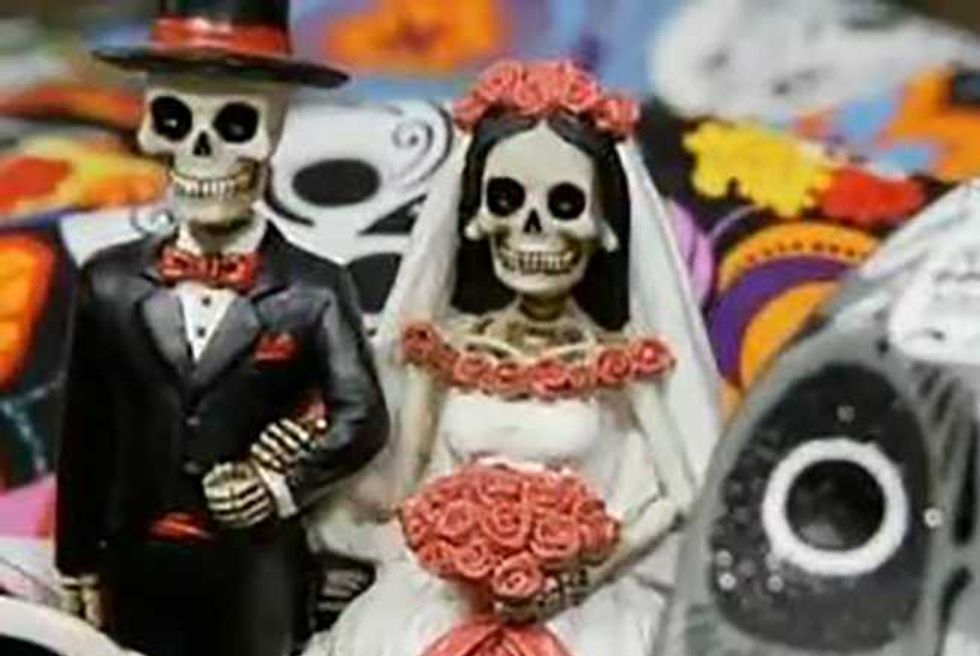 Kim Kardashian and Kanye West have been keeping uncharacteristically quiet on the subject of their upcoming wedding extravaganza.
Kanye joked (at least we hope it was a joke) about the insanity that is sure to ensue "sometime next summer" when he stopped by Power 106 for a post engagement interview.
"Two words," West told Big Boy Neighborhood, "Fighter jets."
But, other than that it's been pretty much radio silence on the subject. However, the tabloids have been afire with gloriously over-the-top wedding details from their legions of "sources"—and Popdust has a round-up of the best.
Kanye plans to hire a top dog expert, Cynthia Enuton to "train 12 Pekingese 'angels' to precede Kim down the aisle," claims OK Magazine.
OK also alleges Kanye will be personally in charge of designing Kim's wedding dress, enlisting the help of his close pal, Riccardo Tisci—the Creative Director of Givenchy, who was previously responsible for Kim's floral Met Ball horror frock.
But, that's not all!
"[Kanye] wants Victoria Beckham to do bridesmaids dresses for sisters Kourtney, Khloe, Kendall and Kylie Jenner," an "insider" tells OK.
Going all out with their "inside track" on the Kimye nuptials, OK also reports Kanye's going for an Italian wedding, splashing out a cool $500,000 to lease Capri's Villa San Michele for 14 days. The color scheme will be "black, diamond, and gold" and he has asked Jay Z, Beyoncé and Alicia Keys to act as wedding singers for the evening.
OK then, OK!
Don't book your Euro-trip just yet though…..as, Grazia magazine's sources claim, "Kanye will spare no expense when he and Kim marry. He wants the main event in LA, as well as huge parties in New York and Miami.
"He's already hired five assistants to help him with the planning and has joked he wants it to be bigger than the royal wedding."
With that aim in mind, Kanye wants to include, "fire-eaters, acrobats and special performances," claims Grazia… and if that's just not over-the-top enough, they add for good measure, "He's even suggested hiring elephants for him and Kim to ride on and hand-crafted jeweled Maison Martin Margiela masks for them to wear at the altar."