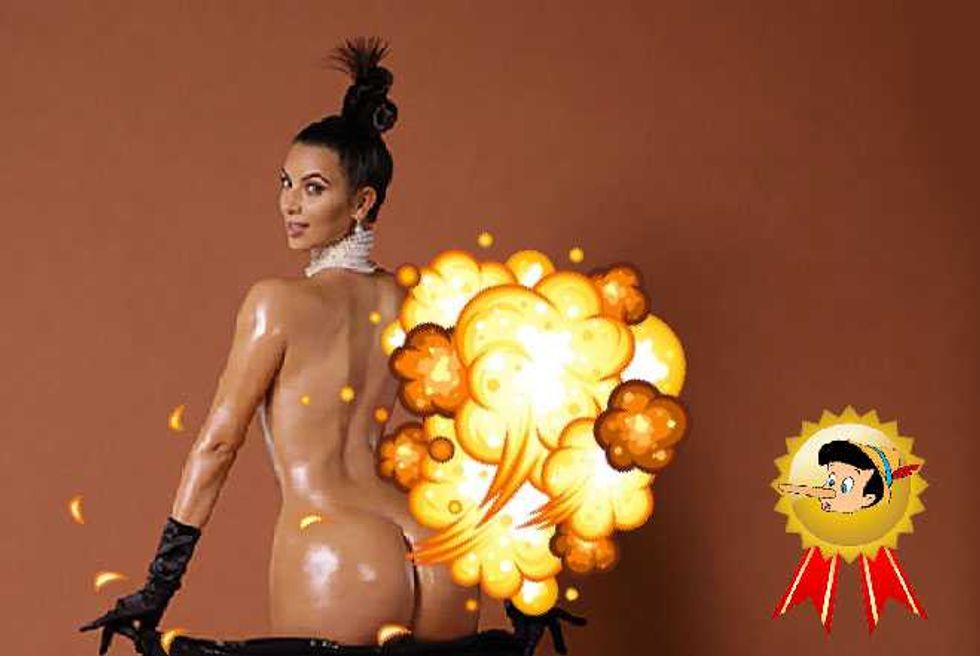 kim kardashian exploding butt implants
Anything headlined "Kim K's Explosive DIS-ASS-STER!" is a winner in our eyes.
So, this week's best fake story award was a no brainer—congratulations to the good old hacks at the National Enquirer.
New depths of ludicrousness
kim kardashian exploding butt implants
The tabloid plunged to new depths of ludicrousness with their latest faux report, about Kim Kardashian's butt implants exploding.
Kim Kardashian Responds To Slut-Shaming Haters With Empowering Essay
Now, we're always of the belief that you should never let the truth get in the way of a good story.
And, this one is so good you almost wish it was true. But, clearly it's not, because, National Enquirer.
Ballooning backside
kim kardashian exploding butt implants
Kim Kardashian Being Sued For Being A Shitty Driver
According to the tab rag:
[Kardashian's] ballooning backside has finally exploded. Her huge hips are due to her butt implants bursting last month.

It's totally destroyed her natural shape and Kim's freaking out.

Her implants leaked, and the fillers spread to her sides.

It's caused her hips to widen dramatically.

She's totally out of proportion right now.
As opposed to being perfectly proportioned before?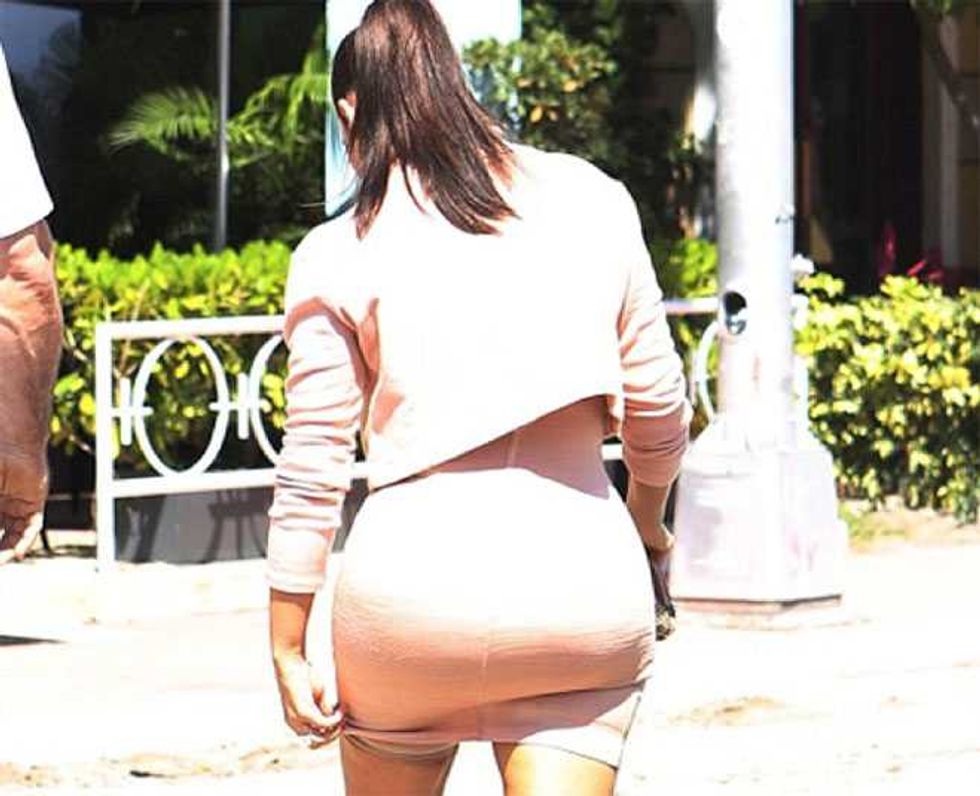 kim kardashian exploding butt implants
Hahaha. we don't think so guys...but, nice try!
Why Did Kim Kardashian Go Blonde Again? Three Guesses!
Excess goop
kim kardashian exploding butt implants
The Enquirer's supposed "source" goes on to claim KK's exploding butt disaster "will require special drains to remove the excess goop."
Adding:
Now she's having to get emergency 'repairs' to put things back in their right place.

She's the shape of a teapot at the moment, and she's really struggling to fit into clothes.

She is suffering from a bit of discomfort from the leaks but her main priority is, as always, her looks so she's having to undergo a series of drainage treatments before redoing it all.
Money Monday—How Much is Kim Kardashian Really Worth?
Good job National Enquirer—you excelled yourself!
For more entertainment, music and pop culture updates and news, follow Max Page on Twitter