Kim Kardashian is being widely criticized for promoting a morning sickness drug to her millions of Instagram followers.
Never one to pass up an opportunity for making some money, Kim is putting her second pregnancy to good use and posted a pic of herself endorsing the prescription drug, Diclegis.
God knows how much money the drug makers must have paid her to do this—the previous version of the pill was pulled from the shelves in the 1980's after fears that it may have caused birth defects surfaced and lawsuits were filed.  The new version (which we have to point out is FDA approved) was released in 2013 and appears, clutched  by Kimmy's rent-a-hand on her Instagram feed with a  marketing spiel that they tried to give a Kardashian flavor to by starting it 'OMG'—reassuring Kim's devoted followers that the drug has 'been studied and there was no increased risk to the baby'.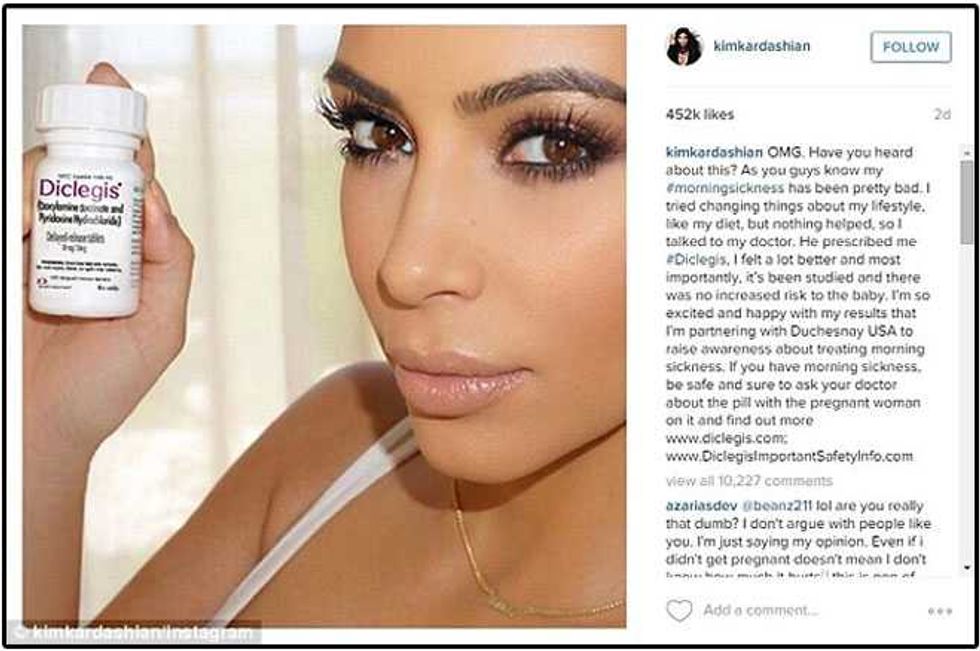 Rob Kardashian Compares Kim To A Homicidal Psychopath!
The post has caused uproar on social media with many followers in complete disbelief that Kim would use her morning sickness in such a way to make money and seriously questioning the ethics of her post (we can't believe that there is single person left in the Western world who thought Kim actually had any ethics in the first place).  They wrote;
"Kim, I wouldn't advise 39 million women to take a pill.  You don't know the side effects it will have on your fetus."
"She only shows them because she can cash in the money on that!"
We're not sure why this comes as a surprise to anyone.  Kardashian has made it very clear her life and everything in it is for sale, starting with Ray J and right through to her fake marriage and beyond.  She controversially promoted diet pills in the past prompting a $5 million lawsuit from angry customers alleging that the Kardashian sisters had 'lied' about getting their amazing figures from the over the counter diet pills.
Tell Me Sweet Little Lies! All The Biggest Kardashian Klan Krafty Kons
Maybe Kim is falling on hard times?  Less than a month ago she announced in Cannes that her Instagram page was off limits for paid promos.
"Every deal I do I never include my Instagram. I've been really strict about that. My Instagram is off limits. It is my personal world."
Guess they must have found her price then.