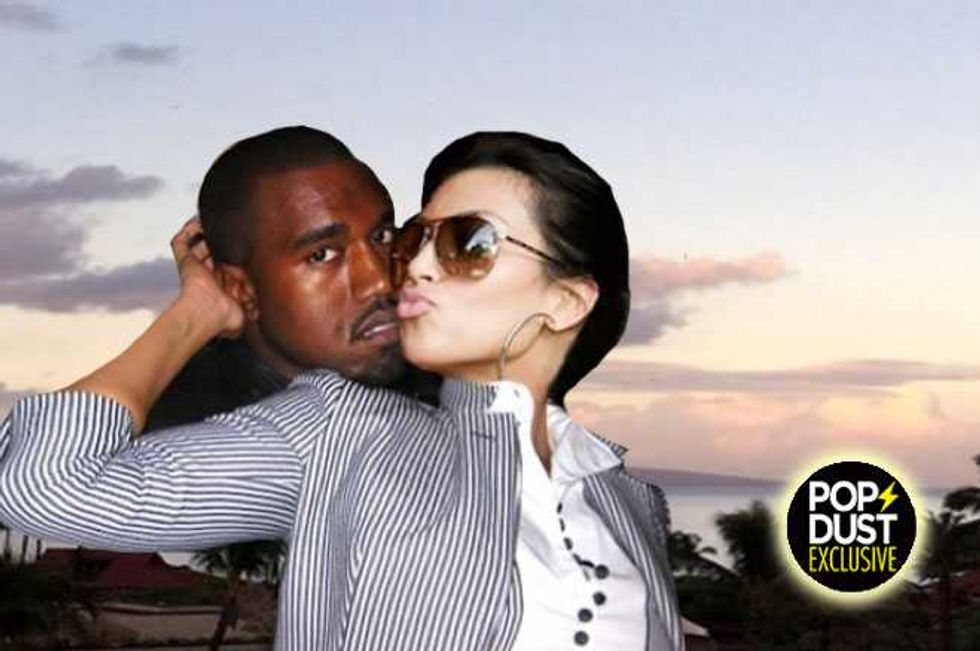 Kim Kardashian and Kanye West are sunning themselves in Hawaii—and there's not a paparazzi in sight.
Which goes to show, the high profile couple is capable of low key getaways—if they don't tip off the press in advance.
However, social media obsessed Kardashian wasn't capable of not sharing her fabulous lifestyle with the world—posting a photo of palm trees and a beautiful sun rise, although not giving away their location, captioning the pic, "Good morning #BdaySurpriseGettaway"
An eyewitness spotted the couple having breakfast yesterday at the Four Seasons Resort Maui at Wailea, and shares the sighting exclusively with Popdust.
"They actually looked like any other regular couple, I had to do a double take to make sure it really was them," the source says.
"They must be staying at a private villa because I haven't seen them around the hotel, on the beach, or around any of the pools.
"I haven't seen any camera crews or paparazzi, and they were both dressed very casually. There was no drama or diva-ness, I sat at the table next to them and they appeared to be very down-to-earth—which was really surprising.
"They also looked really loved up. Kanye was holding Kim's hand throughout much of breakfast and they talked and laughed non-stop. I didn't see North with them, but I guess she could have been with a nanny.
"At one point though Kanye chided Kim for constantly checking her phone—but, she just laughed it off, and held his hand again."
Maybe she was checking her birthday messages—Kim turned 34 yesterday and received a slew of well wishes from friends, family and fans—including a gushing message from her hubby himself,
"Happy Birthday baby! Thank you for being the dopest wife & mom!" he wrote. "Sometimes I feel like just saying 'I love you' isn't strong enough to express how much I love you..."
Meanwhile, we are pretty sure normal paparazzi documented service with resume shortly.