Kim Kardashian has finally nabbed her first cover of U.S. GQ, revealing the same nude body parts we all know so well.
For its tenth annual Love, Sex and Madness issue, the magazine promises 'Kim as you've never see her,' but that would require colonoscopy photos at this point so I'm afraid they are exaggerating a teeny bit.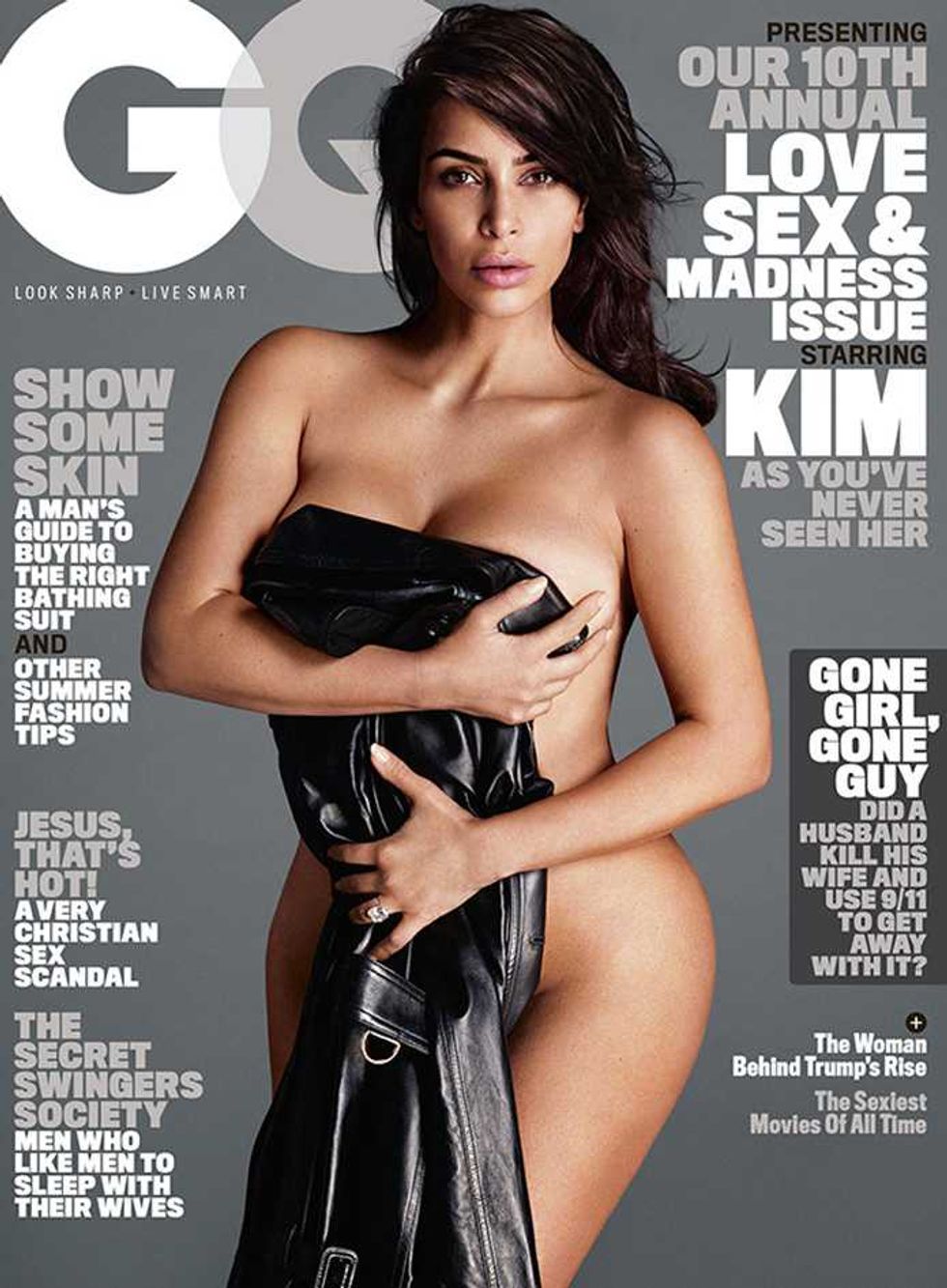 Kim has been teasing her followers about a 'special project' with provocative photos on Instagram.
Shot by acclaimed fashion photographers Mert Alas and Marcus Piggott, at least the spread will be visually striking, despite featuring the body we now know better than our own.
Kim is featured posing in leather, fur, and lingerie, the better to connote luxury and sophistication. Do not think 'tawdry.' Think 'elegant.' I know it's hard, but try.
Whereas once Kim complained that she had been duped into 'pornography' when she appeared on the cover of W wearing only silver paint, times have changed.
Kim has deliberately broken the Internet, and she has made it clear in a heartfelt open letter that she will not be body-shamed. No sir.
She is a feminist who is merely expressing her sexuality, so stop being mean to her.
Just sit back and enjoy the landscape that is Kim Kardashian - the fleshy wonder of her body, the parted lips, the vacant expression, the successful electrolysis, it's all there to enjoy.
Some day, when historians delve into the genesis of Kim Kardashian, they will see that it was an odd trifecta of circumstances that created her: Her dad was the best friend of O.J Simpson. She herself was the sidekick of Paris Hilton. And a sex tape she made found its way online.
Voila!
Now she is Ours, forever and ever.
Give in to her. Buy the magazine. Or watch this promo from GQ, below.
Save
Save
Save
Save
Save
Save
Save
Save
Save