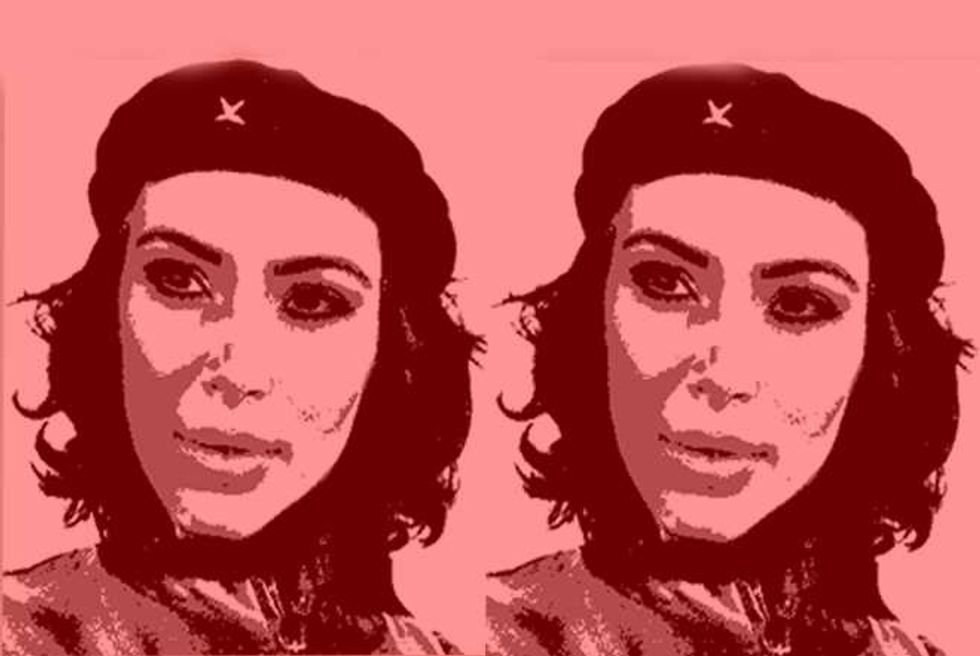 That's right, Kim Kardashian, the one who wanted to have her wedding at The Palace of Versailles, has aligned herself with the proletarian workers at The Beverly Hills Hotel, which has been boycotted by most of Hollywood since it was learned that its owner, the sultan of Brunei, has begun to impose sharia law back in his homeland.
Some of Hollywood's biggest players have joined in protest rallies at the hotel, including Jay Leno and the Feminist Majority Foundation's Kathy Spillar and Eleanor Smeal. The Motion Picture & Television Fund has cancelled events at the hotel, as has Richard Branson. Ellen DeGeneres and Sharon Osbourne have expressed moral outrage over sharia law, and urged others to show their solidarity by boycotting the hotel.
But today, Kim has taken a noble stand. She misses hanging out at the hotel with her BFF and their babies. She enjoyed the protection from the paps that the hotel has famously provided for its A-list clientele.
Okay but that's not really what motivated Kim to denounce the boycott. That would be self-serving. No. Kim took to her blog today to explain that boycotting the hotel won't really bother the wealthy sultan. It will only hurt the hotel staff! Listen, Kim cares. Here is an excerpt from her post.
There must be other ways to express our views without punishing the workers, some who I know personally have families at home and depend on the city's business and tips to survive.
I for one am tremendously moved by this compassion for the little people who serve the food and change the sheets and clean the toilets.
I salute Kim for going back to the Beverly Hills Hotel to support the workers, while others bother themselves with politics and sharia law. I will even meet her there for brunch, if she'll pay of course.
What do you think about this controversy?