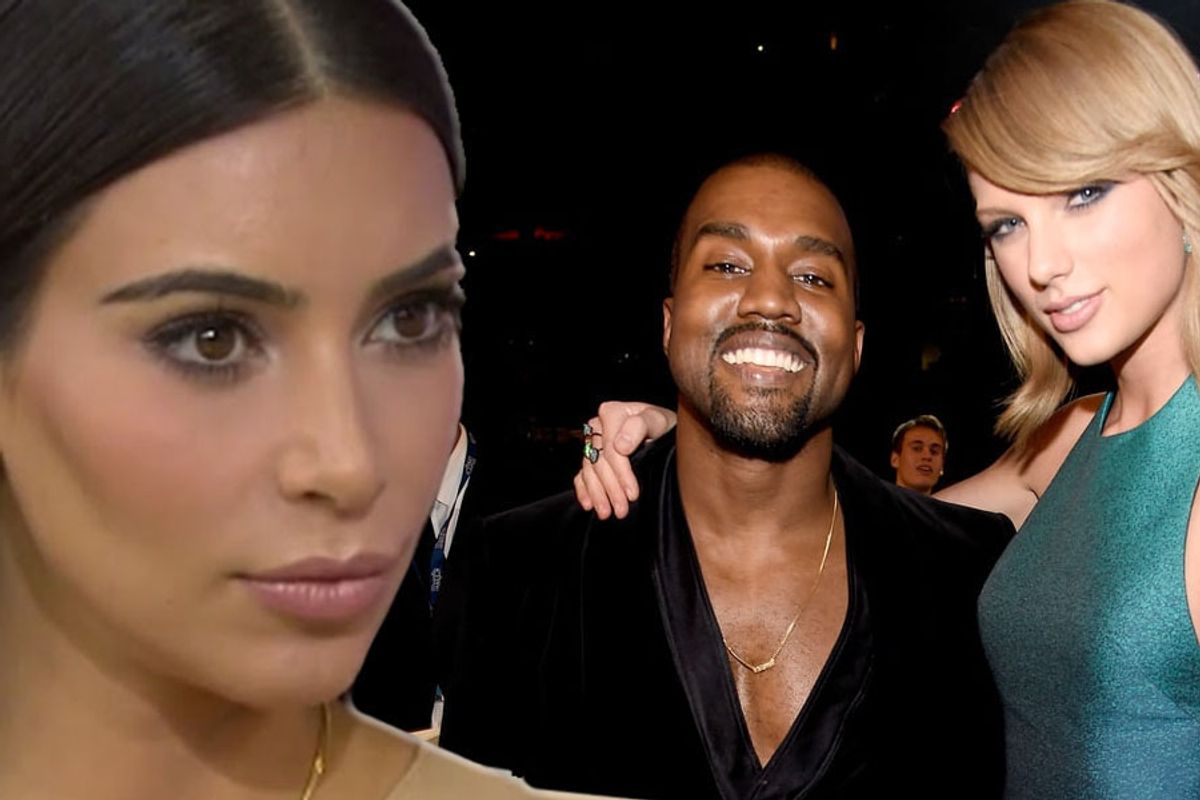 Kim Kardashian showed Taylor Swift just why she is queen of the motherfucking world on Sunday night and totally busted her fake, lying ass.
Kimmy's move will no doubt have Tom Hiddleston's PR's in full DEFCON 1, trying desperately to find a way to extricate their man from the phony romance with TayTay, as the true extent of her controlling nice girl fakery is fast becoming apparent to the world.
The Tay-tide is turning.
We at Popdust have been calling her out on her bullshit for a long time, and it's all starting to unravel for Ms Swift who may want to fire her PR team for their handling of the Famous situation, the Calvin Harris break up break up and their misguided current Tiddleswift campaign—she needs to call in a crisis management specialist FAST!
The West-Swift feud has been rumbling on for years and it was thought that they had kissed and made up at the 2015 VMA's. At least that's what Kanye thought. For Taylor though, the truce was as make believe as her photo-op relationships, and Kim Kardashian has had enough. She has stepped in and she has finished it once and for all.
In a carefully co-ordinated media assault, Mrs West used every one of her super-media-powers to take down the lying Swifty and totally own her.
Way back in February, as anyone with a pulse in the Western world must know, Kayne dropped his long awaited, Life of Pablo album.
The first track, Famous, referenced Taylor Swift and their infamous 2009 VMA beef that followed West's "Imma let you finish" stage-rush-protest. The contentious line in Famous;
"I feel like me and Taylor might still have sex / I made that bitch famous"
...was controversial and West knew it. Such was the extent of his concern that the fragile new friendship with Swift would remain intact, he called her to let her know she was featured in the track, the sentiment behind it and to get her ok.
After the album was released, West was widely condemned for the line, and particularly his use of the word 'bitch' when referring to Swift. Swift's loyal girl squad leapt to her defence and her brother released a clip showing his outrage by throwing his Yeezy's in the trash (gasp!).
Kanye did what Kanye does best, and launched a Twitter rant to defend himself where he stated;
"I did not diss Taylor Swift and I've never dissed her. I called Taylor and had an hour long convo with her about the line and she thought it was funny and gave her blessings....thing I'm not even gone take credit for the idea...it's actually something Taylor came up with."
Her people however denied he called to ask for approval for the track, and issued a statement;
"Kanye did not call for approval, but to ask Taylor to release his single "Famous" on her Twitter account. She declined and cautioned him about releasing a song with such a strong misogynistic message. Taylor was never made aware of the actual lyric, "I made that bitch famous."
Swift realized sympathy was on her side and released a statement stating that she "heard it for the first time when everyone else did and was humiliated". She then twisted the knife a little more when she called out West in her Grammy's acceptance speech - saying;

"I want to say to all the young women out there—there are going to be people along the way who will try to undercut your success or take credit for your accomplishments or your fame."
Poor little humiliated TayTay! What a shining example of a feminist role model she is!
Notice how there's no mention there of her taking offence at being called a bitch—she's pissed that he is taking credit for her fame.
All this clearly infuriated Kim who is blindly fiercely protective of her husband, and she plotted her revenge with a perfectly timed sequence of events.
In June Kardashian gave an interview to GQ in which she first accused Swift of lying. She also mentioned she had footage up her sleeve that would prove her case, she said;
"She totally knew that that was coming out. She wanted to all of a sudden act like she didn't. I swear, my husband gets so much shit for things [when] he really was doing proper protocol and even called to get it approved...

...Swift totally gave the okay. Rick Rubin was there. So many respected people in the music business heard that [conversation] and knew. I mean, he's called me a bitch in his songs. That's just like, what they say. I never once think, [gasping] "'What a derogatory word! How dare he!' Not in a million years. I don't know why she just, you know, flipped out all of a sudden...It was funny because [on the call with Kanye, Taylor] said 'When I get on the Grammy red carpet, all the media is going to think that I'm so against this, and I'll just laugh and say, 'The joke's on you guys, I was in on it the whole time.' And I'm like, wait, but [in] your Grammy speech, you completely dissed my husband just to play the victim again.'"
Strike 1!
Then Kim made full use of her reality show, Keeping Up With The Kardashians. The promo clip for this week's episode teased us that Taylor Swift was going to be dealt with. All through Sunday night's episode, Kim makes it very clear in a series of conversations with various family members that she has the incriminating footage of the very conversation in which Swift approved Famous.
Strike 2!

Kim used her Twitter account to whip us up into even more of a frenzy of expectation prior to the episode, before, after it's airing, finally directing her eager fans over to her Snapchat account where she released the famed proof in a series of clips.
Strike 3!
BOOM! Taylor Swift is taken down and owned.
Scroll down to read the full transcript of the conversation....
After West raps the 'me and Taylor might still have sex' line to her (but not the 'I made that bitch famous' one) to Swift, she replies;
"It's like a compliment, kind of... Yeah, I mean, what's dope about the line is it's very tongue in cheek either way. And I really appreciate you telling me about it, that's really nice."
In another of the clips, she says;
"Yeah, you did think you made me famous and you should tell your truth".
Taylor Swift is full of shit.

You can't deny you've heard lines from a song, give a Grammy speech calling out someone for saying they made you famous when you actually told him it was a good line.

You can't deny giving approval on lines referencing you in a song when you have chosen one particular version of a line and said "go with whatever version".
You can't say that you've advised someone not to release a song when in fact you said how much you appreciated the heads up.
Taylor Swift knew she was going to be in the song and she said it was ok. She knew the sentiment that West was going to express in the song and said it was ok. She backtracked when the song was released, threw him under the bus and played the 'poor me' card which has now backfired in a big way.
Back pedaling for all she's worth, Swift released a carefully crafted response on Sunday night;
Yeah Taylor's been busted and is trying to get out of it on a technicality.

Well played Kim, well played.

Transcript of Kim Kardashian's Snapchat clips that prove Taylor Swift was lying...
Kanye West on the phone with Taylor Swift: "You still got the Nashville number?"
Taylor Swift: "I still have the Nashville umm area code, but I had to change it."
Kanye West reads the "Famous" lyric: "To all my southside n----s that know me best, I feel like me and Taylor might still have sex."
Taylor Swift: "I'm like this close to overexposure."
Kanye West: "Oh, well this I think this a really cool thing to have."
Taylor Swift: "I know, I mean it's like a compliment, kind of."
Kanye West: "All I give a f--k about is you as a person and as a friend, I want things that make you feel good. "
Taylor Swift: "That's sweet."
Kanye West: "I don't want to do rap that makes people feel bad."
Taylor Swift: "Umm, yeah I mean go with whatever line you think is better. It's obviously very tongue in cheek either way. And I really appreciate you telling me about it, that's really nice."
Kanye West: "Oh yeah, I just had a responsibility to you as a friend you know, and I mean thanks for being so cool about it."
Taylor Swift: "Aw thanks. Um yeah I really appreciate it, like the heads up is so nice. [inaudible] Even asking or seeing if I would be okay with it and I just really appreciate it. Like I would never expect you to like tell me about a line in one of your songs."
Kanye West: "It's pretty crazy."
Taylor Swift: "And then the flowers that you sent me, I like Instagrammed a picture of them and it's like the most Instagram likes I've ever gotten. It was like 2.7" [video cuts off]
Kanye West: "Relationships are more important than punch lines, ya know?"
Taylor Swift: "I don't think anyone would listen to that and be like that's a real diss she must be crying. You've gotta tell the story the way that it happened to you and the way that you experienced it. You honestly didn't know who I was before that. It doesn't matter that I sold 7 million of that album before you did that which is what happened, you didn't know who I was before that. It's fine."
Taylor Swift: "I might be in debt, but I can make these things happen. I have the ideas to do it and I create these things and concepts. I'm always going to respect you. I'm really glad that you have the respect to call me and tell me that as a friend about the song. It's a really cool thing to do and a really good show of friendship so thank you."
Kanye West: "Thank you, too."
Taylor Swift: "And you know, if people ask me about it I think it would be great for me to be like, 'Look, he called me and told me the line before it came out. Jokes on you guys, We're fine.'
You guys want to call this a feud; you want to call this throwing shade but right after the song comes out I'm going to be on a Grammys red carpet and they're going to ask me about it and I'll be like, 'He called me.' It's awesome that you're so outspoken about this and be like, 'Yeah, she does. It made her famous.' Its more provocative to say 'might still have sex…' It's doesn't matter to me. There's not like one [line] that hurts my feelings and one that doesn't."