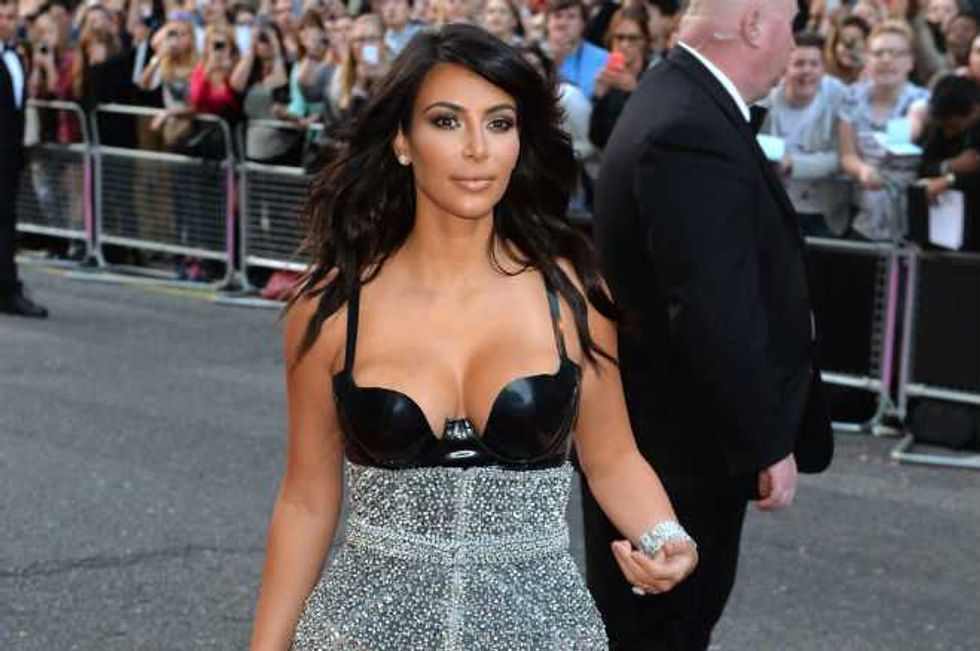 Kim Kardashian is a victim, you guys.
No, seriously! She feels victimized because people are like, so MEAN about her! Kim is so tired of you guys noticing things she wants you to forget, like how she built an entire career on a sex tape with Ray J, and how she doesn't actually do anything.
Poor, poor Kim!
Our favorite porn/reality star is currently in the UK (sorry Brits, just hang in there, she will leave soon!) and stopped by Nick Grimshaw's BBC radio show on Wednesday to complain about how terrible her life is.
"They [the press] take everything you say, these days, and twist it into something negative," she whined.
Remember when Kim corrected the way she was introduced onstage at the 2014 GQ Men of the Year Awards? She made a HUGE deal about being called Kim Kardashian WEST when she collected her - snort - Woman of the Year award.
Well, Kim doesn't LIKE that you noticed her being a bitch! It's all YOUR fault for not giving her a free pass!
"They announced me as Kim Kardashian and I hate that people online say mean things, because when I got up there, I said, 'It's Kim Kardashian West.' Just like being more playful and cute," she told Nick. "On the Internet, it's like, 'she's annoyed that they called her Kim Kardashian,' and I'm like, 'No, I'm not. Don't make up ridiculous stories.'"
Alright look, Kimbo - as long as you continue to shove your giant ass in our faces, we will continue to call you out on your BS.
Have a nice day and once again, UK - we are SO SORRY. Consider Kim your punishment for Chamberlain's appeasement of Hitler.