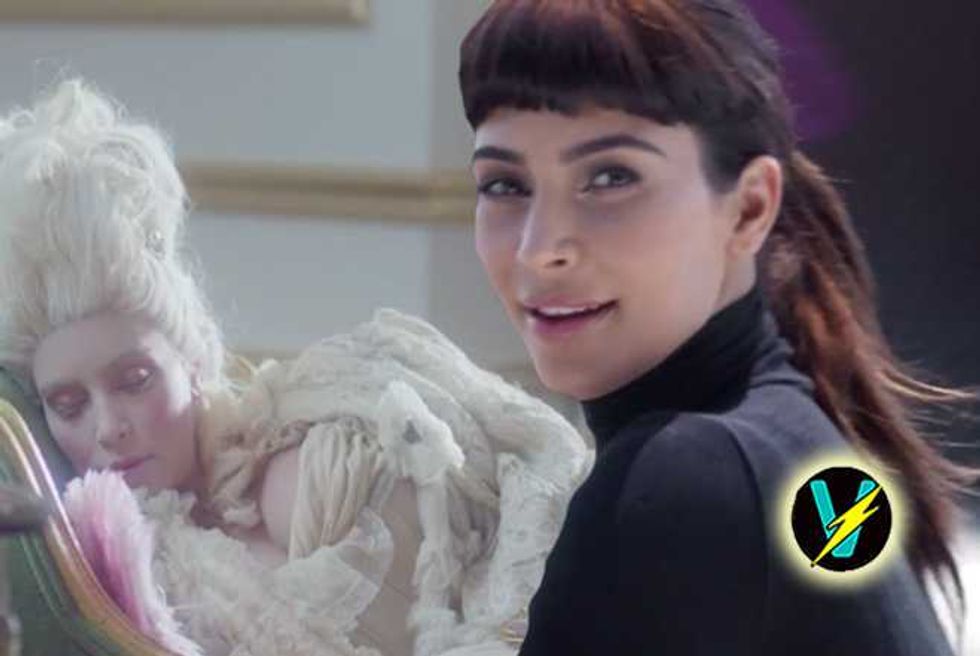 kim kardashian hype energy ad
The new Kim Kardashian Hype Energy film/ad is gloriously mind boggling and bizarre.
The only thing that makes us believe Kanye West wasn't behind this two-and-a-half-minute long cinematic masterpiece is the fact that Kim actually looks gorgeous in it.
Nicole Kidman Is Now Shilling Insurance With Meerkat Puppets In UK Ads
The Razzie worthy ode to KK starts off with an unconscious Kim on the floor, bicycle wheel spinning behind her head, arm reached out to allow for maximum appreciation of her obnoxiously large engagement ring.
Cut to Audrey Hepburn circa Roman Holiday Kim, peddling around on her bike, grin firmly in place, with a Hype Energy drink filled basket, before falling off and taking a tumble onto the floor.
Kim Kardashian Unrecognizable On Cover Of Love Magazine
Then enter the mind of a dazed and confused Kim… a scary thought indeed….. what goes on inside that pretty little head of hers?
Well, some weird Marie Antoinette type thing of course!
Pan to Marie Antoinette Kim, sleeping….. cue gratuitous close-up of her milky white tits….followed by a close-up of what Kim does best, staring vacuously into the distance… before panning down for a tits close-up once again (although this time they are clad in an embroidered bustier dress) then pan down further to show her arm hanging limply by her side, swaying lifelessly, then continue down to the hem of her full length gown and one little stupid shoe peeking out of the bottom.
Kim Kardashian—Kanye And I Have Sex 500 Times A Day!
Next, back to a heavily powered and pink Marie Antoinette Kim, reclining, sleeping, before opening her eyes and staring moodily into the camera.
Cut to Marie Antoinette Kim staring into the distance again, before reaching out with a delicately laced gloved hand for a crystal cut glass of Hype Energy…..sip… then, back to weird staring Marie Antoinette Kim…then back to reclining Marie Antoinette Kim….blinking….
The Good, The Bad, And The Butt Ugly—Kim Kardashian's Life In Selfies
Pan to Roman Holiday Kim once again, laying on the floor, blinking…touching temples, obnoxiously large engagement ring on full display once again…before, getting up and walking away with her bike.
Cut to Dance Music Kim, with a montage of the 34-year-old in a PVC bustier and thigh high boots, a funky T-shirt and boots, an elegant white gown, and finally, black leather mini dress and boots, holding out a can of Hype Energy.
Kim Kardashian—Most Hideous, Semi-Naked Photo Shoot Ever, Styled By Kanye
Fade to black.
Yeah, well, if THAT doesn't make you want to drink Hype Energy, we don't know what's wrong with you....
This Photo Surely Proves Kanye West Actually Hates Kim Kardashian
For more entertainment, world, music and pop culture updates and news, follow Max Page on Twitter