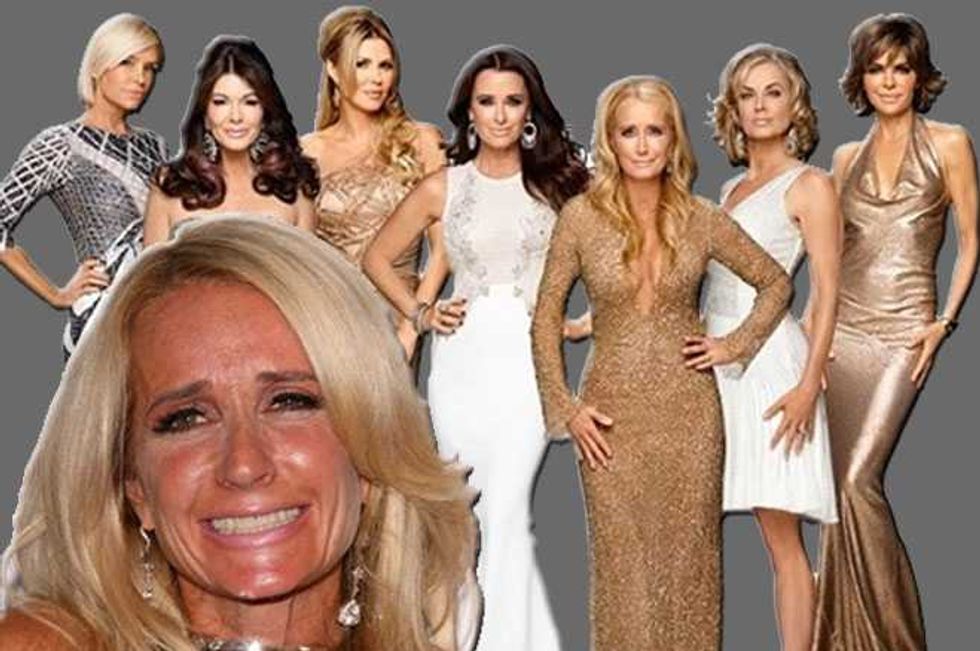 Kim Richards has been fired by Bravo from Real Housewives of Beverly Hills, Radar Online are reporting today.
An insider revealed;
"It was decided this morning at a meeting that Kim is not being asked back on the show because of her failure to communicate everything with her bosses."
The 50 year old former child star has had a well documented troubled history with alcohol and drugs and has been struggling in recent years to maintain her sobriety.
As Popdust previously reported, she was arrested in April for drunken behavior at the Beverly Hills Hotel and after a disastrous intervention on Dr Phil, finally entered a rehab facility in Malibu.
However, she was given a pass by the facility to attend her daughter Brooke's wedding in Mexico on May 23 and completely fell off the wagon—so much so her sober coach quit.  She ended up fighting with the bride and berating the groom's family and a security guard was flown in to literally force her onto a plane back to LA.
Kim then disappeared for a week after the event and has now checked into a different rehab facility—but it was the last straw for Bravo.
The source told Radar;
"When Kim went missing in action she refused to answer calls of anyone from the network for the entire time. They had to find out about her entering rehab again from a family member.

They decided that it was time to let her go because there was a lack of communication, and they are glad to see her go. Finally, they can no longer be held accountable for her misconduct."
TMZ reported this week that following the wedding, Kim's sister, Kyle Richards is now washing her hands of her sister, taking a tough love approach.  Even though the 46 year old and her husband Mauricio Umansky fear she is in danger of dying from her addictions, they have come to the conclusion that their being a constant safety net is enabling her.
Richards' arraignment hearing is scheduled for June 11.