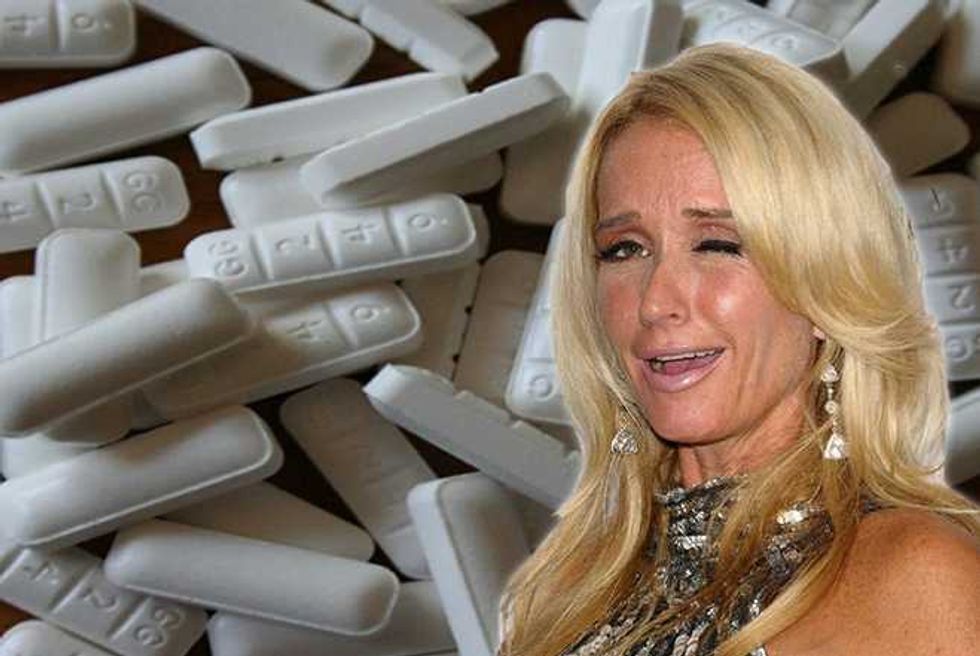 Looks like Kim Richards has fallen off the wagon yet again.
The 50-year-old's sobriety has been thrown into question following news that she's been roaming around Los Angeles attempting to score Xanax.
How Real Are The Housewives? RHOBH Plastic Surgery Exegesis
TMZ reports that Richards visited a Sherman Oaks smoke shop three times in the past week—claiming a family member told her she could get the prescription-only drug there.
Not surprisingly, given it's a smoke shop and not a pharmacy, employees turned the Real Housewives star away each time, only to watch her wander into another smoke shop near by.
How Real Are The Housewives? RHONY Plastic Surgery Exegesis
A source told TMZ that Richards claimed she needed Xanax to help with a foot injury she was suffering from….. which is kinda bizarre seeing as it's an anti-anxiety med, and not a pain killer—perhaps she's suffering from some rare form of foot anxiety or something.
As Popdust previously reported, Richards checked herself into rehab earlier this year following a televised train wreck intervention by everyone's favorite media wh*re medic Dr. Phil.
How Real Are The Housewives? RHOA Plastic Surgery Exegesis
The intervention was spurred by Richards' drunken altercation at the Beverly Hills Hotel back in April, which resulted in her being arrested and charged with public intoxication, trespassing, resisting arrest, and battery on a police officer.
Richards' rehab stint was cut short however, after she checked herself out of treatment in order to attend her daughter Brooke's wedding in Mexico, where she fell off the wagon in a spectacular and tragic fashion.
How Real Are The Housewives? RHONJ Plastic Surgery Exegesis
And, it wasn't long before Richards was back in the headlines—following her arrest in August for allegedly shoplifting $600 of shit from Target.
The former child star was reported to be living in her car at the time of her arrest—as she was forced to move out of her rental home after she was axed from the Real Housewives of Beverly Hills. She's now believed to be staying with her sister Kathy Hilton.
How Real Are The Housewives? RHOC Plastic Surgery Exegesis
Kim had been part of RHOBH right from season one, but was cut from the cast after producers felt they could not longer accommodate her irrational behavior—her other sister, Kyle Richards, continues to be part of the show and is currently filming season 6, which is scheduled to premiere in November.