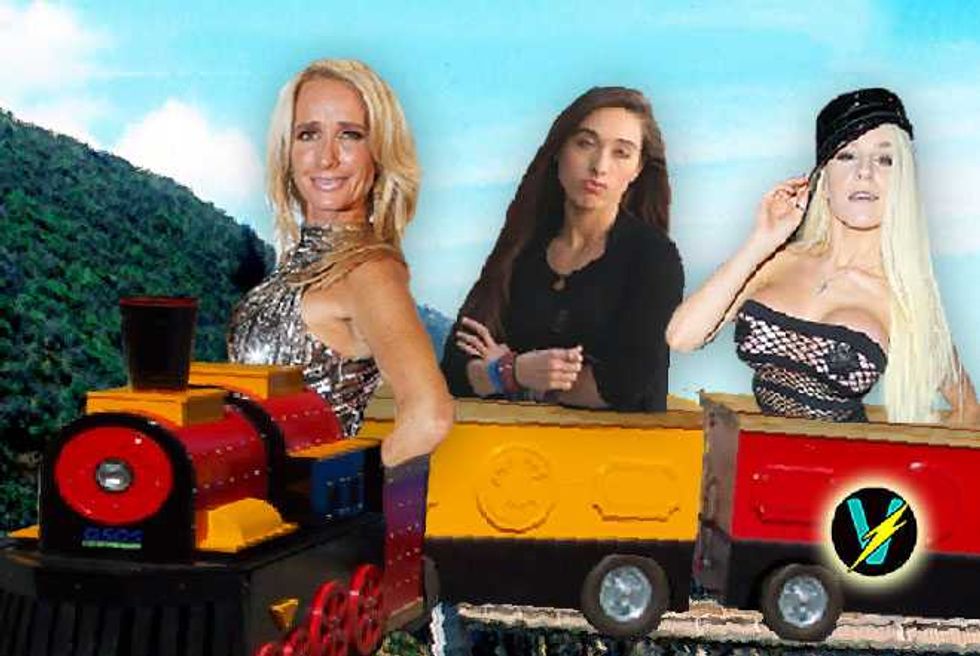 kim richards daughter courtney stodden Kim Richards Crazy Train Is Back—Daughter, Courtney Stodden On Board!
The Kim Richards crazy train is back—and it has her daughter and Courtney Stodden on board—among others.
Since disappearing off our screens, following her firing from Real Housewives of Beverly Hills, Richards has been hitting the headlines for all the wrong reasons.
Courtney Stodden's Mom Showcases Her Deplorable Parenting Skills
Kim Richards' tragic and dramatic year:
As Popdust previously reported, the 51-year-old has had a couple of brushes with the law—she was arrested last April following a drunken brawl at the Beverly Hills Hotel, and then once again in August, after she was accused of stealing over $600 worth of items from a Target in the San Fernando Valley.
Then there was the truly cringeworthy Dr. Phil intervention, which thankfully resulted in Richards checking into rehab, albeit after super dramatic on-camera tears and tantrums galore.
All Hail Courtney Stodden—Robert De Niro Of The Millennial Generation
After a brief respite, the crazy train was soon back on track, and rolling into Cabo, Mexico, after Richards busted herself out of rehab to attend daughter, Brooke Brinson's wedding—during which, the mom-of-four was accused of being a "drunken mess" —saying horrible things to her newlywed daughter, in addition to yelling and cursing at the groom's family.
It was a meltdown of such epic proportions that Richards' sober coach quit and left Mexico right after the wedding, and Brooke vowed never to speak to her mom again.
Courtney Stodden—Trainwreck Or Hot Horny Angel Sent To Save Us All?
Adding yet further to Richards' woes, earlier this week, her ex-husband, Monty Brinson—the father of Brooke— passed away following a long battle with lung cancer.
So, with all that in mind, Richards should be in the perfect emotional and mental state to get back on TV, right?
Courtney Stodden Releases Sex Tape To Help Children With Cancer
What could possibly go wrong?!!
Well, sadly, we're about to find out first hand, as Richards is set to grace our screens once again.
This time round, as she attempts to mend her fractured relationship with another of her three daughters, 21-year-old Kimberly Jackson.
Courtney Stodden On Promiscuity, Cheating, God Saving Her Marriage To Doug
The Mother/Daughter Experiment: Celebrity Edition is a new reality show—it features six sets of celebrity moms and their daughters battling it out during eight weeks of intensive therapy with TV shrink Dr. Debbie Magids.
Oh dear.
Lifetime has released the season one trailer—which you can watch right here on Popdust—and, oh shit son, this is truly tragic trainwreck central….on steroids.
The People v OJ Simpson Trailer—Gloriously Camp TV Coming Your Way Soon
Dramarama personified
In the clip, Richards and Jackson are seen yelling at each other, as tensions and emotions run high.
"Don't tell me what to do, I'm defending myself!" Richards screams at her daughter.
"I want you to stay healthy always," a tearful Kimberly tells her mom.
Kim Richards Sobriety In Question—Trying To Score Xanax All Over Town
And that's not all...
Now, just in case the Richards' family drama isn't enough for you on its own, then you're in luck—Lifetime has very kindly ensured the absolute maximum drama, tears and train wrecks, by also casting:
Stodden and her mom, Krista

Heidi Montag and mother Darlene Egelhoff

Bad Girls Club's Natalie Nunn and her mom, Karen

Kevin Federline's baby momma, Shar Jackson and her daughter Cassie

And, Hollywood Exes' Jessica Canseco and her daughter, Josie
Oh, this is going to be simply terrible—and by terrible, we of course mean, compulsory viewing.


The Mother/Daughter Experiment: Celebrity Edition premieres March 1 at 10 p.m. ET on Lifetime.
For more entertainment, world, music and pop culture updates and news follow Max Page on Twitter