If you're a Game of Thrones fanatic like I am, you probably have the work of German-Iranian composer Ramin Djawadi playing on loop right now. Like the John Williams of our times wrapped inside the body of a sex machine (hubba hubba), Djawadi is a master of the form who has pretty much scored just about everything that has ever mattered since 2013. Yes, that means Pacific Rim, yes that means Jonathan Nolan's Westword series, which has some crazy robot sex shit, I've heard.
But you don't need to be told that, Djawadi's been pretty much blasting your world ever since that first note of the map-thing unfurled, what certain connoisseurs refer to as "Game of Thrones Main Title Theme," and that has inspired rap songs, hard rock orchestration, and even a Ukrainian orchestra to play the tune in a still mill that looks like its on fire. And here's another version of that title theme, as performed by a pile of over-excited hard drives.
Its just about safe to say we are living in peak-Game of Thrones, an era that will be defined by how we spent our years in the frozen north of Winterfell, between The Wall and the Narrow Sea, and something about dragons, where just about anybody can pretend to an erudite expert who has spent hours watching a surely well-acted program that features eunuchs, I think. Which is exactly why the good people at the helm of the Live Nation empire have partnered with the little kingdom of HBO to provide us a 24-city performance of just those banging tunes, in what promises to be an experience that will practically immerse you into a kingdom of snow and such things.
How Great Will Game of Thrones, the Live Concert Experience Be?

The tour begins in Minneapolis-- a savvy choice as the city known to be the among the coldest places on earth. There, hopefully not in Minneapolis, you will enclosed inside 807 linear feet of video wall, each foot blasting you straight into the Kingdoms of Westros, Essos and maybe even those dark southern caverns of Sothoryos, that mysterious and plague-ridden jungleland. And don't fret, no less than fifteen semis will be carrying the Game of Thrones adventure across the whole of the United States of America in order to bring you the orchestra, choirs, and special effects you remember so well from the many hours you spent behind the glowing screen watching Daenerys Targaryen. In fact, a promotional poster for the show proudly advertises that 3,602 minutes of Game of Thrones programming were watched by the professionals putting on the areas show. That's practically, like, the whole show. By the end of the tour, Live Nation reckons, the timeless classic, "Game of Thrones Main Title Theme," will have been played a whopping 850 times.
Here's a comedy version of that title theme that sounds slightly like Jack Black is singing it.
Fans Divided. Are Technical Difficulties Coming?
The presence of Djawadi's great and fantastic tour, which has been over three years in the making, has divided some members of the passionate Game of Thrones fan community. "Classic 'US ONLY,'" the reddit user Irawsome protested on behalf of people around the world, "God damnit, poeple [sic] live in Europe too guys!"
Bloodhound01, who also works as an important member of Reddit's gaming community, raised a few practical concerns: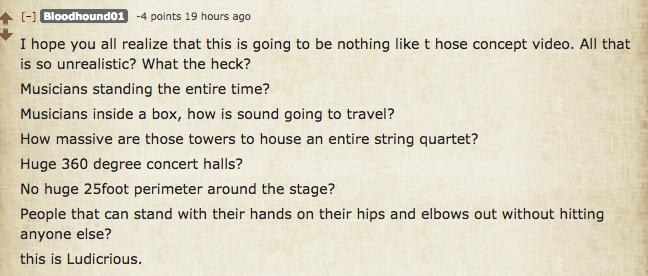 Others prepared themselves for eventual feeling disappointment that comes with hearing any song you love:

While some are keeping their fingers crossed for hot guest features:

Here's a version of "Game of Thrones Main Title Theme" with some more mind-boggling statistics about how awesome Game of Thrones, the Live Concert Experience will be:
Coming to a City Near You!:
2/20: Minneapolis, MN - Xcel Energy Center
2/22: Chicago, IL - United Center
2/23: Columbus, OH - Nationwide Arena
2/25: Uncasville, CT - Mohegan Sun
2/26: Philadelphia, PA - Wells Fargo Center
3/01: Washington, DC - Verizon Center
3/03: Montreal, QC - Bell Centre
3/04: Toronto, ON - Air Canada Centre
3/06: Boston, MA - TD Bank Garden
3/07 - New York, NY - Madison Square Garden
3/09 - Charlotte, NC - Time Warner Cable Arena
3/11 - Ft. Lauderdale, FL - BB&T Center
3/12 - Tampa, FL - Amalie Arena
3/14 - Atlanta, GA - Philips Arena
3/16 - San Antonio, TX - AT&T Center
3/17 - Houston, TX - Toyota Center
3/19 - Denver, CO - Pepsi Center
3/23 - Los Angeles, CA - The Forum
3/25 - Las Vegas, NV - MGM Grand Garden Arena
3/26 - Phoenix, AZ - TalkingStick Resort Arena
3/29 - San Jose, CA - SAP Center
3/31 - Seattle, WA - Key Arena
4/1 - Vancouver, BC - Rogers Arena
4/2 - Portland, OR - Moda Center