Music Features
Review: Kings of Convenience Force Us to Chill Out
Peace or Love shows that Kings of Convenience's languid pop still has the ability to awaken moments of calm reflection.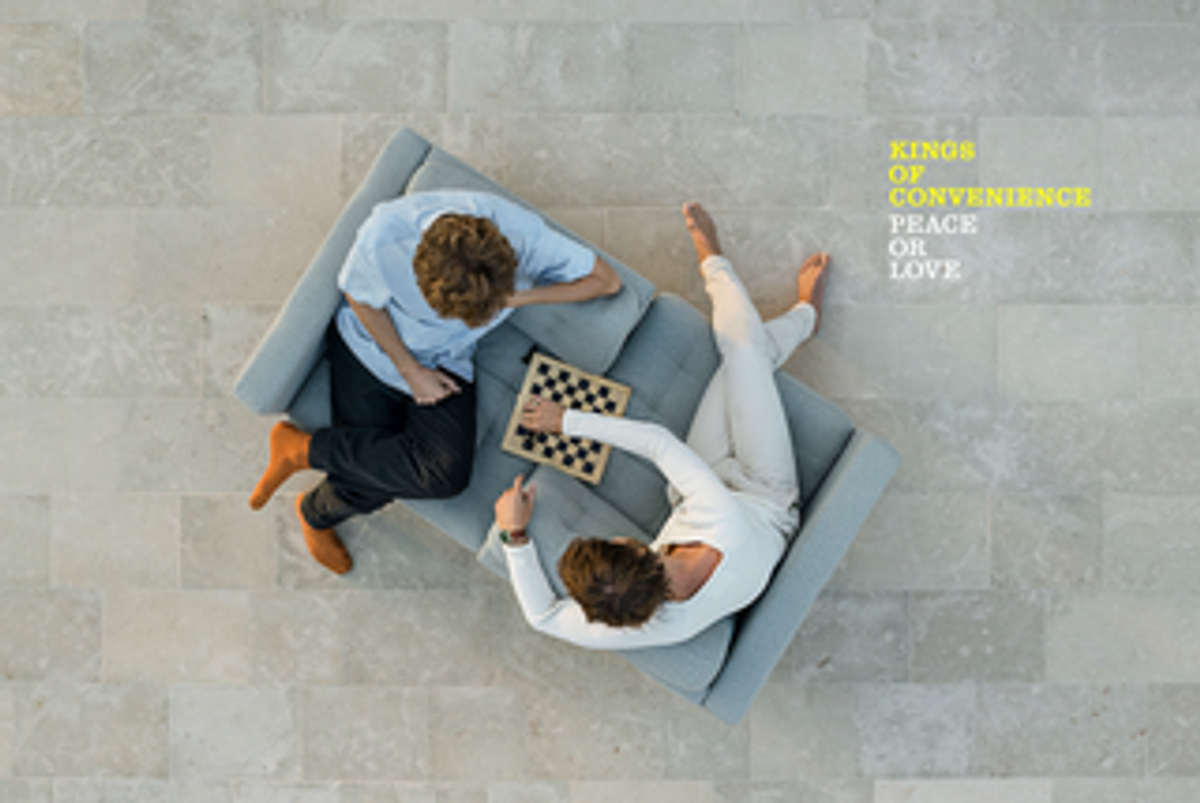 In 2021, having an abundance of leisure time is a recognizable form of privilege, and the value of sitting at a cafe with a croissant in hand has socially depreciated.
Whether it be global warming, police brutality, or workplace politics, there remains an abundance of subjects that demand collective action and attention. How can you just sit there and eat your pastry when so many things need to be done?
---
Because of all the noise this past year has brought, listening to Eirik Glambek Boe and Ereland Oye gently coo about having a literal fever seems almost fatuous, especially when the lyrics at times border on farcical ("Now, you feel warm and cold / And warm and cold and warm and cold and warm"), but the Norweigan duo do simplicity well. On Peace or Love, 12 years after easy listening had its moment, Kings of Convenience's soft-spoken pop still has the ability to awaken moments of calm reflection.
In the years since Kings of Convenience last released a project, the bandmates developed a crippling case of writer's block as they entered their 40s, re-recording Peace or Love five times over to no satisfaction. They both saw relationships deteriorate and form anew, and they both felt life pull them in opposite directions. "Ereland has this condition called neophilia," Boe said in the band's press release. "He's in love with new experiences. I'm in love with discovering new qualities within what I thought I already knew." Months would go by between recording sessions, but they would always reunite. Slowly chipping away at these songs meant to capture moments of leisure they both secretly craved.
Kings Of Convenience - Rocky Trailwww.youtube.com
After years of chiseling, what remains is some of the duo's most airbrushed work. Feist makes two welcomed appearances, but the highlight remains listening to these two old friends pluck away and lament on the human experience. The countless hours of work put into this record are never visible.
Peace or Love is an album that feels like it was recorded at a campfire jam session (on closer "Washing Machine" you can even hear the duo breathing), but when held under a microscope it's as precise and decadent as fine pastry. "Rocky Trail's" chirpy clip unfurls as effortlessly as a good breeze, "Ask for Help's" layered bridge is gauzy and sedative, all while the duo croons frank words of affirmation.
"If you've got a team behind you," the duo harmonizes on the latter, "but you lack a leader inside of you, ask for help." Kings' songwriting manages to be transfixing when it could very well sound absurd. "Angel, she's an angel," Boe sings on the album's fourth track. "Though she might be, just slightly, promiscuous."

Maybe it's because of their deadpan delivery, maybe it's because their honeyed guitar work can make anything sound nice, but when existing in a world where everything feels steeped in microaggressions and underlying malice, Peace or Love's frank thematics are beautifully disarming.
"Rumours" is simply about how nasty rumors can be, "Comb My Hair" is a somber ode to neglected hygiene, "Fever" is about...you get the idea. But it's all delivered with such a relaxed charm that it makes a depressive midweek liquor run feel like a meandering, romantic wander down Europe's cobblestone streets.
It begs the question posed by the album in its entirety: Can peace and love coexist? Modern life carries with it so many responsibilities and choices, so in the grand scheme of things it doesn't seem possible, and the Kings don't think it is either. But when it comes to fleeting tasks like brushing your hair or lounging in "Catholic Country," Kings of Convenience theorize that such a balance might just be within reach.